Armagh may be around 5,000 miles away from China, but that doesn't mean that there won't be celebrations to be had on Friday 12 February, which is Chinese New Year.
Much like our New Year's Eve, Chinese New Year is a time to refresh and renew and celebrate with friends and family. But how do people in Armagh celebrate Chinese New Year?
How Do You Celebrate Chinese New Year?
Chinese New Year occurs every February. 2021 will usher in the Year of the Ox, which represents hard work and persistence. Those who celebrate spend the week beforehand tidying and cleaning the house, decorating with lots of red, lanterns, and positive sayings, as well as images of oxen.
Previous celebrations in Armagh have included a celebration banquet in 2016 at the Craigavon Civic and Conference Centre and celebrations by Chinese restaurants throughout Armagh. Families that have been split across countries have often been known to video call dinners together as per the celebratory family meal that punctuates the festivities.
Chinese Population in Northern Ireland
While Chinese New Year may not be the most widely celebrated festival across Northern Ireland, there is a sizeable Chinese community who would be planning celebrations every February. The 2001 census had 120 Chinese residents in the Armagh and Newry parliamentary constituency. An overall total for Northern Ireland is expected to top 8,000 according to the Chinese Welfare Association. And, thanks to this Armagh woman in 2019, there's at least one dog of Chinese origin.
The history of Chinese people in Northern Ireland harks back to migration from Hong Kong, a British colony until 1997. The first Chinese restaurant in Northern Ireland, The Peacock, opened in Belfast in 1962. As such, many Chinese residents are involved in the restaurant trade. The latest statistics suggest that 60% of Chinese people in Northern Ireland were born here. In 2004, it was revealed that Cantonese was the second most spoken language in Northern Ireland.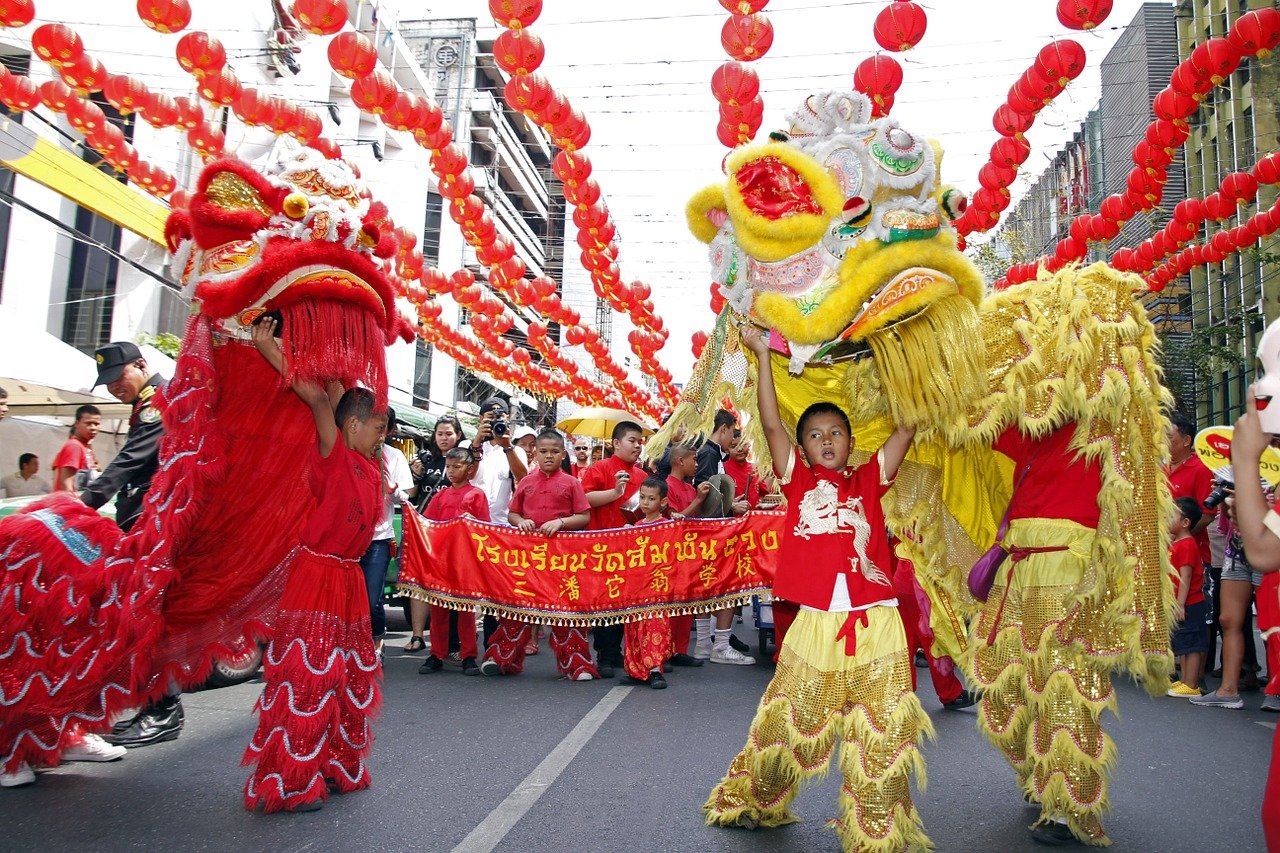 The Symbology of the Event
The colour red can be seen heavily in Chinese culture, especially around Chinese New Year. People are given red envelopes of money by family members as a present, and red banners are draped across Chinese businesses. The colour is said to bring luck.
Dragons are also symbolic of luck and Chinese New Year and can be seen in parades, as fireworks, and in much iconography that reflects China. The dragons are said to summon rain. An agrarian society like China would need rainfall to ensure crops could grow. So, the presence and mythology attached to these dragons were important. As such, they've managed to span culture and even pervade into western pop culture through this symbolism.
For example, role-playing game Dungeons & Dragons uses Chinese-inspired dragons as part of its repertoire of mythical creatures. The PC game Age of Mythology moves its focus away from Greek, Egyptian, Roman, and Norse mythology to incorporate Chinese mythology – predominately dragons – for the third instalment. The 5 Dragons online slot game uses the dragon iconography to merge with the traditional slot gameplay and uses the lucky elements to attract players to the game. The gameplay is associated with chance and luck so using recognisable symbolism such as dragons makes sense. Chinese dragon Mushu was one of the breakout stars of Disney's renaissance. Voiced by Eddie Murphy the dragon was a better representation of the lucky spirit guide aspect of being a dragon, rather than the western depiction of fire-breathing.
Armagh may not be the most obvious place to expect Chinese New Year celebrations, but you don't just have to be Chinese to engage. You can still have a meal to symbolise renewal, can even give gifts (some family members would definitely back this one) and can watch celebrations from China online.
Sign Up To Our Newsletter