With the first two events already tremendous success stories, there are still three more virtual Job Fairs to go before the end of the year.
Hosted by Armagh City, Banbridge and Craigavon Borough Council, these digital events offer more than a thousand jobs, ranging from small employers to large companies. With opportunities in health, engineering, hospitality, and more, there is hope that the Job Fair will become a yearly event.
Of course, finding jobs from these opportunities can be tricky, especially in a competitive marketplace. With that in mind, there are some ways to get ahead of the curve, and in more ways than you might think.
Learning by Observation
Though many of the industries represented at these job fairs require direct hands-on experience that isn't achievable online, there are others, especially those with digital components, that can be explored beforehand. Take any major website that relies on digital design, like the casino at Paddy Power Games, as an example. This casino is filled with titles like Wild Arcade and Eye of Atum that result from various design disciplines put into action. This isn't just in terms of the games either, extending to the website layout, security systems, and more.
It might seem simple to suggest that it's possible to learn important lessons through observation alone, but as a starting point, these steps can really pay off. Instead of looking at websites like these as customers, consider what the designers and developers have to go through. How do they ensure maximum visibility without overcrowding, how do they ensure brand consistency, and how do they appeal to user tastes? Looking at businesses through a critical lens can open your eyes to components you never before considered, leading you down a path of questions and answers that employers appreciate.
What do Insiders Think?
Thanks to the broad scope of the internet, practically every job out there will feature an online presence for its employees. This grants outsiders an avenue to explore the inner workings and concerns of the industry well before taking a step into a physical location.
Engineers, for example, could turn to Eng Tips to see the hot topics being discussed with those at different positions within the various industries. These could be computer engineers, which could tie into the above example, electrical engineers, structural engineers, and much more. Taking the time to familiarise yourself with the most common topics and maybe even raise some questions you've wondered about can be a fantastic way to get a leg up on the competition.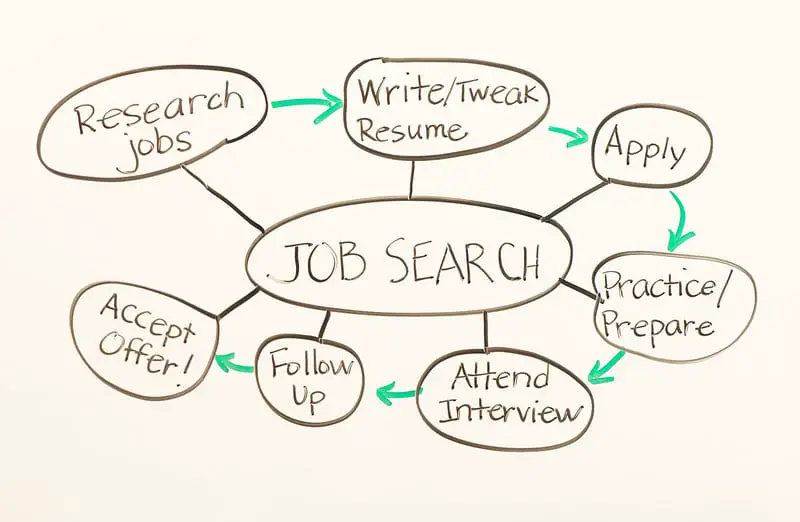 "Whiteboard – Job Search Process" (CC BY-SA 2.0) by amtec_photos
Once you've spent some time learning about the industry or industries that you're most interested in, you'll be better equipped for interviews, or just for a back and forth with others at the job fair. Even if you don't yet understand the intricacies, being able to show you have a serious interest in a job and have thought about its challenges makes you a much more attractive prospect.
Combined with some basic job interview techniques like those covered at websites like Indeed, you'll be off to a running start. Whether you want to design web pages, understand the complexities that healthcare workers go through, or learn the seasonal patterns that hospitality workers need to know, a little preparation can go a long way.
Main image: "The UX Bookmark" (CC BY-SA 2.0) by l-i-n-k
Sign Up To Our Newsletter