Last weekend saw the local Courtbane-based Indoor tug-of- war team St. Pats make the relatively handy journey to the Lakeland Forum in Enniskillen, Co. Fermanagh for the British and Irish Championships.
St. Pats have won all five National Indoor Championships and have dominated the Irish tug of war scene this season.
At last year's British and Irish Championships St. Pats also dominated, winning all 4 competition they competed in and the hope was to emulate those performances again in Enniskillen.
The best of the Irish, N. Irish, Scottish, and English teams were in attendance in Enniskillen, as well as one of the top Dutch teams, who were there to compete in the Open International competitions.
First competition down for decision on Saturday, the first day of competition, was the International Closed 600g and here 7 teams took to the mat. Ireland A and Ireland B, Scotland A and Scotland B, N. Ireland A & N. Ireland B and England.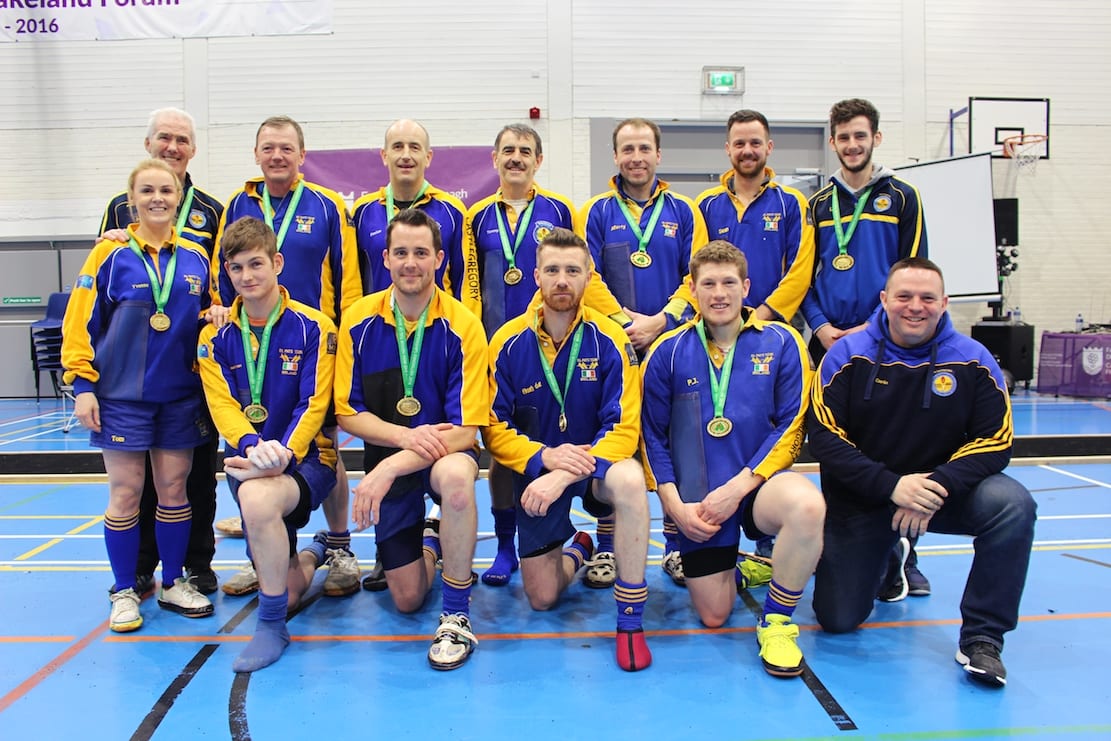 St. Pats were representing the Ireland A team, as current Irish Champions, but due to a discrepancy at the scales, had been forced to make a late change to their team.
The usual round robin format was used and when the dust settled it was Ireland A and Ireland B in the final.
Unfortunately for St. Pats, they were very narrowly beaten in a hard-fought final by Ireland A.
Next up was the International Club 640kg and here 8 teams took part. St Pats, having rallied after the disappointment of a mere silver in the 600kg, were in devastating form, winning all pulls very easily 2-0 to take the gold medals.
Sunday saw 3 Senior Men's International Club Championships taking place and St. Pats pulling with unbelievable power and determination outclassed the field in all 3 weights – the 580kg, the 620kg and the 660g.
The St. Pats teams pulled 54 consecutive ends without defeat and lifted all 3 Men's International Club titles contested on Day 2 of the Championships.
Coach Hugh Mór Conway was very well pleased with the performance of his pullers – to have dominated to such a degree across 4 weights with a panel of 11 men was an unbelievable achievement. The current world champions at all the senior men's weights were competing at these championships, so they were a real test for the club ahead of the World Indoor Championships which will be held in China next month.
The St. Pats panel at these Championships was Gary Conway, Hugh Óg Conway, Seán Conway, Michael Owen McGreehan, Martin Shields, PJ Griffin, Declan Griffin, Tommy Griffin, Warren Conway, Ciarán Fitzpatrick & Liam Fitzpatrick. Coached by Hugh Mór Conway Special mention for St. Pats pullers Yvonne McEntee and Liam Fitzpatrick.
Young Liam Fitzpatrick is pulling with St. Pats for just over a year and at 18 years of age, to pull on the green shirt to represent Ireland is a great achievement and honour. Liam pulled very well and has a great future in front of him.
Yvonne McEntee was the sole St. Pats female puller at these Championships & so joined with other teams to get pulling. Yvonne pulled in the Mixed 600kg and Ladies 375kg championships on Day 1 and took Bronze in the Mixed. She pulled in the Mixed 600kg on Day 2 and took Silver.
To finish, Yvonne pulled in the Ladies 325kg on Day 2 and took Gold.
Congratulations to both Yvonne and Liam on their great performances.
Next up for St. Pats is the long trip to China for the World Indoor TOW Championships, the first occasion they have been held in Asia. St. Pats are going all out to do as well or better than the Worlds in The Netherlands 2 years ago, where the won 3 Club Golds and two international silver and firmly established themselves as the No. 1 team in the world.
This trip to China is an extremely expensive undertaking and the Club is asking by way of a letter for any assistance to local businesses in the South Armagh, North Louth and Monaghan areas to assist financially with the trip. The funding for all the costs of travelling to this tournament must be met by St. Pats pullers themselves. Any help will be gratefully accepted and acknowledged by the Club, you can contact St. Pats via their Facebook page or by phone to
0872342173 if you wish to help to contribute.
Sign Up To Our Newsletter