Ireland's women's rugby World Cup dream is on the line when the hosts face France on Thursday evening (7.45pm live on RTE2, ITV4 and eirSport) at UCD Bowl in a showdown which has a priceless place in next Tuesday's Belfast semi-final at stake.
If defeated, the French might have a chance of going through as the best runner-up across the tournament's three groups but winning is Ireland's only route to the semis and a guaranteed top four finish to emulate their heroics at the last World Cup in France.
The girls in green came into this tournament with high hopes based on a number of factors including home advantage, their exploits at France 2014 when famously upsetting a New Zealand team which hadn't lost a World Cup game since 1991, and a solid Six Nations record in recent years.
The historic Grand Slam of 2013 was followed by a second Six Nations title two years later and last season Ireland achieved runners-up place, losing only their final fixture against a fully professional England set-up.
In spite of missing three of their sevens stars, Ireland defeated France 13-10 at Donnybrook in February, showing great resilience in coming from behind to win without not only injured captain Niamh Briggs but Alison Miller, Sene Naoupu and Hannah Tyrrell too.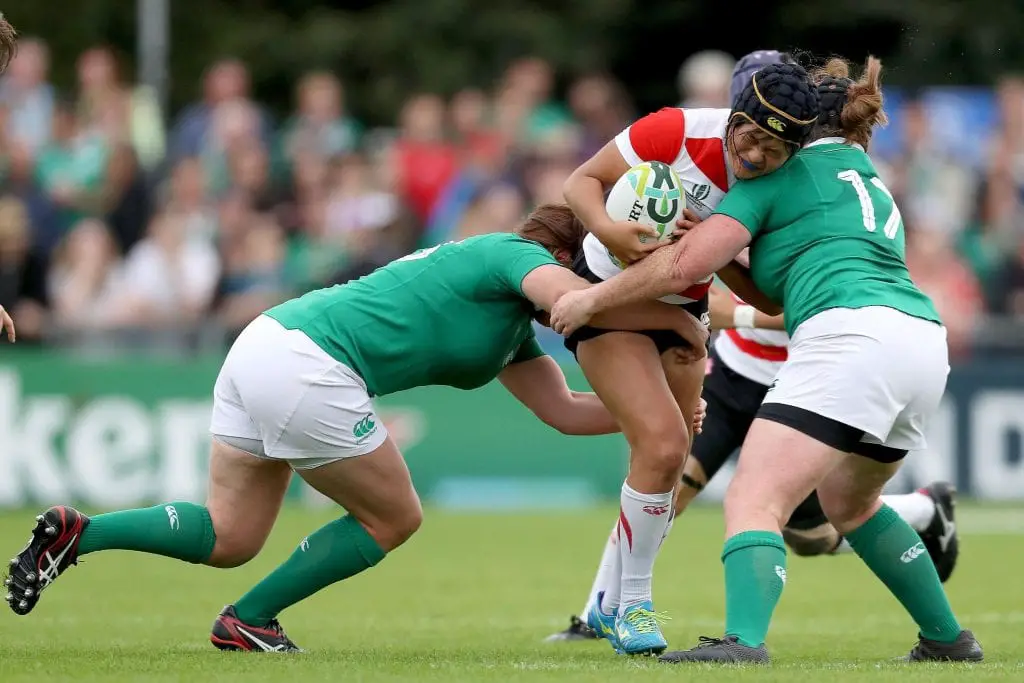 Losing the talismanic Briggs to a new injury just ahead of this tournament was a big blow but Ireland's relative struggles so far at this home World Cup have still come as a surprise and concern.
Tom Tierney's team come into what always looked likely to be a defining game against France with two wins from two outings but it has been an unconvincing campaign to date with only Ireland's defiant fighting spirit sparing them from two disastrous defeats.
In last Wednesday's opening game, Ireland had to dig deep against a talented, dangerous and physically impressive but relatively inexperienced Australian side ranked one place below them, coming from behind and then hanging on for a 19-17 victory.
Then on Sunday evening against emerging Japan, the hosts were facing into the abyss at 14-0 down after a nightmare first half before fighting back to win with 24 unanswered points in the second period.
The swarming Japanese proved an unexpectedly challenging handful for an Irish side missing a number of frontliners, notably lineout queen Marie-Louise Reilly and powerful centre Jenny Murphy, who were being held in reserve for the crunch clash with France.
Given this tournament's incredibly intense schedule of five fixtures in 17 days and the three Dublin-based group games in less than half that period, Tierney had made seven personnel changes plus three positional switches from his initial line-up against Australia.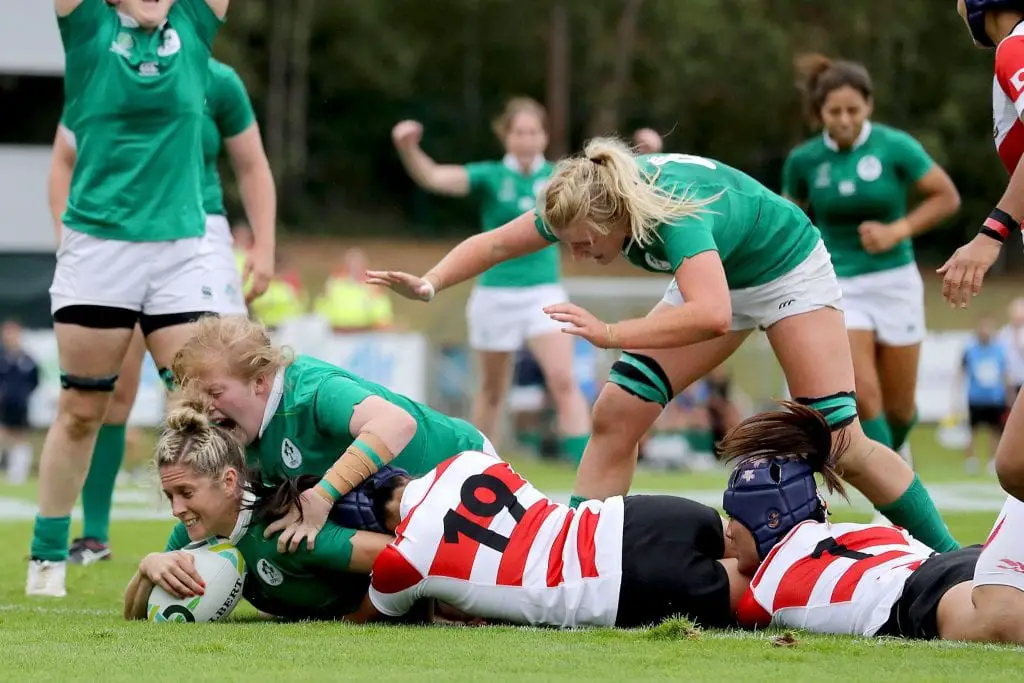 Ireland's plight got even worse early in the second half when Blackrock centre Katie Fitzhenry, deputising for Murphy, was sinbinned for one of several carelessly high tackles by the hosts.
However the influx of forward replacements – four of the original eight had been replaced by the start of the second half – turned the tide as much heavier Ireland adopted an attritional approach against the Japanese.
Ireland's 2014 World Cup captain turned pundit Fiona Coghlan had likened Japan to swarming ants having watched them play Tierney's team twice behind closed doors in June and warned that they couldn't be taken lightly.
In the event, although a fair few of their players were quite small in stature, ferociously Japan proved very well drilled and a slick outfit who were well worth their healthy interval lead at a packed but stunned UCD Bowl.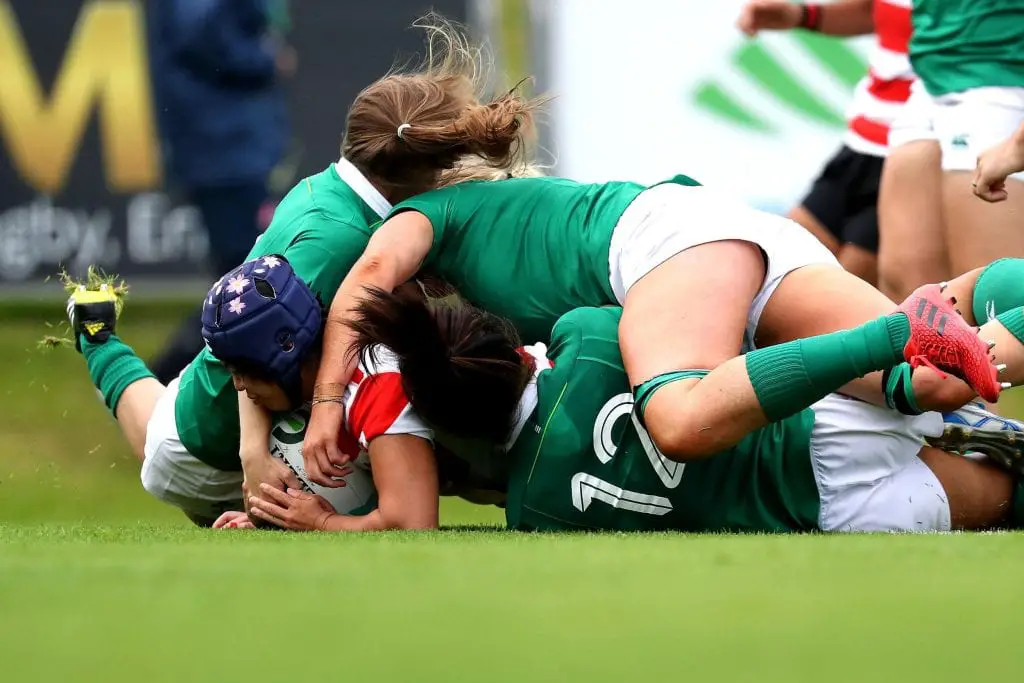 Ireland's set-pieces proved shaky with the peerless Reilly badly missed for the first two lineouts in particular and Ciara O'Connor, who had done well as replacement prop against Australia, being badly exposed in the scrums.
She was withdrawn well before half-time in favour of experienced campaigner Ailis Egan after Ireland had suffered the indignity of conceding a seven-point penalty try and they added the extras to a touchdown just before the break to go in 14 up.
It could have been even worse for Ireland, for full back Mairead Coyne should really have seen at least yellow, with a case for red, for a dreadful high tackle in that opening period though it was her hapless performance fielding the ball which saw her hooked at the interval.
Coming into this tournament, Tierney had two options for filling the void left by the absence of full back Briggs – either switching Tyrrell to full back with Eimear Considine coming in on the right wing or giving Coyne the No 15 jersey.
Clare GAA dual star Considine had shown her mix of physical prowess, potential and inexperience against Australia with ex-Galway footballer Coyne getting a chance in the Japan game, but it proved a disastrous audition for her.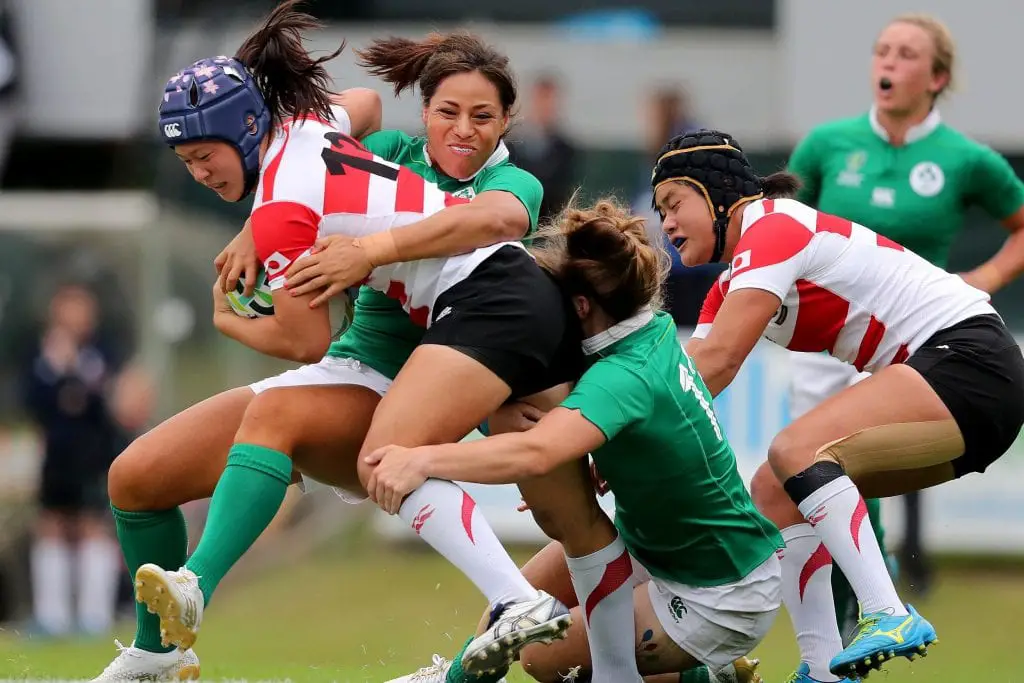 Tyrrell was switched to full back for Sunday's second half which may have come as a relief to the former Dublin ladies footballer because some of her attempted tackles in the first half on the tiny though tenacious opposing winger were embarrassingly bad.
With veteran Egan already on, Tierney made three more substitutions up front for the second half, sending on another experienced prop Ruth O'Reilly, introducing heavyweight hooker Leah Lyons for her first World Cup appearance and unleashing Six Nations skipper Paula Fitzpatrick.
Fitzpatrick proved the fulcrum of a dominant display by the Ireland pack in the second half as they mauled 20 metres for her first touchdown on 66 minutes and then went through more than 30 phases before she plunged over for the second of her brace right at the end.
Before then, powerful winger Alison Miller had forced her way over from close range for Ireland's opening try on 47 minutes with Nora Stapleton adding the extras before levelling the scores by converting Fitzpatrick's first try.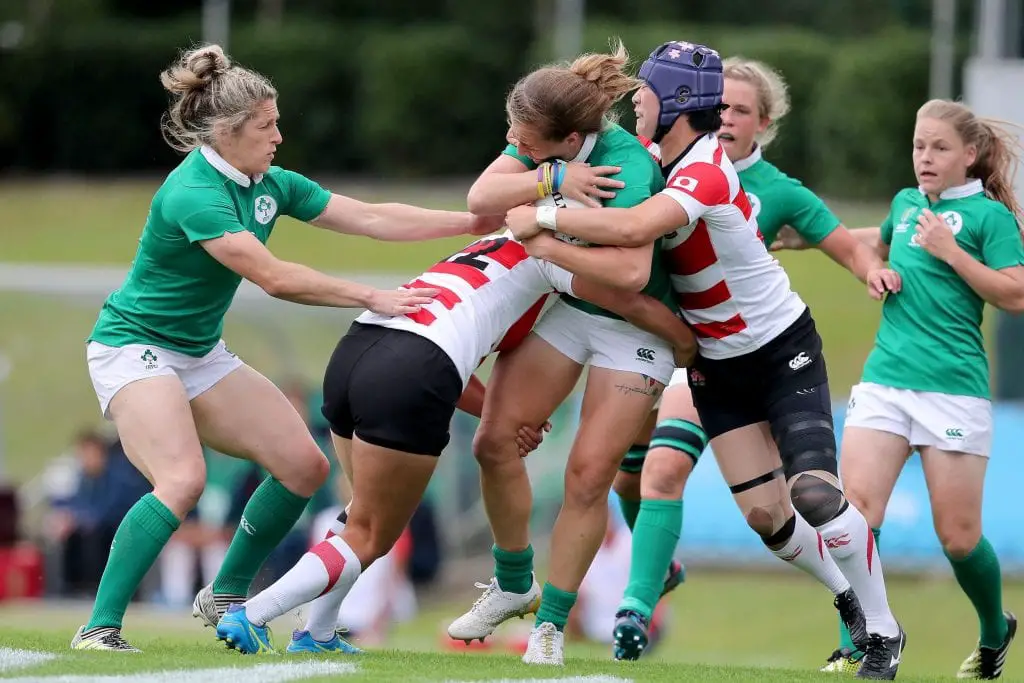 The Ireland outhalf, who wouldn't have been place-kicking had Briggs been available, held her nerve to land a pressure penalty on 74 minutes which put the hosts ahead for the first time in the match and she maintained her 100 percent record when her conversion of Fitzpatrick's second try went over off the inside of the post.
Although she has taken some flak for Ireland's back division not fully firing so far, Stapleton's six successes from seven attempts at goal is an impressive return and her tactical kicking in that last quarter crucially kept Japan pinned back in their own territory to give her pack a platform and ease the anxieties of the crowd.
The emotions in the aftermath of both Ireland's first two games has been an almost paradoxical yet understandable veering between euphoria, relief and frustration based on the predicaments the team had found themselves in and the fact winning was everything here, set against the knowledge that much better would be needed to keep progressing.
Against Australia and Japan, Ireland have generally lacked cohesion and incision in a horribly laboured backline which on paper has a potent mix of power, pace and deft footwork with playmaker Stapleton previously proving a player of vision who also offers a running threat herself from No 10.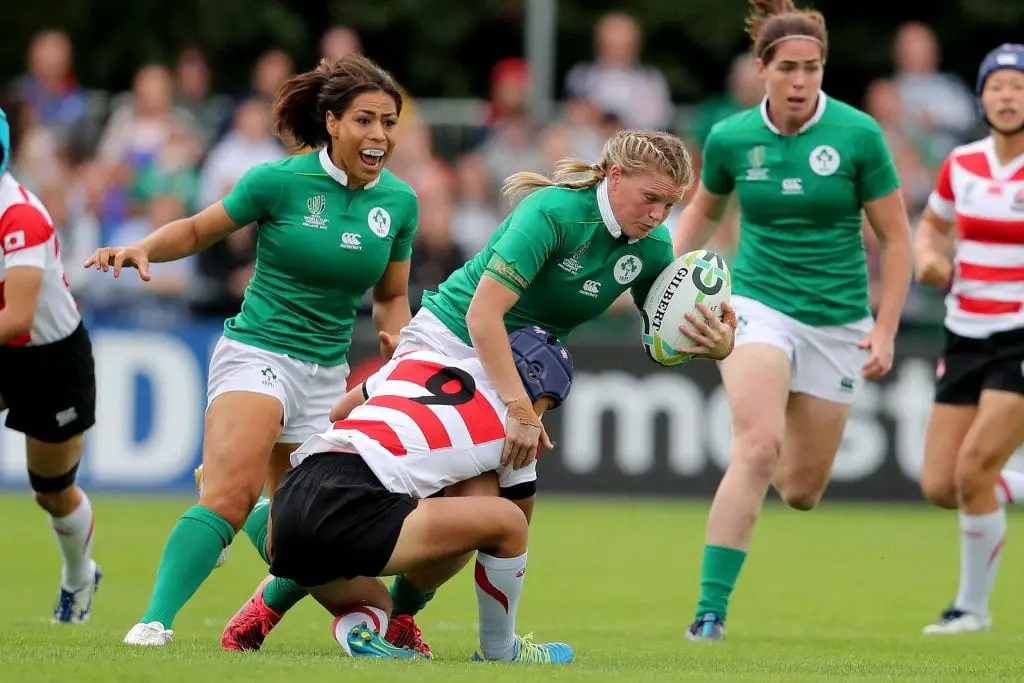 Not enough has been seen so far of the exciting Naoupu or wonderful finisher Miller while admittedly Murphy's pitch-time has been limited by the injury which forced her off early in the second half against Australia and kept her sidelined for the Japanese game.
They will hopefully bring more to the party in this group decider while, in spite of the set-pieces struggling at times against Australia and Japan, a full-strength Ireland pack has proved it can match the more powerful French up front.
The flaws, failing and limitations in Ireland's opening performances have been put in depressing perspective by the contrasting way in which France have hit the ground running at this World Cup with hugely convincing victories by landslide scores over the same two teams.
Helped by a very early try, France thrashed Japan 72-14 in their first fixture though it was noted that the underdogs suffered from losing a key player to injury and being reduced to 14 by a red card.
However the French left little room for ambiguity about their credentials by going out last Sunday evening and putting 48 unanswered points on an Australia team that Ireland had just edged 19-17 four days earlier.
Anyone reading across from results so far wouldn't give much for Ireland's prospects of beating France but recalling the first three rounds of Six Nations fixtures earlier this year offers a fascinating counter-narrative.
It had taken a Murphy try with the clock red to snatch Ireland victory over a Scottish side who were then hammered 55-0 by the French the following weekend.  However when Ireland and France met next time out, the gallant greens triumphed 13-10 in Dublin.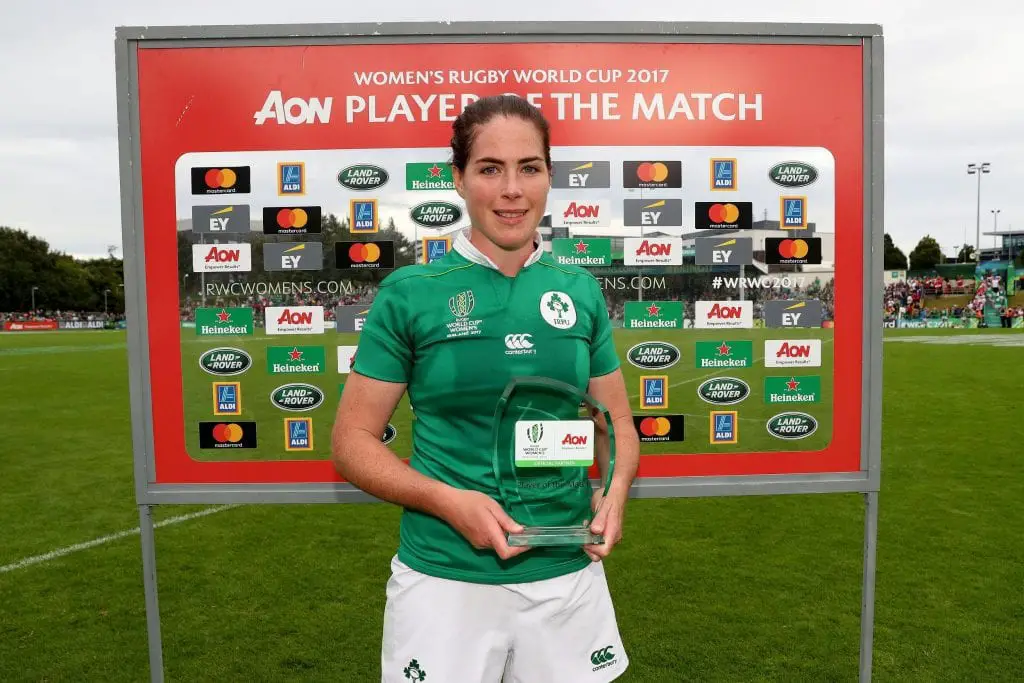 So contrasting recent results against the same sides need not necessarily mean much when two teams meet and Ireland definitely don't fear France having come out on top in their share of the typically close contests between these nations in the past few years.
The tight format of this World Cup which effectively ensures there are no second chances means that winning games by whatever means is everything.  Many of this Irish squad come from gaelic games backgrounds so they'll understand the characterisation of the tournament as 'Championship football'.
Although admitting Ireland's performances so far have been far from perfect, Tierney and his players have been pragmatic in talking about taking the win, however ugly, and moving on to the next test.
Of course the difficultly comes with the significant step-up in class which the French certainly represent because it is difficult for teams who have been playing perplexingly poorly to simply flick a switch and find a new level.
As already discussed, and articulated by Murphy on the eve of the game, France hold no psychological fears for these girls in green and they won't be spooked by opposition performances so far, but that doesn't mean the French aren't capable of simply being too good for Ireland if the hosts aren't fully firing when it matters.
This writer has already drawn worrying potential parallels between this World Cup campaign for Ireland's women and their counterparts' ill-fated campaign at the men's equivalent in France a decade ago.
Back then, Ireland had bought into the hype of being realistic contenders to win the tournament but came in under-cooked, dangerously over-reliant on their frontline players, with a squad featuring only one recognised outhalf and a head coach who could be tetchy enough with the media.
They produced very unimpressive performances in limping through the first two group games against rank outsiders Namibia and better but limited Georgia, the latter match providing a real scare, but we were assured that all would come good when it needed to.
By coincidence, Ireland's third and final group game in that tournament was also against France and, on the night, it resulted in a fairly clearcut triumph for Les Bleus.  The men in green's previous problems didn't just go away without trace.
There are grounds for fearing that historic could repeat itself here, though of course on this occasion the Ireland women will have the home crowd behind them for this group decider whereas Eddie O'Sullivan's men were in hostile surroundings at a baying Stade de France.
Beating France in this year's Six Nations was an heroic effort from Ireland's women and they deserved victory on the day but the gallic girls appear to be significantly stronger now, will want revenge and see themselves as real contenders to win this World Cup.
However this Ireland team, with the exact same starting pack as at Donnybrook back in February, will absolutely believe they can get the result required and although recent evidence may prompt pessimistic conclusions, they have earned the faith of an apprehensive nation.
The crowd, whether packing UCD Bowl or watching on prime-time television, are guaranteed a passionate Irish performance full of physicality, courage and channelled aggression from a group containing some of the proudest rugby players ever to have pulled on green jerseys.
Five of the pack who faced New Zealand in Marcoussis will start again tonight including world-class lack combination Reilly and Sophie Spence, all-action captain Claire Molloy and prop Egan while try-scorer that day, Heather O'Brien, is on the bench.
Loosehead Lindsay Peat, a convert to rugby since the last World Cup, will really relish the abrasive battle as will teak-tough flanker from Kerry, Ciara Griffin, and the bulkier Lyons has got the nod over the more dynamic Cliodhna Moloney at hooker.
Spence and Griffin provided real impact against Australia after being held back initially but one downside of Tierney having to put his best foot forward from the off this time, is that he has less game-changing potential from the bench.
It may have been a close call between Moloney and Lyons but this looks like Ireland's strongest pack playing together for the first time in this tournament with Egan and Fitzpatrick predictably coming back in after their effective cameos against Japan, Lyons promoted and the irreplaceable Reilly restored to the engineroom.
If Ireland can achieve parity at the scrums, Reilly is capable of disrupting the French lineout as well as securing good ball on her own team's throws assuming Lyons and subsequently Moloney get their darts right.
Ireland's driving maul can be a potent weapon against most teams while the likes of Spence, Peat, Fitzpatrick and Griffin will carry with real relish and Molloy link everything together as well as setting the tone at the breakdown.
The tiny Nicole Cronin, who won her first cap against Japan, has somewhat surprisingly been preferred to Stapleton's fellow Donegal girl Larissa Muldoon as her halfback partner presumably because Tierney believes the little livewire can add more fizz to Ireland's attack.
The experienced Muldoon, who has 42 caps and showed good awareness in sniping over for that timely opening try in the Aussie game, can count herself unlucky especially having made the notional Team of the Tournament with Reilly after the opening round of fixtures.
Her experience and physicality could be useful later in the game as she seems set to come off the bench, just like on that famous August day in Marcoussis three years ago when Murphy was also a replacement.
Wing Miller, the other try-scorer against New Zealand and a key figure for Ireland tonight, and Stapleton are the two survivors from Ireland's backline that day though right wing back then, Ashleigh Baxter, is one of two back rows on the bench here along with O'Brien.
Apart from scrumhalf the backline is unchanged from the opening game and essentially picked itself at this stage though Coyne's nightmare against Japan means she has lost out to Kerry gaelic footballer Louise Galvin, who won her first cap as a sub last Sunday, for the bench berth.
So Tyrrell reverts to full back with the potentially exciting Considine coming in on the wing and Murphy's welcome return in midfield means Fitzhenry dropping back to the bench at the expense of Blackrock clubmate Jamie Deacon, leaving Ulster's Claire McLaughlin as the only player in the 28-woman squad not to have been togged so far.
In the cold light of day and the evidence seen so far at this tournament, Molloy's team are underdogs but there is a real sense of defiance, calm and purpose in an Irish camp full of women who have achieved the seemingly impossible before so won't be daunted by the French challenge.
Ireland will want to hold their own in a confrontational forward battle, assert some control from halfback, show what they have to offer behind the scrum for the first time in this tournament and also get off the line much quicker in defence than they have so far.
Murphy has spoken of the need for Ireland to be aggressive and accurate from the off and the home team must maintain discipline and get the basics right while harnessing their emotions and turning the support of a raucous crowd to their advantage on an epic evening.
For the Ireland team themselves, the phony war which was the first two group games is over and now this is their time.
They'll bring belief along with unflinching commitment and although the current evidence suggests France are justifiably firm favourites we should have learned by now to have faith in these green giants.
IRELAND: Hannah Tyrrell; Eimear Considine, Jenny Murphy, Sene Naoupu, Alison Miller; Nora Stapleton, Nicole Cronin; Lindsay Peat, Leah Lyons, Ailis Egan; Sophie Spence, Marie-Louise Reilly; Ciara Griffin, Claire Molloy (capt), Paula Fitzpatrick.  Replacements: Cliodhna Moloney, Ruth O'Reilly, Ciara O'Connor, Heather O'Brien, Ashleigh Baxter; Larissa Muldoon, Katie Fitzhenry, Louise Galvin.
Sign Up To Our Newsletter