By Richard Bullick
Ireland's women will seek to salvage something tangible from the wreckage of a painfully underwhelming World Cup campaign when they tackle Wales in Saturday's seventh place play-off at the Kingspan Stadium (2pm, RTE2, eirSport).
This isn't the tie Ireland would have expected or wanted to be in come finals day but, with automatic qualification for the next World Cup at stake in this celtic clash and the hosts desperate to finish on a high, it will still be a meaningful match.
Some of this team may never wear the green jersey again given their age profile so securing Ireland's ticket for the 2021 World Cup may be a secondary consideration to the motivations of playing for pride and having multiple points to prove after failing to really hit their stride so far.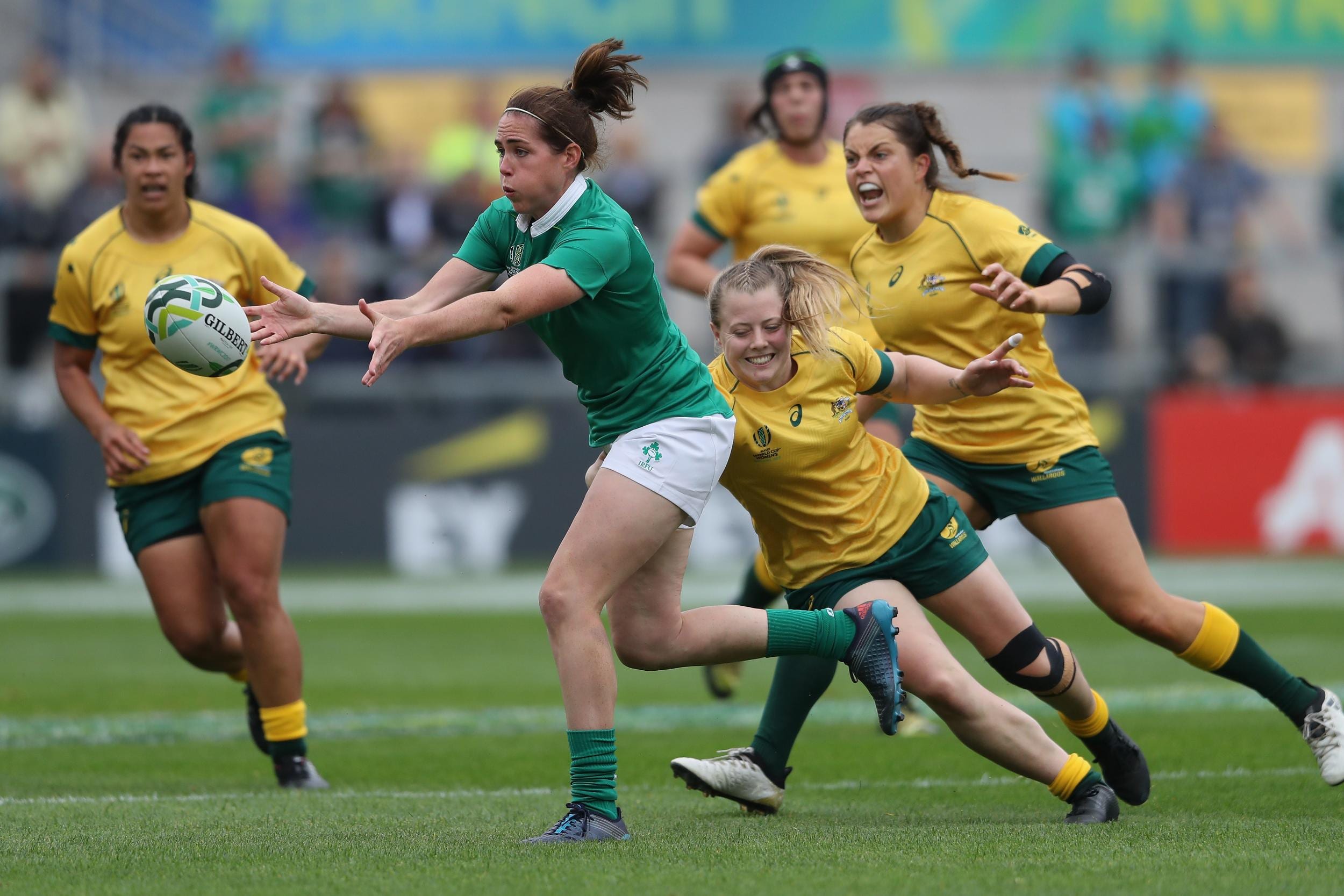 This ambitious team will be their own harshest critics but they must surely be stinging from some of the undeserved derision and vitriol heaped upon them from some quarters during this tournament.
To some extent Ireland have been victims of their own success having set the expectation bar so high given that famous upset of seemingly invincible New Zealand at the 2014 World Cup in between the historic Grand Slam the year before and another Six Nations title triumph the following season.
With home advantage and proven pedigree, Ireland came into this tournament with high hopes of emulating the fantastic top four finish achieved at the last World Cup in France but unfortunately it just hasn't happened for the girls in green these past few weeks.
Unconvincing victories over Australia and Japan in their first two group games set the alarm bells ringing and a significantly improved performance wasn't enough to triumph against the French in the Pool C decider at UCD Bowl.
That meant when the tournament moved north for its Belfast phase, the hosts were no longer in contention to lift the trophy but left fighting for fifth place, and now the highest Tom Tierney's team can come is seventh.
Ireland came into this World Cup ranked fifth in the world but beating Wales would only ensure they emulate the seventh place achieved at the 2010 tournament in England by a squad containing three of the present panel, captain Claire Molloy, world-class lock Marie-Louise Reilly and outhalf Nora Stapleton.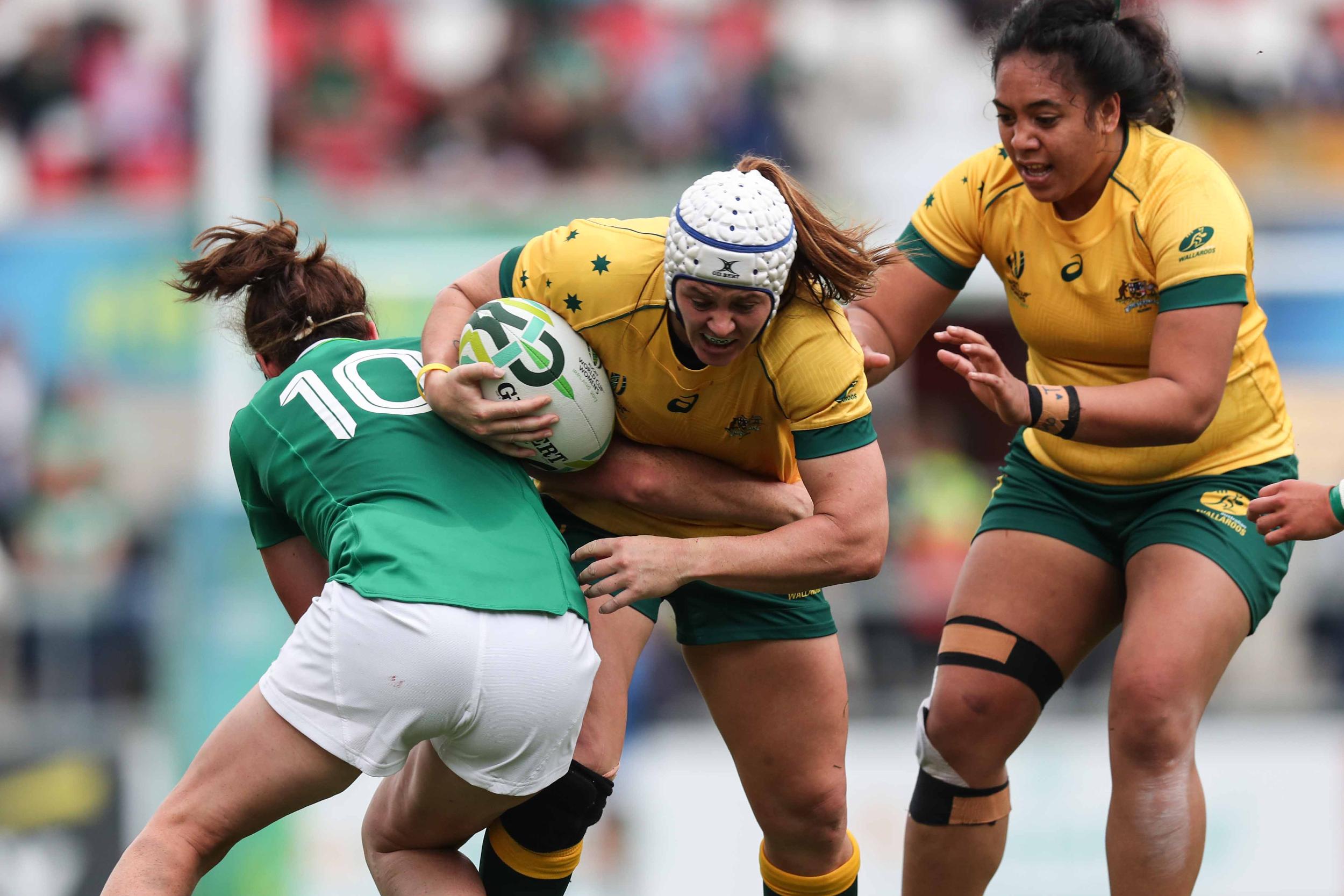 Matching the placing of seven years ago doesn't constitute success considering the significantly increased investment in women's rugby by the IRFU, the team's impressive record in the intervening period and the fact Ireland are hosting this tournament.
Not beating the Welsh would mean ending up eighth, the same as at the 2006 World Cup in Canada, though hopefully that disastrous scenario can be averted in spite of Ireland going into this play-off final without several key players.
Fearless flanker Molloy, herself only deputising as skipper after the inspirational Niamh Briggs withdrew due to injury nine days ahead of the tournament, and destructive centre Jenny Murphy have both been ruled out of the Wales match with the concussions sustained against Australia on Tuesday.
In addition, Tierney has surprisingly opted to drop his other first choice centre Sene Naoupu to the bench and not bring another of his leading lights, the barnstorming Sophie Spence, back into the engineroom alongside Reilly in spite of her impact as a replacement last time out.
So Ulsterwoman Stapleton, who follows Molloy and Reilly's milestones earlier in the year by winning the 50th cap the Donegal native no doubt dreamt would come nearly six hours later in the World Cup final at the same Ravenhill venue, won't have the usual midfield pairing alongside her.
Belfast-based doctor Claire McLaughlin, who came on in the first half for the injured Murphy against Australia to make what will now prove her only appearance of the tournament, has been left out of the match 23 altogether this time.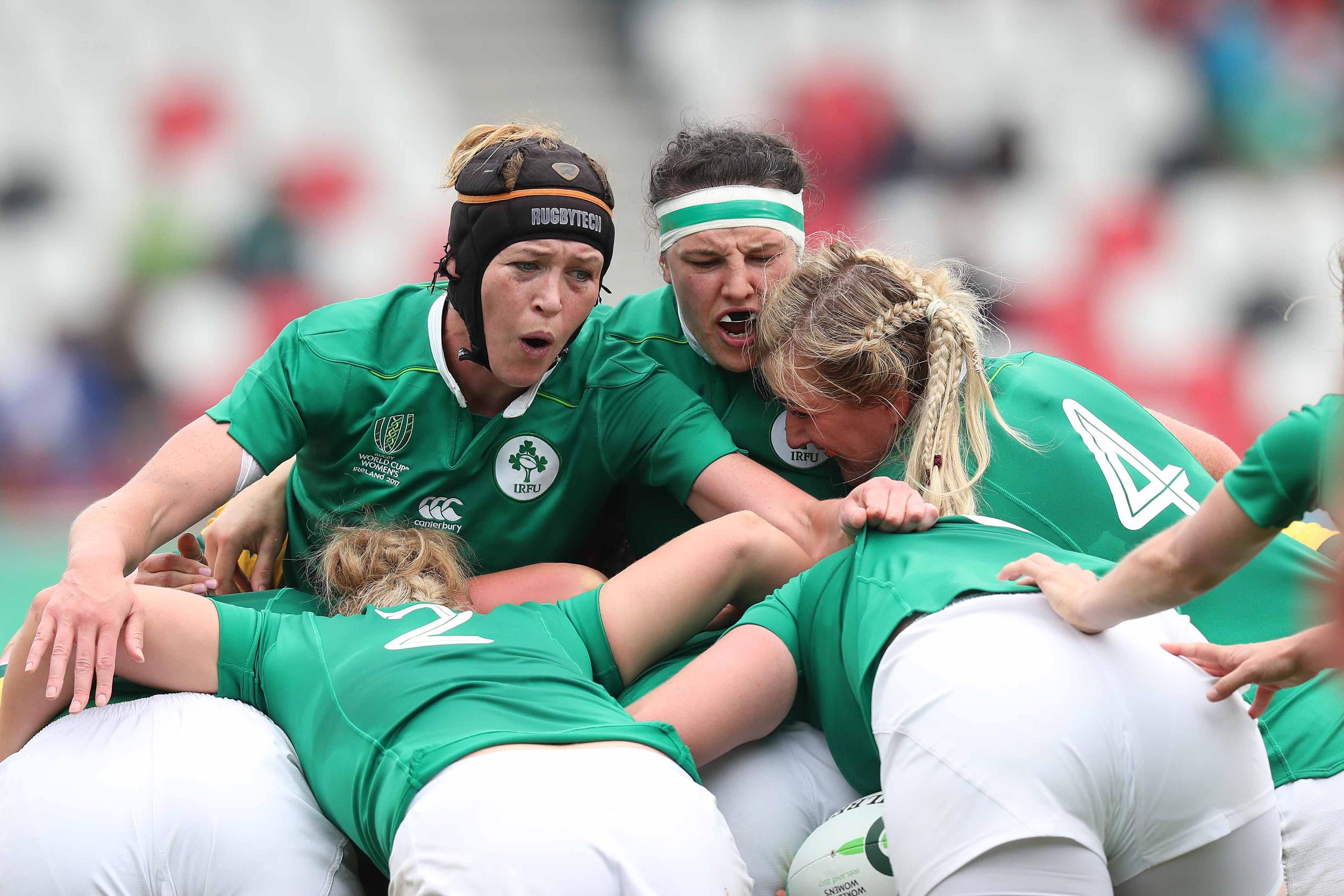 Instead Tierney has gone with the Blackrock club combination of Katie Fitzhenry, who has featured a fair bit in this tournament, and Jamie Deacon, whose sole involvement before was off the bench in the Japanese game.
Clare dual star Eimear Considine is brought back on the right wing for Kerry gaelic footballer Louise Galvin in a back three completed by the only two players other than Naoupu to have played every minute of Ireland's four fixtures so far, full back Hannah Tyrrell and Alison Miller.
The diminutive Nicole Cronin again gets the nod to partner Stapleton at halfback rather than the latter's fellow Donegal native Larissa Muldoon who made a positive impact off the bench against the Aussies as Ireland rallied to claim two consolation tries late on.
Muldoon also of course scored Ireland's first try of the tournament in the opening group game against the Aussies back on August 9, but she hasn't started since in spite of being one of the most experienced players in the squad.
Like Tyrrell, Miller and Stapleton, loosehead prop Lindsay Peat will make her fifth start in an unchanged front row where Cliodhna Moloney again gets the nod over Leah Lyons at hooker and Ailis Egan is in her familiar No 3 jersey.
Ciara Cooney continues alongside Reilly in the second row while Molloy's absence sees Ciara Griffin go to the unaccustomed openside flank rather than Ulster's Ashleigh Baxter being brought in as more of a specialist, albeit that she is a relatively recent convert from the wing.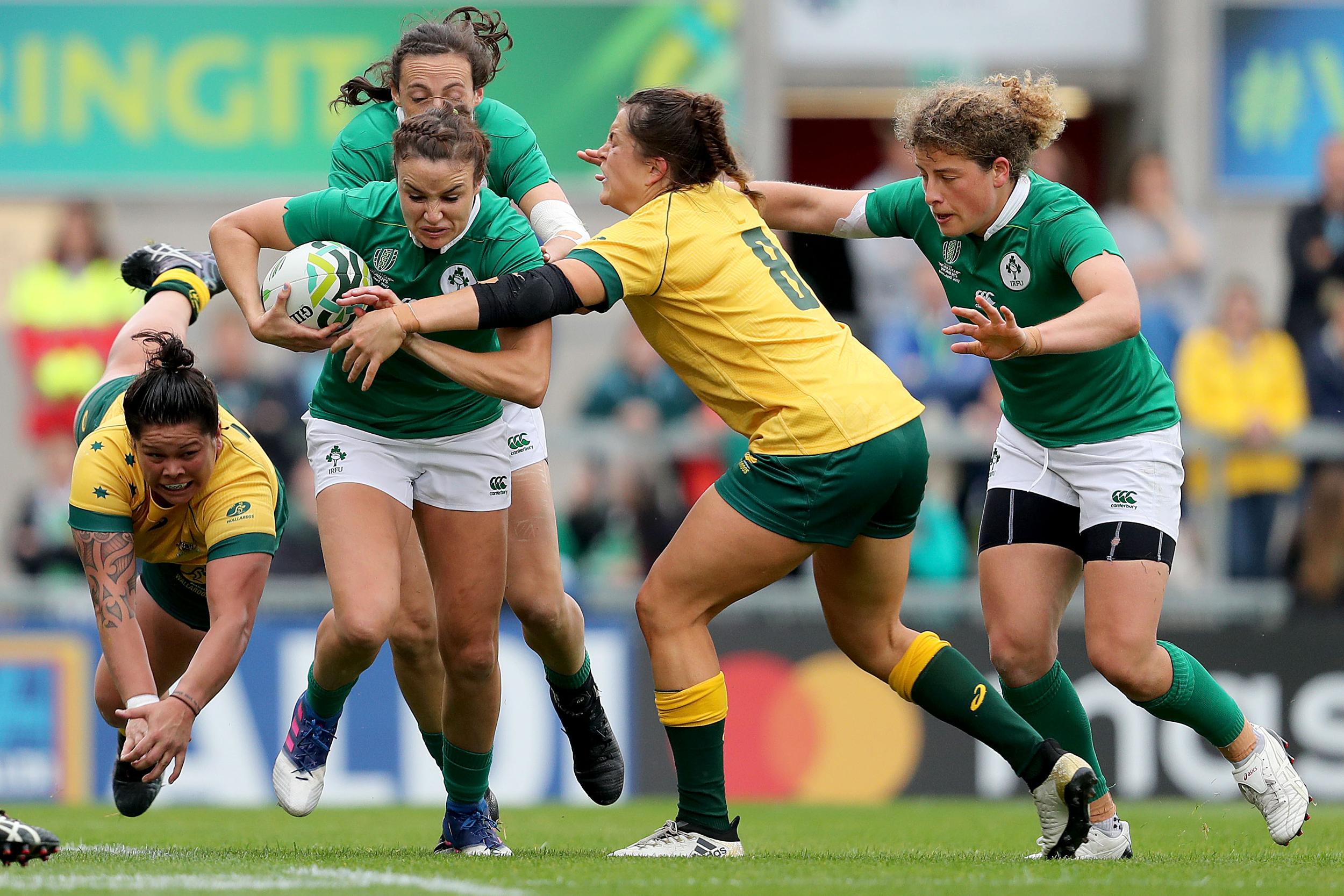 Instead one of the try-scorers from that 2014 triumph over New Zealand, Heather O'Brien, comes in at No 8 which means stand-in skipper Paula Fitzpatrick, her former Toulouse team-mate, reverts to the blindside berth she occupied against the Black Ferns that famous day in Marcoussis.
Baxter and Spence seem certain to get game-time against Wales along with Lyons while reserve props Ciara O'Connor and Ulster's Ilse van Staden, a late call-up to the squad after Ruth O'Reilly was ruled out by a back injury, are likely to feature at some stage.
Muldoon and Naoupu can also bring impact in the second half while the No 23 jersey has been allocated to former Galway gaelic footballer Mairead Coyne who will hope to put that nightmare 40 minutes against Japan behind her.
Although Ireland have a good recent record against a Welsh side hammered by Canada last time out, their understrength side may be seen as vulnerable by the opposition, who would love to claim a significant scalp and finish their own tournament on a high.
They pushed Ireland hard in the Six Nations in Cardiff in March when Stapleton won Player of the Match and at this tournament only lost 44-12 to New Zealand before denying much-fancied Canada a four-try bonus point.
Wales is a rugby-mad nation but, because Ireland have consistently beaten them in recent years, losing this seventh place play-off would be seen as a dreadful result so the pressure is on the hosts to at last show what they are really capable of.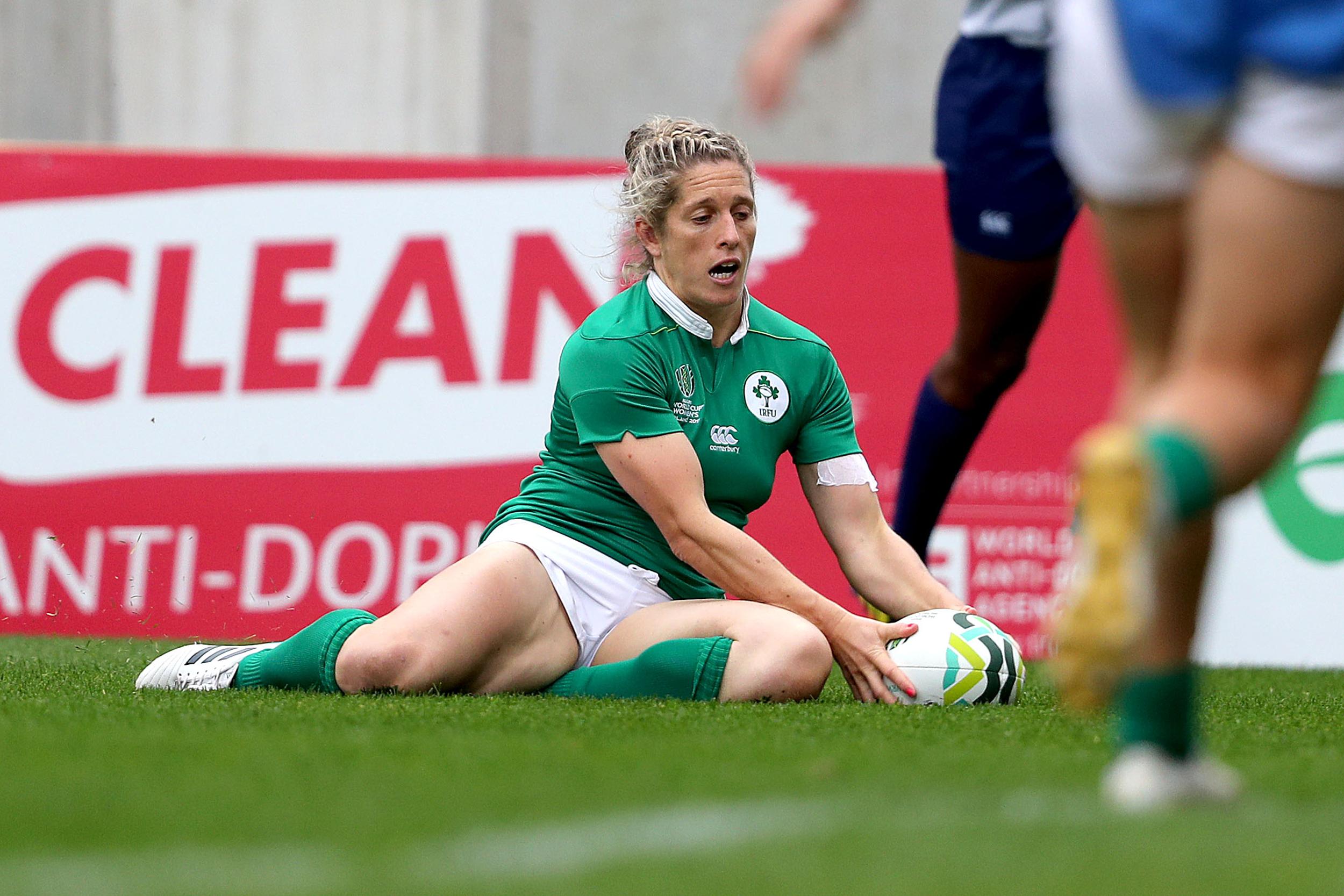 With more than 13000 tickets sold in advance for finals day, the hope is that there will be a decent crowd to witness Ireland's farewell at this tournament and a 2pm start on Saturday shouldn't be as problematic as the weekday game against the Aussies.
It is reckoned some 3000 of Tuesday's 7500 ticket-holders attended Ireland's match against Australia and the way they got behind the girls in green during that final flourish just added to the frustrating sense of what might have been had the hosts made the main semis.
By then even the prospect of finish fifth had gone with Ireland simply playing for pride on the day after the Aussies came from 12-7 down with 29 unanswered points before late tries by Spence and Fitzpatrick secured some sort of scoreboard respectability.
Although Australia came into this tournament ranked sixth, only one place below Ireland, the pundits were adamant that the Wallaroos' relative lack of experience in the 15-a-side format would count against the nation who won sevens gold at last year's Rio Olympics.
So Ireland were given little credit for edging the opening group game against Australia 19-17 and Tuesday's second clash was seen as an opportunity for Tierney's team to assert their supposed superiority.
The sense of dejection and deflation following Ireland's 36-24 beating by the Aussies at Ravenhill was certainly much greater than after the previous Thursday's defeat to France which had ended the host nation's ultimate dream.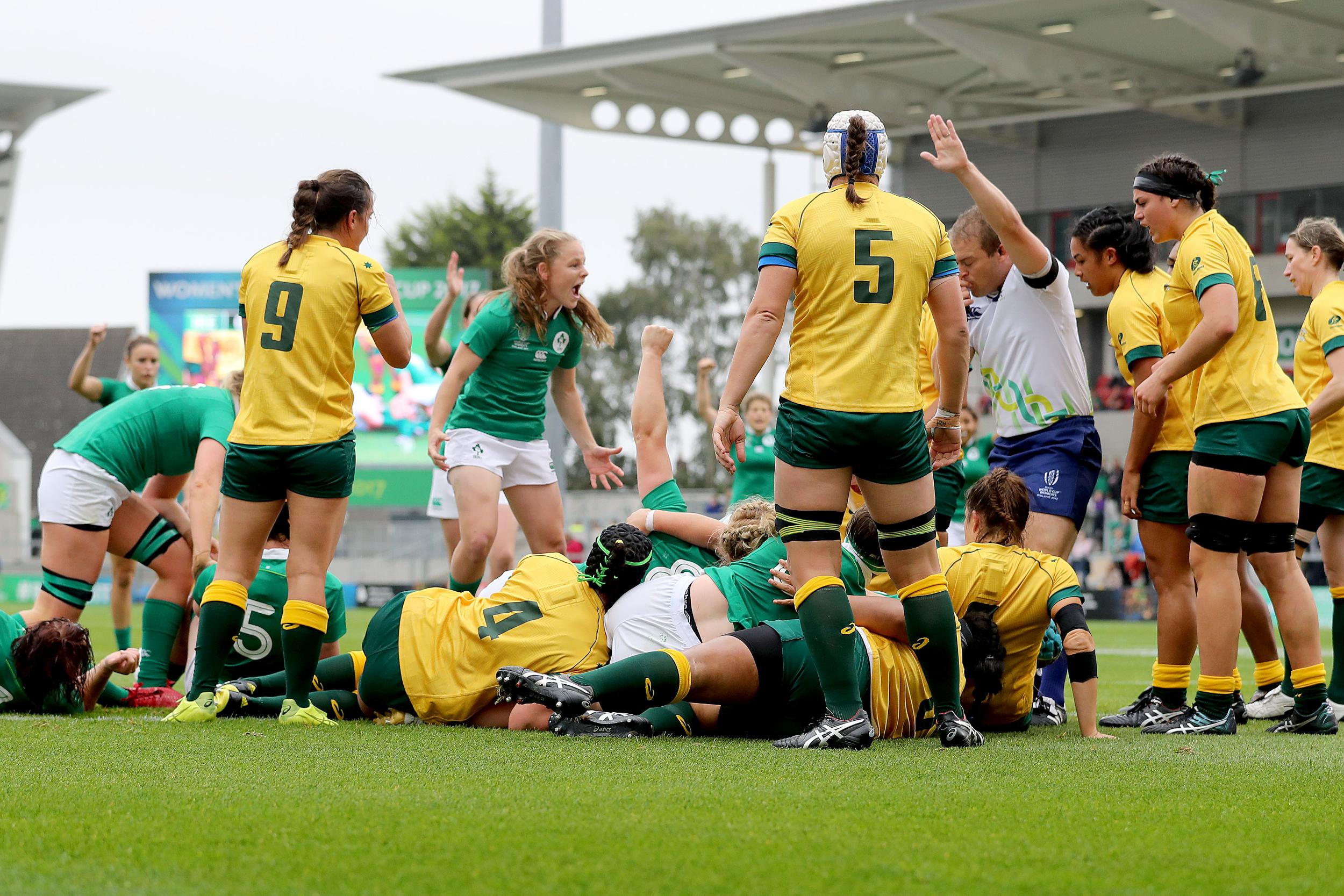 Ireland had battled bravely against an in-form, formidable French side and the 21-5 scoreline didn't reflect their relentless siege on the opposition line throughout the second half as the hosts tried to come back from a disastrous start.
In terms of things like line speed and ball retention, Ireland were much better against the French than their previous outings against Australia and Japan, producing optimism that the greens could finish fifth courtesy of two Ravenhill victories.
For those simply used to men's World Cups in rugby or soccer, there is a tendency to regard it as cruel, unusual and meaningless for teams to have to play on for specific placings after being knocked out of contention to win the overall tournament.
However this format is familiar from the likes of the Olympics and other international tournaments such as World Cups in sports such as women's rugby, hockey and netball and there is actually a big difference between finishing fifth and as low as eighth.
That doesn't mean getting up for classification games isn't a psychological challenge for teams who had more lofty ambitions, but Ireland's defeat to Australia wasn't down to the hosts being less motivated than their opponents.
Australia came into this tournament with relatively little expected of them thanks to a sparse schedule of fixtures over the past three years and then heavy defeats at the hands of the sport's big three – New Zealand, England and Canada – in June.
However those uncompromising matches against the best, while Ireland were fiddling about with training games against Japan and Spain, were very valuable learning experiences and the Aussies have demonstrated a capacity for rapid development in this tournament.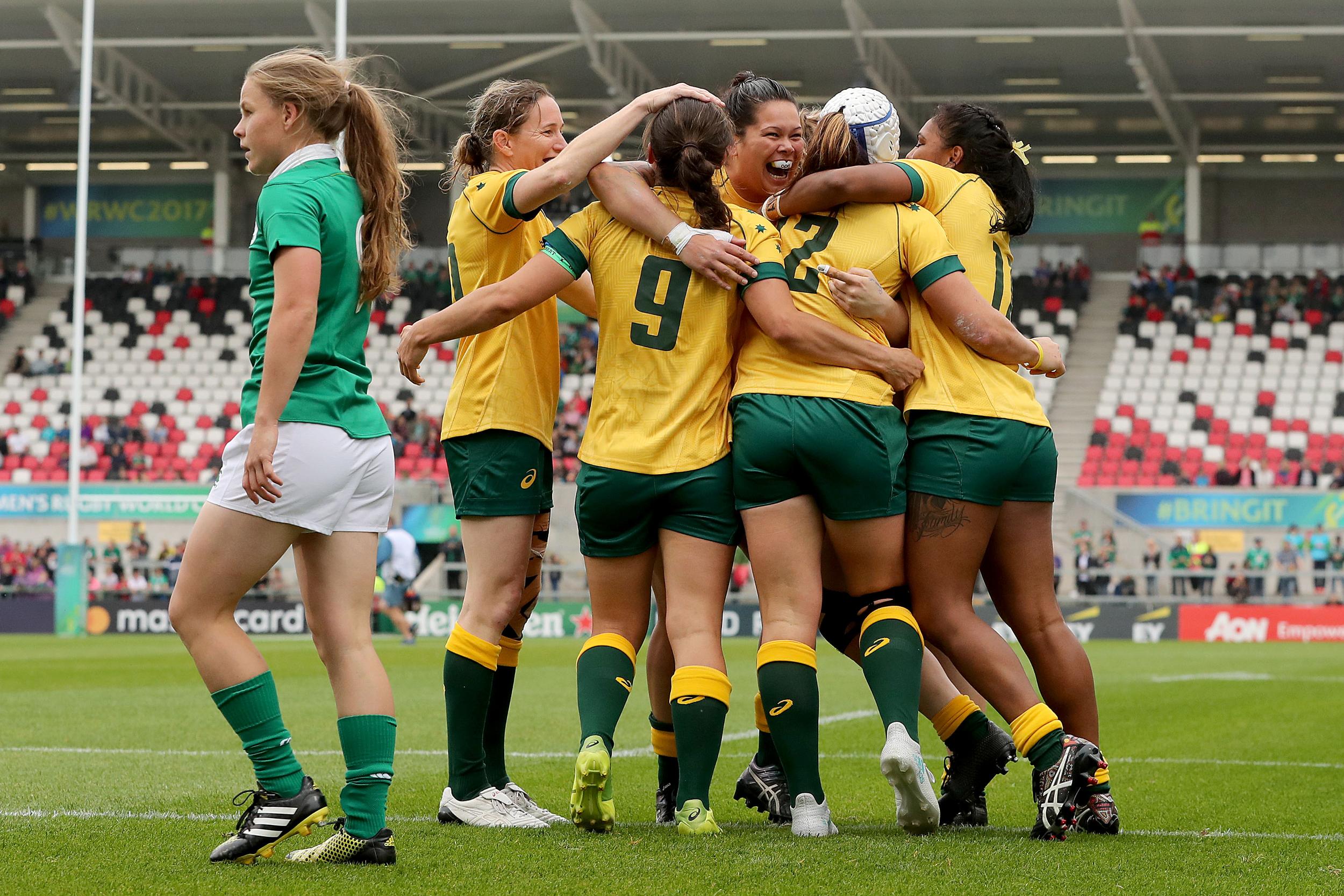 It was evident even in the first clash that they are physically superior to Ireland with plenty of seriously imposing specimens and a glance at the stats shows that the Aussie players outweighed their opposite numbers in all but two of the 15 positions.
Ireland were giving away close to a stone per player weight advantage on average, especially in the backs, so some of the criticism the tournament hosts received for not winning more of the collisions was perhaps harsh.
Australia showed increased coherence and cohesion compared to the first meeting, thanks in part to having got into their rhythm as the tournament progressed but also as a result of having the experienced Ashleigh Hewson pulling the strings from outhalf.
The concession of a seventh minute try to sevens star Sharni Williams was compounded by losing a second skipper of the tournament thanks to Molloy being injured in the build-up and Murphy's misfortune is surely the emphatic antidote to any notion of the luck of the Irish.
Something of a cult hero due to her human wrecking-ball style, Murphy hasn't finished any of the three games she started at this World Cup due to various knocks which then forced her to sit out the encounters with Japan and Wales.
Egan got over after a series of mauls from penalties to the right corner after the television match official adjudged her fellow prop Peat to have grounded short following an earlier drive and Stapleton put Ireland in front with an excellent conversion from wide out on the harder side for a right-footed kicker.
A second Irish try followed within three minutes as Miller showed her pace and power in running onto a grubber down the left flank and storming home for a trademark try to which Stapleton couldn't add the extras.
Ireland seemed well-placed at 12-5 up midway through the first half but in the 31st minute centre Sarah Riordan was brought through the middle from a scrum – which the Aussies opted for when Cronin was penalised for a neck-roll at a ruck – to touch down with Hewson landing the equalising conversion.
Centres Murphy and Naoupu unluckily clashed heads in the lead-up to 17-stone prop Hilisha Samoa, who would later be named Player of the Match, getting over the Irish line six minutes later and Egan was also being treated as Hewson converted.
With Caplice already on for Molloy, McLaughlin got her first taste of World Cup action in place of Murphy and Ireland looked in danger of further concessions before the break as the Aussies attacked with increasing cohesion but they held out helped by a turnover on their own line.
Determined defence from Reilly and others eventually proved in vain as blindside flanker Millie Boyle was adjudged to have got the touchdown with half an hour left, Hewson converting, just before Tierney sent on Muldoon, Lyons and Spence.
Hewson nudged Australia three scores clear with a penalty but Ireland's goose was finally cooked when sevens star Mahalia Murphy, scorer of a try in the previous encounter, got in for her team's fifth of the afternoon after a number of missed tackles.
The conversion widened the gap to a sobering 24 points as Tierney again responded by sending on three subs as both props were replaced and Fitzhenry came on for Stapleton with Naoupu moving in to flyhalf.
The game was up but Ireland needed to produce a response and Muldoon got them going by ripping the ball from her opposite number and sniping to the Aussie 22 followed by a trademark rumble from fellow sub Spence.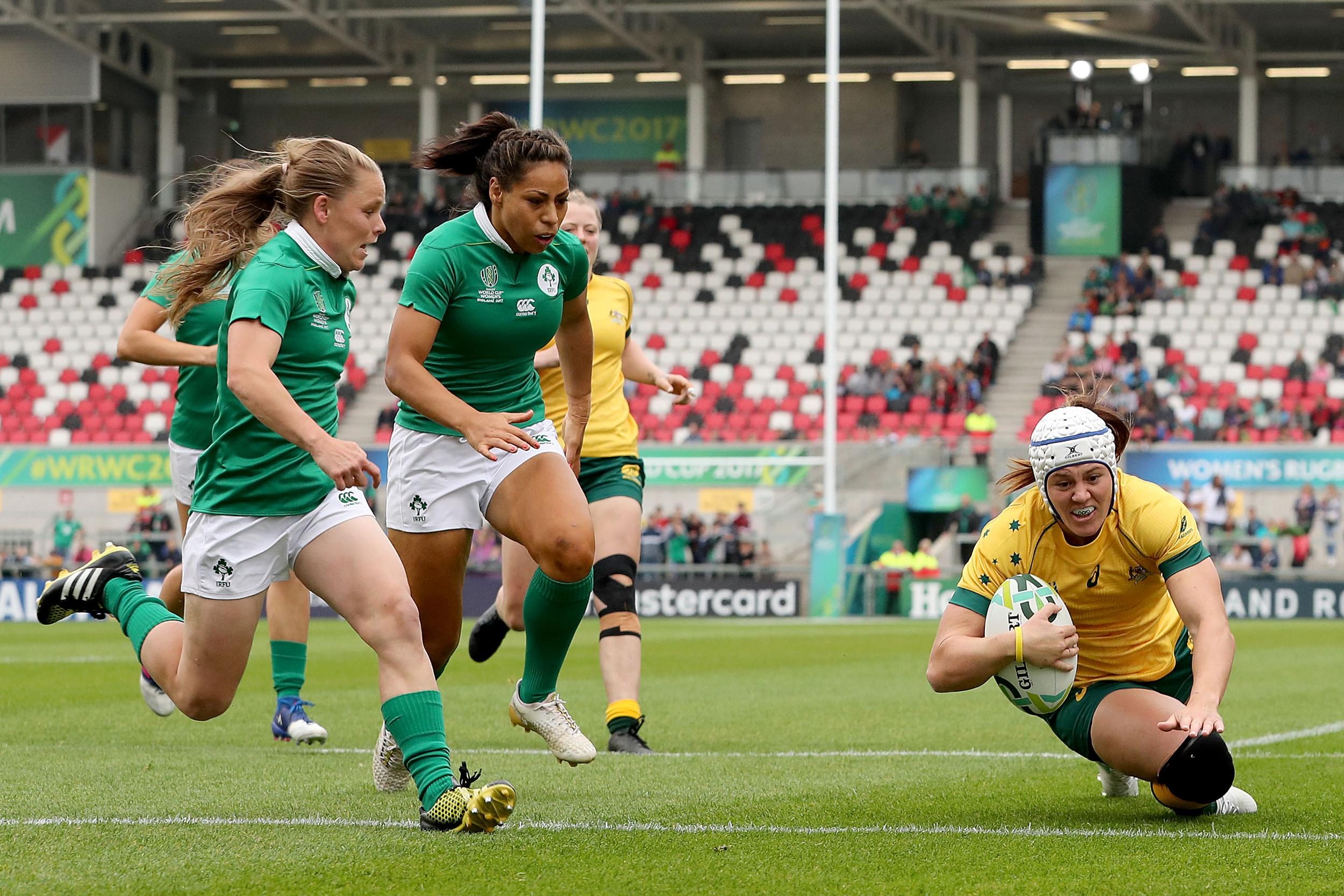 It was Spence who finally got the first of two late consolation tries for Ireland, the second coming from acting captain Fitzpatrick in injury-time after Boyle had been sinbinned, and this time Tyrrell added the extras in contrast to a lamentable first attempt.
Ireland's oldest player Reilly, who worked tirelessly to the end, typically led the team on a lap of appreciation afterwards for a crowd who had roared their approval of the late tries even though those scores couldn't gloss over the realities of a bad beating.
They will hopefully be back to get behind the girls in green as they seek to sign off on a winning note against the Welsh before attention turns to the France against USA third place play-off and then a mouth-watering World Cup final between New Zealand, Portia Woodman et al, and holders England (7.45pm) which will be shown live on UTV.
IRELAND (v Wales): Hannah Tyrrell; Eimear Considine, Katie Fitzhenry, Jamie Deacon, Alison Miller; Nora Stapleton, Nicole Cronin; Lindsay Peat, Cliodhna Moloney, Ailis Egan, Ciara Cooney, Marie-Louise Reilly, Paula Fitzpatrick (capt), Ciara Griffin, Heather O'Brien. Replacements: Leah Lyons, Ilse van Staden, Ciara O'Connor, Sophie Spence, Ashleigh Baxter; Larissa Muldoon, Sene Naoupu, Mairead Coyne.
Sign Up To Our Newsletter