ARMAGH Under-14 camogs made history at the weekend when taking home the county's first All Ireland title at under14 level after they defeated all before them in the Cooper All Ireland Under14 DivIII blitz in Dublin.
Armagh went into this competition on the back of a very impressive Ulster championship campaign when they ousted pre-match favourites Down in the Ulster semi and caused a real scare for the Derry cailini in the Ulster final, being beaten by a strong second half performance from the Oak Leafers that saw them clear of the spirited Armagh challenge.
In Saturday's competition the Orchard ladies saw themselves first pitted against Meath and came through this tough encounter with some excellent team work and die-hard efforts to see them through on a scoreline of 2-6 to 2-2, Armagh's scorers being Eimear Mullen 1-3, Amy Brennan 1-0, Ciara Hill 0-2, and Hannah Hughes 0-1.
Next up for the Armagh girls was neighbours Down and the Armagh girls were in sparkling form racking up an impressive 5-9 to no score, this time Armagh sharpshooters were Hannah Hughes 3-1, Molly McKee 1-1, Catherine Beagan 1-1, Amy Brennan 0-3, Eimear Smyth 0-2 and Ciara Hill 0-1.
With their tails up the Armagh girls surged forward driven on by their management trio of Maggie McKee, Bernie McBride and Aine French and their challenge was to overcome Roscommon which they duly dispatched on a score of 0-8 to 0-1 (Amy Brennan 0-4, Hannah Hughes 0-2, Eimear Smyth 0-1, Ciara Hill 0 -1) to put them winners of their section and through to an All Ireland semifinal and the excitement levels were rising. This was new territory for these young players and the question was if they could rise to the challenge. Anyone who doubted were soon silenced as the girls in orange took to the field against a fancied Westmeath side to try and write their own little piece in the Armagh annals of camogie history by becoming the first Armagh county team to reach an All Ireland final at this level.
Their 3-6 to 1-2 victory brought cheers of delight and approval from the dedicated band of followers who had been able to make the trip to Dublin. Girls on scoring form in the semifinal were Amy Brennan 1-4, Hannah Hughes 1-0, Ciara Hill 1-0, Eimear Mullen 0-1 and Eimear Smyth 0-1.
The girls were now in an All Ireland final. They had exceeded the expectations of many but perhaps, inside themselves and within the minds of their mentors of McKee, McBride and French, the belief of the talent and ability that lay beneath was finally coming to fruition.
Cork were the opponents, a county that traditionally has a much longer string of awards than the Armagh team had, but past successes and tradition was not to play on the minds of the Armagh cailini who from the throw-in showed that they had a job to do and were in no mind not to do it. Terrific Camogie was evidenced from each and every Armagh player who played with such skill, determination and courage that any senior player would have been proud to claim. They could not be handled by the Leesiders and at the end of the game were gloriously victorious on a scoreline of 0-5 to nil. What a match, what a performance, what a weekend! There were shrills of joy, tears of delight and handshakes all-round. The young girls from Armagh had come to Dublin and they had conquered!
A delighted and wonderful team captain Ciara Hill accepted the Rosina McManus cup on behalf of her team and did her club Granemore, and her county proud with how well such a young player addressed her spectators. It was very fitting for Armagh to win the Rosina McManus cup as Rosina was an ardent Ulster Camogie gael and whilst being a dedicated Antrim camog, always had a place in her heart for all Ulster teams. Sadly Rosina left this world a few years ago but her memory was fittingly recognized through this Under14 All Ireland blitz award.
This was a wonderful weekend of Camogie for Armagh and whilst scorers win matches one player whose name has not been recorded in this report as yet was on so many lips at the homecoming- that of Leah McGoldrick from Madden. This young player was simply superb throughout the weekend, marshalling the Armagh defence in brilliant fashion, and in the words of one Armagh supporter if there had been an award for a player of the weekend Leah McGoldrick would be her choice! Well done Leah, your first All Ireland medal will hopefully be followed by more!
Caoimhe Fanthorpe is another name worthy of mention, she was unbeatable in the heart of defence and the low scoring from all five teams Armagh met is due in no small measure to the efforts of Caoimhe and her defensive teammates.
Ciara Hill played a true captain's role and showed the fine talent that she is, both on the field of play and with the microphone- well done Ciara!
Each and every Armagh girls however was brilliant, well done to you all, you will not forget this weekend!
Back Row: Caoimhe Fanthorpe (Tullysarron), Grace French (Clan na Gael), Hannah Hughes (Madden), Leah McGoldrick (Madden), Sinead McCooey (Keady), Fay Nugent (Granemore), Gemma Rock (Granemore), Caitlin Jenkins (Camlough), Aoife McGaffin (St Brigids), Emma Hughes (Keady), Marie Toner (Ballymacnab)
Middle Row: Emma Mone (Derrynoose), Sinead Fegan (Aghagallon), Aoife Kelly (Tullysarron), Eimear Mullen (Tullysarron), Amy Brennan (Keady), Tierna McKeever (St Brigids), Lana Kernan (Tullysarron), Eimear Smyth (Madden)
Front Row: Molly McKee (Ballymacnab), Roise Hughes (Ballymacnab), Einear Smyth (Ballymacnab), Catherine Beagan (Keady), Ciara Hill (Granemore) (Captain), Gabrielle Fox ( Derrynoose), Shauna Keenan (Killeavey), Niamh Cunningham (Camlough), Shauna Connolly (Keady)
Management team: Bernie McBride, Aine French, Maggie McKee
The Armagh girls had the honour of joining the other All Ireland Blitz weekend winners, Wexford (DivI) Derry (Div II) and Carlow (Div IV) in a parade on the hallowed turf of Croke Park during the All Ireland finals on Sunday. Hopefully some of these players will one day once again walk on the Croke Park grass as a player for Armagh in an All Ireland final! There's no doubting that they have the skill and talent to do so. There's also no doubt that their mentors Maggie McKee, Bernie McBride and Aine French must have been filled up with pride to see their team walk on the same grass that they themselves had so proudly played on in 1993 on Armagh's route to its first All Ireland junior crown.
A wonderful homecoming took place in the home club of the team captain Ciara Hill, Granemore where a great turnout of family and camogs from across Armagh was there to congratulate the very happy bunch of players and management team as they came off the bus with their All Ireland cup. Paula McGuigan, spokesperson for Armagh County Board spoke eloquently of the delight felt for the achievement for the girls and encouraged them to follow their potential for more successes at All Ireland level. Lucy Hill was no doubt one of the proudest mums on show, as Chairperson of Granemore club and also as mother of the team captain and Lucy spoke of her delight to welcome the All Ireland champions to Granemore! Marion McStay, President of Armagh Camogie spoke with her usual pride and words of encouragement and highlighted how well the Armagh girls had represented their clubs, their county but particularly their families. Final word fittingly went to team manager Maggie McKee who spoke of the great camaraderie that existed within the team and of the wonderful squad that she and her management team had been privileged to work with. The cheers from the girls themselves for Maggie, Bernie and Aine showed clearly that the camaraderie spread to more than just the team and that these three mentors were indeed very much a part of this wonderful story for Armagh Camogie!
Amidst smiles all round and plenty of camera snaps for the family albums, this was a great night to remember for Armagh camogie. Thanks are extended to the Granemore club for organizing a very joyous homecoming occasion and the welcome cup of tea.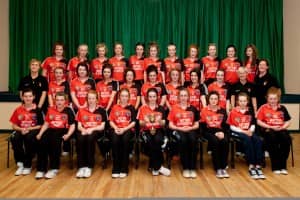 Back Row: Caoimhe Fanthorpe (Tullysarron), Grace French (Clan na Gael), Hannah Hughes (Madden), Leah McGoldrick (Madden), Sinead McCooey (Keady), Fay Nugent (Granemore), Gemma Rock (Granemore), Caitlin Jenkins (Camlough), Aoife McGaffin (St Brigids), Emma Hughes (Keady), Marie Toner (Ballymacnab)
Middle Row: Bernie McBride (Manager), Emma Mone (Derrynoose), Sinead Fegan (Aghagallon), Aoife Kelly (Tullysarron), Eimear Mullen (Tullysarron), Amy Brennan (Keady), Tierna McKeever (St Brigids), Lana Kernan (Tullysarron), Eimear Smyth (Madden), Aine French (Liason Officer), Maggie McKee (Manager)
Front Row: Molly McKee (Ballymacnab), Roise Hughes (Ballymacnab), Einear Smyth (Ballymacnab), Catherine Beagan (Keady), Ciara Hill (Granemore) (Captain), Gabrielle Fox ( Derrynoose), Shauna Keenan (Killeavey), Niamh Cunningham (Camlough), Shauna Connolly (Keady)
Sign Up To Our Newsletter