SUNDAY will see two of Armagh's powerhouses come together in one of the most eagerly anticipated senior finals in recent years.
The last couple of finals have been somewhat of a damp squib with Crossmaglen cantering to a county championship 12 months ago. The previous year Cross' beat rivals Dromintee in the decider, but for most parts of that game, Rangers were not troubled. The final prior to that was literally a damp squib in the Athletic Grounds as Pearse Ogs beat city neighbours Armagh Haprs, but again that final did little to imprint any lasting memory.
However, this year there seems to be something different about this final. It's the decider most neutral observers would have wanted and it is undoubtedly a final being contested between the two best sides in the county at the moment.
This Sunday will determine which out of the two is the best and there is certainly a good case for both.
If you consider the obvious fact that Crossmaglen are aiming for their third All-Ireland club title on the trot  you could be forgiven for thinking that they will collect another with relative ease – maybe a scare or two along the way – just like they always do, but the Ogs are a different sort of machine this year.
On championship form alone Louis O'Neill's side look fantastic with the comprehensive removal of Granemore, Ballymacnab and Cullyhanna. The Armagh side have not given their opponents any chance to settle and they'll need to do exactly that against Crossmaglen.
On the other hand Crossmaglen have not lit the Armagh championship alight and received scares in every round, against Armagh Harps, Maghery and Carrickcruppen. Maybe the contrasting build-up will play into Cross' hands, maybe not!
The difference with the two sides this year has been the personnel available; Pearse Ogs have had pretty much a full compliment to choose from while Tony McEntee has had a headache with players either injured or away.
Jamie Clarke has returned from America, Danny O'Callaghan and Francis Hanratty are away while Paul McKeown was injured – and maybe still is. Paul Kernan and James Morgan have been carrying knocks.
The only real concern for the Ogs is the absence of Ronan Clarke but to be fair his presence and experience on the sideline could just be as valuable to any contribution on the field. The Ogs had the luxury of allowing him cameo roles in the earlier rounds but whether he would have had came on in this final is another question altogether.
There is little doubting where the Ogs are strongest and that is of course the half-back line with Darnell Parkinson, Paul Duffy and Andy Mallon all capable defenders but equally adept at going forward. All over the field they are strong, likewise Cross. The strength of the reigning All-Ireland champions has been well documented and what they do best is having their 'lesser' – for want of a better word – players come to the fore when it's least expected. Don't count on Jamie Clarke winning this game on his own, don't discount it though, but like last year's All-Ireland final replay it was Franny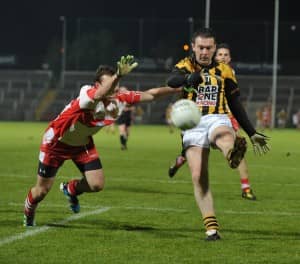 Hanratty who made the difference and he was a periphery player all season. And lest we forget Oisin McConville – always a man for the big occasion, always a man to drag his side from the mire and that could well be required on Sunday.
Nonetheless whatever happens over the sixty-plus minutes this should be an Armagh county final that will be remembered for a long time, certainly longer than the last few anyway.
Meanwhile the minor final pits Killeavy against Grange with the south Armagh side looking to add to an Intermediate title which was won by the senior side last weekend.
If form is anything to go by then the trophy should be heading south in the direction of Killeavy but championship finals are unpredictable and this, like the senior final, should be a great battle between two good teams.
Sign Up To Our Newsletter