There has been widespread shock and disbelief this morning as the people of Richhill learn of the passing of a highly regarded and popular Church of Ireland clergyman.
Rev David Somerville, the rector of St Matthew's Parish Church in the village, passed away during the early hours of this morning.
His funeral will take place on Monday.
Married to May, he lived on the Annaghreagh Road in Richhill, and was a father-of-three, David, just eight years of age, and Ian and Sarah, both now married.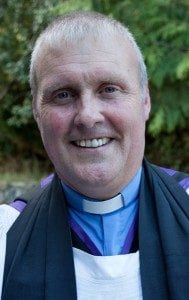 He was a native of Lurgan and his chosen career path began in the field of education.
He studied and trained to be a teacher at Stranmillis College and devoted 17 years of his life to educating young minds.
It was at the age of 38 that he heard God calling and he chose to go into the ministry, returning to Stranmillis College, where he trained for a further three years.
Rev Somerville's first calling was at Christ Church in Lisburn. He subsequently ministered at Rathfriland and Ballyward before coming to Richhill.
He was instituted rector of St Matthew's Parish Church in September 2013, at a ceremony attended by the Archbishop of Armagh, the Most Rev Dr Richard Clarke, and the Dean of Armagh, the Very Rev Gregory Dunstan.
Rev Somerville was widely involved in the life of the village and was a friend to all.
His funeral will take place in Richhill at 1pm on Monda .
Bishop Harold Miller said: "It was a great shock for everyone to hear of David's sudden death last night.
"David's calling was formed in the parish of Knocknamuckley in the diocese of Dromore and he served as rector in Rathfrailand and Ballyward. David was dearly loved and his ministry greatly valued.
WOur prayers and sympathy are with May and Dan, and with his wider family as they hold on to the sure and certain hope of eternity in Christ at a very difficult time."
He will be very sadly missed and to his family and friends we offer our deepest sympathies.
Read more news:
Car crashes into wall on main Armagh to Portadown Road
Child killer Robert Black's remains unwanted and scattered at sea
Farming equipment worth £40,000 stolen overnight
Two men arrested after drugs haul found in car
Leading pizza chain plans 40 new stores in NI – and County Armagh is on the radar!
Traffic light programming and next city sewer phase to see more Mall lane closures
New McDonalds drive-thru restaurant to open in Banbridge in July
Patient doused with raw sewage after pipe leaks onto hospital bed
Sign Up To Our Newsletter