The owner of a tractor stolen in Gilford on Thursday night – and last seen being driven through Tandragee – is appealing for help to have it returned.
In all three tractors were stolen in the area during the week and there was an attempt made to take another.
The most recent was on Thursday evening and there are reports of it being seen going through Tandragee.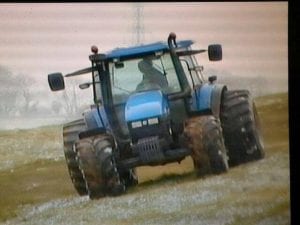 It is described as being quite distinctive and would stand out due to the very wide flotation tyres on the rear. It also has a spreadplate.
It was taken at around 10pm on Thursday evening.
If anyone can help please contact the PSNI on the non-emergency number 101, or contact the owner, Wayne, on 077 7957 7174.
In the case of the attempted theft, a tractor and trailer were stolen from a yard but abandoned a short distance away.
Following the recent incidents, the PSNI is reminding those in the farming community to take precautions.
They advise: "Be aware…Secure your machines, lock your gates, if possible put things inside at night time. If you have the means to do so think about installing security lighting and/or CCTV. Regularly check your yards and fields and report any suspicious behaviour."
Read more news:
First image shows planned £8.4m Daisy Hill paediatric unit with work to start next month
Community devastated after father-of-four dies tragically on holiday
Armagh City man in court charged with attempted murder after Craigavon stabbing
Huge boost as work on new £6.9m Craigavon paediatric unit to start next week
Charity helps deliver specialist tricycle – and smiles – for Ceara Special School pupil Reece
Kennedy: Thomas 'Slab' Murphy sentence shows no-one is beyond the law
Patients unaffected as fire breaks out at Craigavon hospital
Newsletter
Sign up for our weekly newsletter here.