The lorry cab used to transport the 39 Vietnamese migrants, who died in Essex in October 2019, is to be sold for parts, with any money generated going to the families of the victims, Armagh I can exclusively reveal.
The vehicle is being sold by Wilsons Auctions, which has a site in Portadown, in a closed auction and will not return to the road.
Laurelvale man Maurice (Mo) Robinson, who was driving the Scania lorry at the time of the tragedy, was jailed for 13 years and four months in January 2020 on 39 counts of manslaughter and assisting unlawful immigration.
The bodies of 31 men and eight women – two of whom were just 15 – were discovered when Robinson opened the sealed container of his lorry at a port in Grays, Essex.
Essex Police Chief Superintendent Stuart Hooper, told Armagh I: "We have tried to manage the disposal of the lorry cab in an appropriate way, whilst recognising the independence and authority of the courts, their decisions and processes."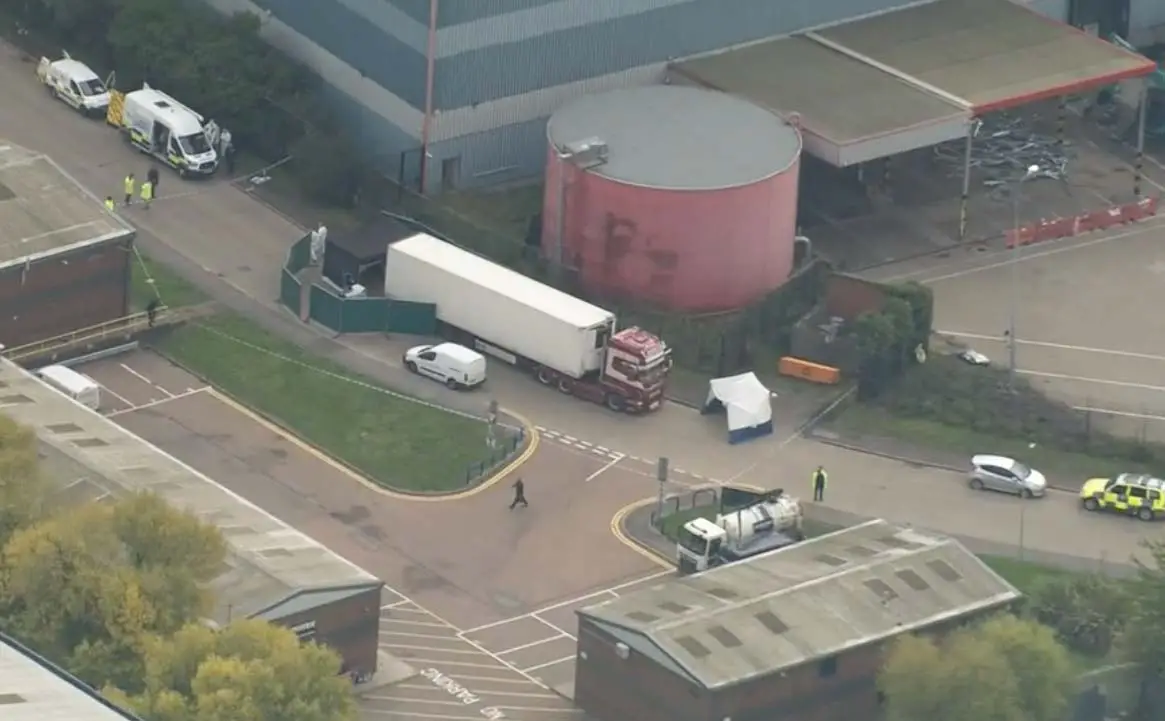 And Mark Woods, of Wilsons Auctions Ltd, confirmed to Armagh I: "The vehicle will be sold to the highest bidder in a closed auction where only vetted Authorised Treatment Facilities – who are registered with the Environment Agency – can bid.
"It will be broken into parts for recycling and it will not return to the road.
"All money generated from the auction will be sent to the 39 Vietnamese victims' families."
Chief Superintendent Hooper added: "Essex Police have dealt with the investigation into the deaths of the 39 Vietnamese victims who tragically lost their lives in a highly professional manner, showing dignity and respect to both the victims and their families.
"It was a complex case which gained national and international media attention, but throughout the investigation and court trials, our priority has been, and remains, treating the victims with respect and sensitively offering their families support, to ensure they do not suffer further."
Essex Police were initially called by the ambulance service shortly after 1.40am on October 23, 2019, following a 999 call from Robinson.
When officers arrived at the scene, they made the tragic discovery of the Vietnamese victims in the trailer.
Related: Lorry driver Maurice Robinson sentenced to 13 years in prison as Ronan Hughes gets 20 behind bars
Robinson had picked up the trailer at the Port of Tilbury at around 1am, before parking up to 'give [them] some air', as per a Snapchat message from his boss, Ronan Hughes.
Upon opening the doors and realising that the people inside were not breathing, he closed the doors again and made a series of phone calls to his bosses, driving around West Thurrock until he had abandoned his burner phone and come up with a plan.
Half an hour later, he parked up for a second time, and made the call to the ambulance service.
Robinson, who had denied any knowledge of people being in the trailer, was arrested at the scene. The investigation identified that he had been involved in the conspiracy for some time. He was charged several days later.
In November 2021, Robinson was told he must sell his home, 4×4 vehicle and watch to pay the victims' families more than £21,000.
At the time, it was reported that Robinson had appeared at the Old Bailey in London for a confiscation hearing.
Related: Mo Robinson ordered to sell property to compensate families of 39 victims
The court heard he had assets worth a total of £21,262, which included two accounts, more than £10,000 of equity in a property in Armagh, a 4×4 vehicle worth £2,000 and a £200 watch.
Four other local men have also been jailed for their part in the smuggling ring. They are Ronan Hughes, of Co Armagh, described as one of the 'ringleaders', who was jailed for 20 years; Eamonn Harrison, of Newry, jailed for 18 years; and Christopher Kennedy, of Co Armagh, jailed for seven years.
Sign Up To Our Newsletter