A young Armagh woman who owes her life to the Northern Ireland Air Ambulance is now repaying the debt by volunteering with them.
Hannah Babe, from Belleeks, was on her way to college at Dundalk Institute of Technology in January 2020 when she was involved in a serious car crash.
Then aged 20, her car slid in heavy snow and was in collision with a lorry on the main Newtownhamilton to Newry Road.
Hannah had to be cut free from the wreckage and sustained a range of injuries including a fractured skull, hip and arm as well as a small bleed on the brain.
Speaking to Armagh I, the 23-year-old explained how she remembers very little about the accident.
"I remember coming to the end of the road and going to stop but the car didn't stop. It just kept on going. The next thing I remember was being cut out of the car," she said.
"I had glass in my eyes so I couldn't see what was going on. The firemen and ambulance crew were so reassuring and it put me at ease a wee bit. Mummy had come to the scene of the accident and they were so good to her too."
Hannah was airlifted to Musgrave and then to the Royal in Belfast, where she spent almost a week in hospital.
She had to wear a neck brace and was delighted when it was removed on her 21st birthday in June.
Her recovery was made all the more challenging when she was diagnosed with Type 1 diabetes five months later, which was probably caused by the head trauma.
Today, Hannah has been left with no lasting injuries, apart from the occasional headache and a bit of pain in her hip.
"I am very lucky. I saw the car before it was taken away and it was completely overwhelming, seeing the state of it and how lucky I was to get out of it," she said.
Fortunately, Hannah was able to continue her studies online and is about to begin the final year of her Early Childhood Studies degree in September, with the aim of becoming a primary school teacher.
Recently, Hannah visited the Air Ambulance headquarters, with boyfriend Paul Callaghan, who had climbed the six highest peaks in six days for three charities.
She said: "I went with him to the cheque presentation, and I mentioned then that I wanted to do some volunteering for them."
Hannah had previously helped out with another fundraiser for 14-year-old Abbie Nummy, who died after a farm accident. That was her first proper volunteering work for the Air Ambulance and she "absolutely loved it".
She said: "It is nice to be able to tell people about the Air Ambulance and how they have helped me.
"Only for them, there is a very high chance I wouldn't be here. The work they do is unbelievable and the number of lives they have helped to save is amazing."
The service has just marked its fifth anniversary, and has been used 3,000 times since it was officially launched in 2017. Almost a quarter of call-outs were for serious road crashes.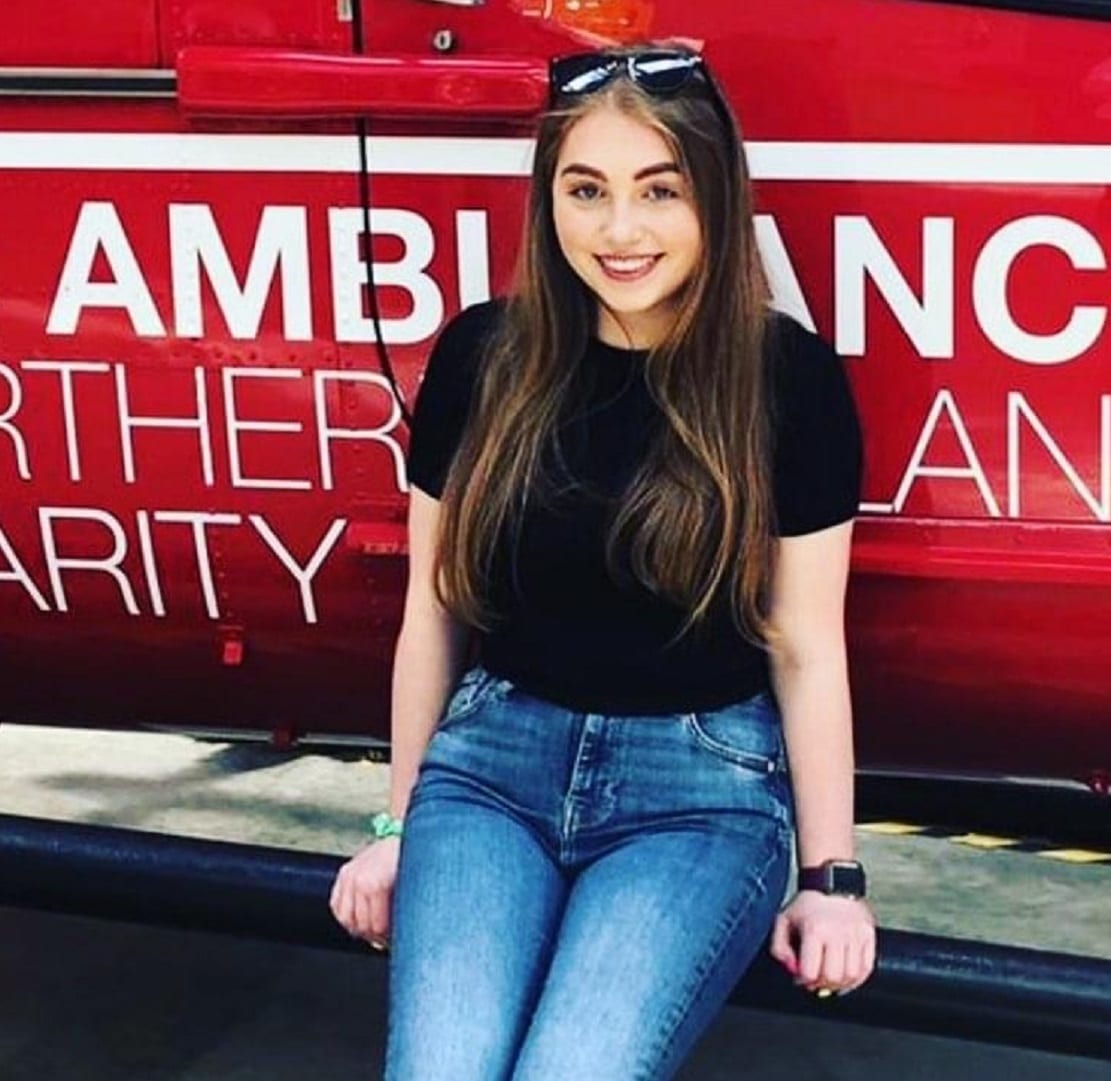 Amy Henshaw, regional fundraising co-ordinator at Air Ambulance Northern Ireland said: "Hannah is a brave, strong and resilient young woman, who found herself in a serious traumatic incident.
"We were so pleased to welcome her to the Air Ambulance base in Lisburn, along with her family to hear her story and delighted she has decided to become a volunteer for the charity."
Sign Up To Our Newsletter