Police have again been forced to deal with large crowds of young people underage drinking and engaging in anti-social behaviour in both Portadown and Lurgan.
And the PSNI in Craigavon took to social media to urge parents to know where their children or – or face the consequences.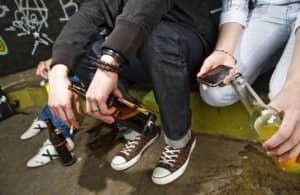 There were reported gatherings of large crowds of young people at Castle Lane in Lurgan and Ballyoran in Portadown.
In a direct message to parents via Facebook, the PSNI in Craigavon says: "It's in everyone's interests that they're home, or at least parentally accounted for.
"If we have to start bringing underage kids home, we'll be asking YOU to explain why they're drunk, disturbing neighbourhoods late at night, then giving us abuse for moving them on.
"Furthermore, if we find out who's responsible for smashing bottles in these locations, we'll pass their details, and yours, to the council. A littering fine probably isn't your ideal start to the new year.
"Do you know where your kids are?"
The PSNI has also defended itself against comments made in response to the post by others, claiming they should be apprehending real criminals.
In a strongly-worded response, the PSNI posts: "Real criminals? Tell that to a parent who stands in a morgue identifying their dead child due to alcohol poisoning, or gets knocked down after stumbling out in front of a car.
"Keeping people safe isn't all about bank robbers and murderers. Unfortunately it's often about doing parents jobs for them."
Read more news:
Police continue to investigate circumstances surrounding body found in park
Six-year-old girl dies in Newry collision involving two cars and a tractor
St Patrick's High in Keady awarded 'Best Northern Ireland School' at national exhibition
County Armagh lottery winner: My wife is going to buy a new hoover
Death of man found in park being treated as suspicious
Police release pictures of cannabis factory found in bungalow
Sign Up To Our Newsletter