The owner of a barber shop in Portadown town centre says he has to clean the pavements outside his shop every week, including where people have urinated.
Gem Yusufgul, who owns Porter Green Barber on the corner of Market Street and Thomas Street, said that after the weekend the pavement "turns black".
And he compared the cleaning of the town centre to that in his native country.
"In Turkey, at 5 o'clock every morning a big water tank comes round and cleans everywhere, in time for shops opening up," he said.
He points to a bin just outside his business which is overflowing with rubbish. As we speak, two people try to dispose of their ice cream cartons but can't find enough room to squeeze them in, so they walk on.
In fairness to Armagh City, Banbridge and Craigavon Borough Council, there are other empty bins along the street.
Gem also points to a CCTV camera on the main street just outside the shop which, he says, could be used to catch those littering or urinating.
Gem was just one of the businesses owners and managers who spoke to Armagh I to share their thoughts on the cleanliness of the town.
Further up Market Street, the owner of Modern Meats Robert Montgomery (main image) has also taken cleaning into his own hands.
His shop is just a few doors down from the Market Lane alleyway, and he was so disgusted by the rubbish in it last Saturday morning that he brushed it up himself.
"I don't know who owns the alleyway, whether it's the council or not, but I was tired looking at it," he said.
He is also critical of the state of the pavements outside his business.
"They look dirty. Years ago the council used to come and power hose the footpaths and I would love to see them doing that again," he said.
"There was a local MLA put up a post on Facebook about a year ago saying the town was terrible and that he was going to get it cleaned up, but nothing has happened."
Mr Montgomery did point out, however, that the council's sweeping machine had been out that morning "and those guys are pretty good".
Barry McGurgan, of F McGurgan wallpaper and paint shop in West Street, believes Portadown "isn't too bad", adding that it is clean compared to Lisburn where his girlfriend lives.
For him, dog fouling is the worst type of littering offence, and he believes there needs to be stiffer penalties for owners who don't comply with the rules.
He also believes council litter wardens need to focus more on this problem than on cigarette butts.
Shop assistant Nicola Best, however, thinks the litter problem has got worse in West Street and she says that in Brownstown, where she lives, dog fouling is "very bad" and that she has complained about it on a number of occasions.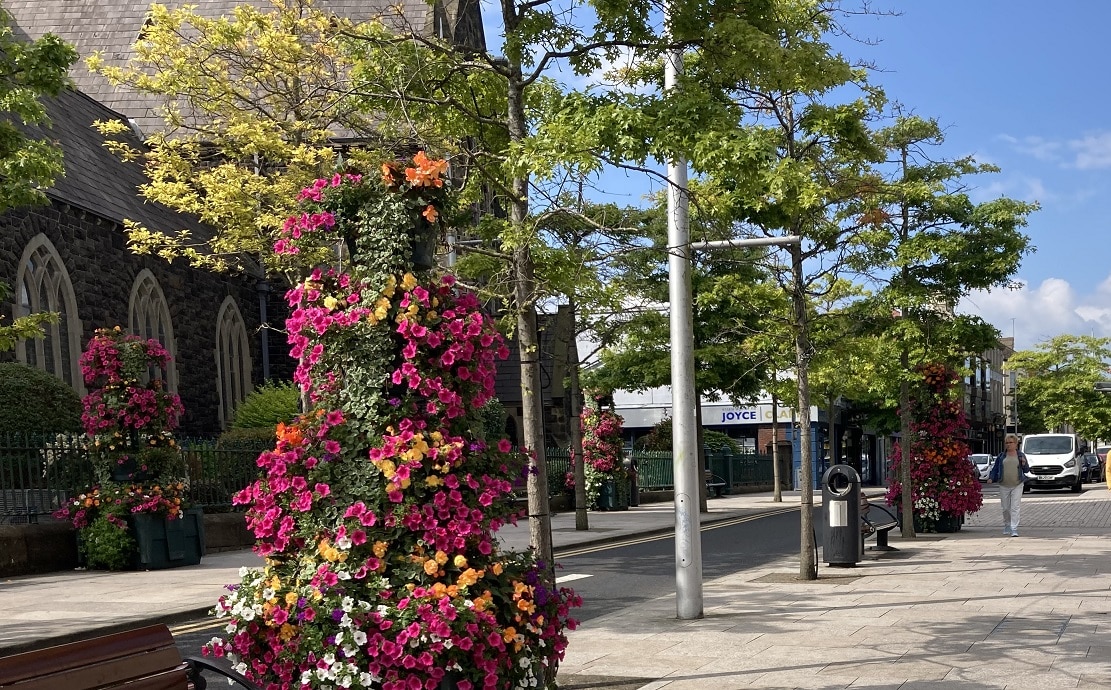 Meanwhile, Kristy Gray of Sitara Morgan boutique, thinks that the town, on the whole, is relatively clean.
"After the weekends, there can be a bottles of drink or glass lying about but it's generally cleaned up at some stage on Monday," she said.
"Dog fouling can be quite bad further on up the street sometimes, so you have to avoid walking in it."
A spokesperson for Armagh City, Banbridge and Craigavon Borough Council said: "In recent months Council's Environment Services Department has been impacted by multiple factors such as; covid, industrial action, and labour shortages.
"Council has conducted an Environmental Services review and has an Action Plan in place to resolve many of the issues highlighted."
Sign Up To Our Newsletter