A County Armagh restaurant which trains young people with with learning disabilities in catering skills faces the fight of its life as it battles to save itself from closure.
The One Eighty in Portadown needs a dramatic U-turn to help keep its doors open – but it's not giving up without a fight.
A public meeting has been held in Portadown Town Hall tonight in a bid to secure much needed funding.
And the organisers have been delighted with the response and pledged to follow up on all offers of support.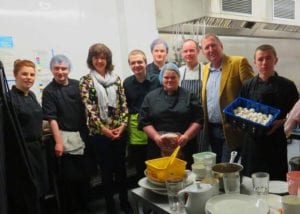 Describing the turnout this evening as "fantastic", the organisers have thanked all for their help to date and hope to gain much more backing and public support in the crucial days ahead.
The training programme, which offers level 1 hospitality qualifications, has seen its funding slashed in recent times.
And One Eighty is petitioning to secure direct Government funding to continue this vital community-based work.
However, time is running out. The Step-by-Step charity, which runs Mandeville Street project, says they have a deadline of April before drastic measures have to be taken.
The charity has been backed by UUP councillor Doug Beattie who has asked the Employment Minister to intervene.
A delegation met with Mr Farry today.
"We are setting up a high-powered delegation to ask for a meeting with Stephen Farry," said councillor Beattie. "We believe that the project should be financed outside the usual restrictive education criteria.
"This scheme concentrates on school leavers who would have nowhere else to go – especially the 19-plus age group from special education who are largely abandoned after school days."
Read more news:
South Armagh primary school gets £1.5m funding boost
Picture shows man caught trying to force open window of Co Armagh home
Vote passes to ban smoking in cars when children on board
Urgent action call at Richhill after another accident at scene of last month's tragedy
Large parts of Armagh without water after contractor hits mains on Mall
Nathan Carter fans play waiting game over 'booking error' claims over Armagh gig
Melbourne friends to honour Niall's memory with fundraiser for Kevin Bell Repatriation Trust
Sign Up To Our Newsletter