A devoted County Armagh mum – whose six-year-old son has been waiting for a long overdue assessment for Autism Spectrum Disorder – has lambasted Stormont officials for "failing our children".
And mother-of-two Emma Manton is encouraging the public to sign an online petition – set up just this week – to force the powers-that-be to finally sit up and listen.
The 34-year-old, who lives at Annaghmore with husband John, said it was hoped to bring the petition right to the doors of Stormont.
The family has only just had some movement in relation to their six-year-old son Thomas – but there is still a long road ahead.
The couple – who also have a three-year-old son Christopher – first asked for help more than two years ago.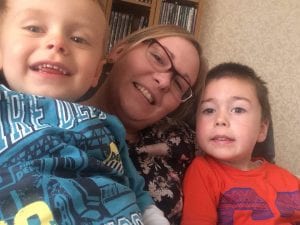 And they could be waiting up to a year more for answers.
The situation has become so bad that angry and frustrated parents right across Northern Ireland are demanding the Departments of Health and Education put their heads together – then get their act together!
The times being taken for assessment of children with ASD has been lengthening and families are furious that pounds and pence are being allowed to excuse and justify this.
So much so, that an online Facebook group – of which Emma is just one member and which is growing in number day by day – is planning a rally and protest at Stormont.
The media has previously highlighted the large number of children on waiting lists for assessment, highlighting in particular the Belfast Trust, with a wait of 20 months.
But Emma told Armagh I: "Many others from all over Northern Ireland are also waiting months longer than the recommended 12 week wait.
"Off the back of this an online group I belong to – called ASD Support NI – decided enough was enough and started the protest page on Facebook, along with the online petition."
The depth of feeling is clear. In less than 48 hours, well over 3,000 people had signed the petition.
And by tonight (Thursday), that figure is standing close to 4,500.
It has been a remarkable campaign in such a short space of time but those behind it believe they have had no other option but to turn to the media to highlight the issue and keep it in the public eye until something is done.
Emma continued: "The level of public support in a short space of time has been amazing.
"At present we are waiting to find out when the Health Minister – and possibly also the Education Minister – will be in Stormont to present our petition so that it has the most effect.
"Hopefully that will happen this month to keep momentum going. We will hold a rally at Stormont then to gain maximum attention.
"The issue isn't just the waiting times for assessment but, even after a diagnosis, the lack of support and resources available leaves people struggling alone.
"Schools need more support too, both at mainstream and more specialist levels.
"Often too health care professionals are reluctant to diagnose a child and adopt a 'wait and see' attitude, leaving families struggling and pushed back to the bottom of the waiting list for a further assessment.
"My own son was referred to community paediatrics at the end of 2013 and, after four appointments, he was referred on to the autism assessment unit in July 2015.
"We were called by them before Christmas – on December 23 – to advise they'd be carrying out a school observation, which has just happened.
"But it could still be up to a year before he has his full assessment at the unit."
Situations like this, parents argue, are just unacceptable in this day and age, and they are determined to continue their protests until someone takes notice and something is done.
"We hope by organising this petition and protest to gain the attention of local government," Emma added.
"We need to get some answers as to why our children are being failed."
Picture: Emma Manton, from Annaghmore, with her sons, six-year-old Thomas, who is waiting an ASD assessment, and Christopher (3).
Please take the time to sign the online petition at the following link – and encourage your family friends to do likewise:
Read more news:
Police reissue appeal following crash which killed Shannon Weir
Massive £3m park-and-ride facility for Portadown 'to be in place by 2017'
Man killed in single vehicle crash in south Armagh named locally
New £670,000 full-sized 3G pitch officially opened in Markethill
South Armagh drug factory accused 'had been surviving on dog food'
Latest Transport Minister delivers yet another 'no' to Armagh's rail link campaign
Mother of young boy hits out at EIGHT hour wait for out-of-hours call back
Sign Up To Our Newsletter