Police are hunting a hooligan mototist who put the public at risk during a spree of reckless and dangerous driving.
The PSNI has taken to social media to show the vehicle which they are appealing for information on as they try to catch the person behind the wheel.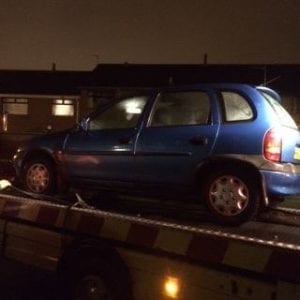 Shortly before 7pm, the car failed to stop for police on the Northway heading into Portadown.
Police say that, in treacherous driving conditions, it was driven through a number of red lights, into oncoming lanes of traffic and through the town "without care or thought for the safety of anyone else on the road!".
It was later found the vehicle was not insured, had no MOT and, according to police, "most likely had an unlicensed driver at the wheel".
Just minutes after this, police received a number of reports to say that this same vehicle had crashed into a parked car in Ballyoran Park.
Substantial damage was caused to the parked vehicle and the driver and passengers fled the scene.
Sign Up To Our Newsletter