A £1.3 million greenway project linking Portadown and Lurgan was officially launched recently by Minister of Regional Development Michelle McIlveen.
Funded by DRD, the Craigavon Community Greenway Project saw the revitalisation of the seven mile cycle corridor linking the two towns' train stations as well as the hospital and local communities.
Previously Armagh I revealed that Armagh City, Banbridge and Craigavon Borough Council had also given its blessing and support to see the greenway being extended from Monaghan, moving northwards through the local council area.
The Portadown to Lurgan project installed three toucan crossings, saw the refurbishment of eight underpasses as well as widening and enhancing the path with lights and signs, additional cycle lanes, resurfacing, markings and landscaping.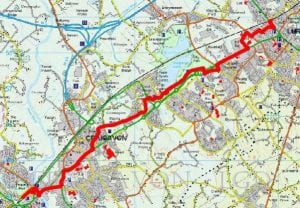 The completion of the project now allows Bocombra Primary pupils a safe journey to school, is an ideal commuter route and also provides opportunities for physical activity in a safe and attractive environment.
Transport Minister Michelle McIlveen said: "I am absolutely delighted that my Department was able to provide the funding for this project. £1.3 million is a significant investment and demonstrates the importance placed on initiatives such as this.
"Greenways are a great way to provide urban areas with the opportunity to enjoy safe and easy access to fresh air and exercise on their doorsteps. I am particularly keen to encourage the development of similar schemes across Northern Ireland. This rejuvenated and revitalised community greenway is already encouraging more people to be healthy by walking and cycling which can only benefit everyone who lives or works in the area.
"I would like to congratulate all those who worked together to bring this project to fruition, especially the Council staff and their contractors.
"This is an excellent example of central and local government working in partnership to help improve the lives of the local community."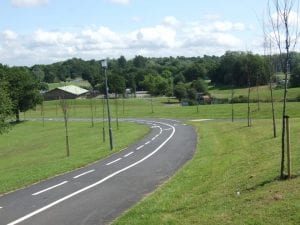 Armagh, Banbridge and Craigavon Lord Mayor Darryn Causby added: "I am really pleased to have this fantastic project officially opened though I know it has been used extensively since it was completed in December 2015.
"The Craigavon Community Greenway Project has a made a huge difference to the daily lives of those people who use it for work, school or play and it is great to see this positive impact.
"Since the rejuvenation user numbers have increased, anti-social behaviour has decreased and community confidence has improved.
"As well as being a vital spine in Craigavon's commuting network of walk and cycle paths, it has also provided opportunities for recreational activity in a secure environment.
"We are very proud to see this vital area meeting its full potential and know that it will be used and enjoyed by residents for years to come."
Read more news:
Assembly hears calls to convert Armagh Courthouse into community justice centre
Runner left 'horrified' as calf carcasses left hanging on trees
Minister's words will give fresh hope for campaign to reopen Armagh minor injuries unit
Remarkable stroke survivors 'dare to go bare' for calendar to raise funds and awareness
Suspected gas leak at Craigavon hospital
Young family threatened by two men and woman with knife
Police hunt cyclist after shots fired at window of house
Body found in stream confirmed as missing Lithuanian national
Sign Up To Our Newsletter