"Absolutely phenomenal" is how estate agent Owen Matchett has described the first year of his new business.
The Portadown man set up The Agent on January 4, 2021 along with wife Dawn after reappraising his priorities during lockdown, and deciding that quality of life was what mattered most.
Leaving the high street and setting up a new business during a pandemic is not for the faint-hearted but the move has more than paid off and the result, says Owen, is "beyond our wildest dreams".
Not only has the business expanded its reach far beyond the local area to other parts of Northern Ireland, but Owen has also had to take on an additional six staff to meet demand.
Creating employment in the area is something he is particularly proud of, especially since he had not envisaged expanding beyond a husband-and-wife team.
"Dawn and I never expected the growth and being able to employ local people is something I am very satisfied about," he said.
"Looking back, I have never been as busy in my entire life. It was a fresh, new approach and I was really reinventing myself.
"We have literally sold tens of millions of pounds worth of property in the past year. It's quite phenomenal and very humbling.
"We have had nothing but positive feedback in terms of our style of marketing. It has really appealed to the youth – and the youth are tomorrow's buyers."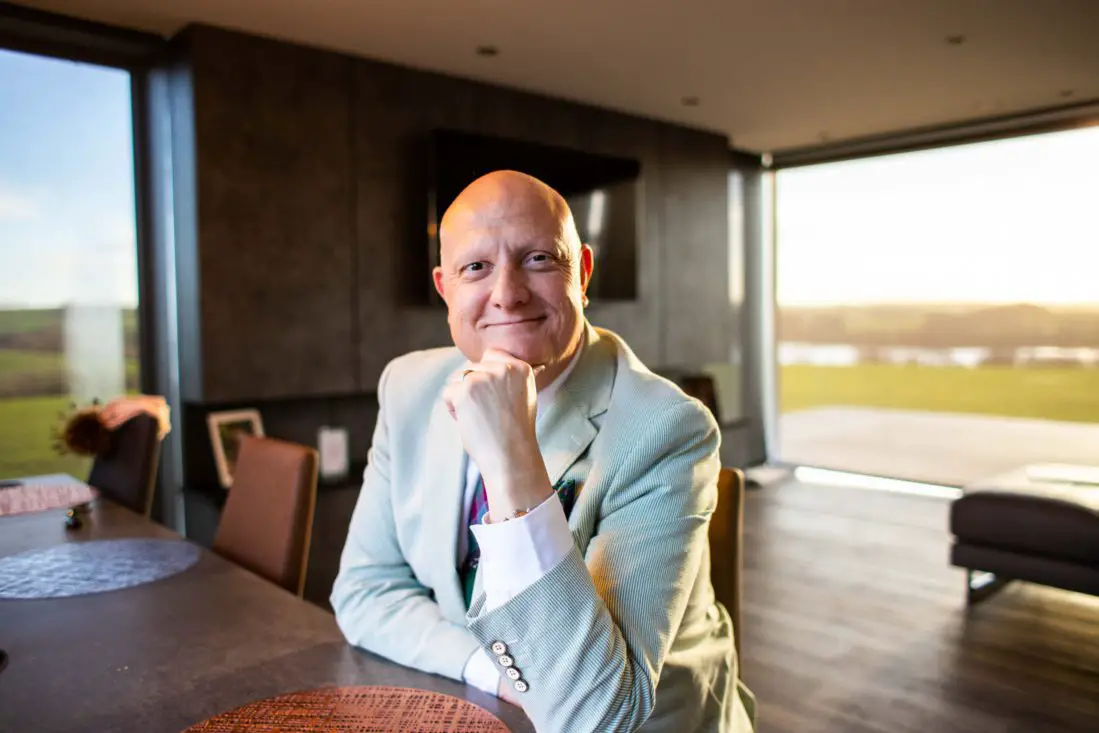 Owen has more than 30 years of experience in the industry and his new brand focuses on the personal touch and being that bit different and quirky.
"What we are all about is being very personable and people knowing exactly who they are dealing with," he said.
"People say they love our social media. It puts a smile on their face. It's not just selling houses, it's also funny little videos that people love to interact with.
"We are the exact opposite to what you would expect from a typical estate agent."
Wife Dawn, who takes all the property videos, has a background in retail as well as a degree in interior design and that experience and eye for style and detail have proved a winning combination.
Meanwhile, sales manager Nadine Smith along with a professional photographer and other staff ensure that the end result is a unique, personal selling approach, which not only gets results but also seems to have captured the public's imagination.
In the past year, The Agent has sold everything from luxury pads to houses which need to be totally gutted, with the emphasis firmly on delivering a service which is second-to-none.
Feedback from customers has been "amazing", Owen says, with praise not just for the "refreshing" approach but also the fact that "nothing is ever too much trouble".
And the buoyant property market shows no sign of letting up, with Owen, Dawn and the team "flat out" since they returned after the Christmas break.
Meanwhile, the highlight of the year for Owen was being approached by a TV production company to appear on a property show later in 2022, – the only agent in Northern Ireland invited to do so.
"It proves we are doing something right and unique," he said.
Owen's hopes for the coming year are not, as might be expected, continued prosperity but "health and happiness".
He added: "I'm at that point in my life where I've learnt from previous mistakes. Money is not my god."
Anyone interested in buying or selling a house can give Owen a ring on 028 3868 0707 or email owen@theagentni.com, because after all #thereonlyisoneagent
Sign Up To Our Newsletter