A young Portadown girl who started dance classes to help her balance and sensory problems has won six awards at a weekend dance competition.
Little Darcie Hooks (7) came away from the Ulster Fitness and Dance Championships with firsts in hip hop solo, modern solo, contemporary solo  and dynamic four quad.
Her Ship Ahoy team was placed third and the quad took the overall highest score.
It's a far cry from just a few years ago when Darcie, who was born with a sensory processing disorder, was falling between 15-20 times a day because her balance was so bad, resulting in cuts and bruises.
Darcie's parents, Alan and Jacki, first noticed there was a problem when their daughter was around eight months and initially thought it was connected to autism.
"There was a lot of wrist flapping and noises," said Alan. "When she was in her high chair she would have rocked back and forth almost to the point of hitting her head."
A  paediatrician eventually diagnosed a sensory disorder.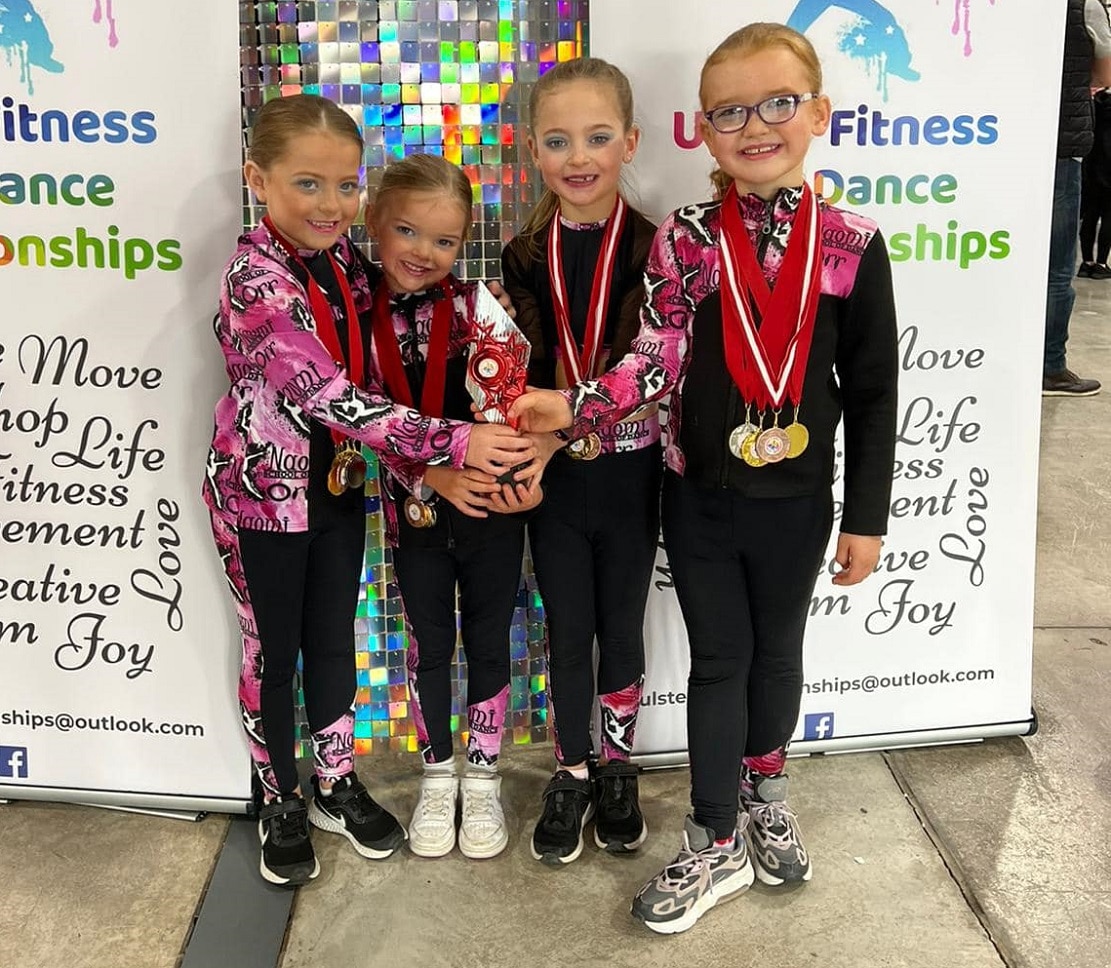 Said Alan: "When she was going into Millington Nursery, she had a paediatrician, an occupational therapist, an educational psychologist and a speech therapist because she didn't crawl or walk until she was almost two, and didn't  speak at all until she was two-and-a-half."
Darcie was given tip and aids, including an inflatable ring, to help improve her balance but when someone mentioned dance classes, her parents decided to give them a go and signed her up for the Naomi Orr School of Dance in Lisburn.
"The first year was quite slow – the other girls were a lot more advanced – but since then the progress has been rapid," said Alan.
"She's doing things here in the house and on the trampoline that we never thought were possible.
"For her, it's about getting the energy out because she has so much built up.
"I used to have to make an obstacle course and crawl about with her on my hands and knees before she went to school, so she could burn off some energy and concentrate when she got in there.
"At that time, she could only process one instruction at at time. Yet this weekend, she memorised and performed all the dances over two days. She's like a different child."
Although Darcie still has the disorder, Alan said dancing has given her an outlet which allows her to control and manage it better.
"She loves it and it's like a wee family to her. Her dance teachers, Naomi and Mandy Orr,  have been unbelievable."
Sign Up To Our Newsletter