The best friend of a young Portadown father-of-three who died suddenly is raising funds to help his heartbroken family in the lead up to what will be a very difficult Christmas.
Aaron O'Neill, who was just 36, collapsed in his home shortly after returning from a run earlier this month.
Days before he had proudly watched his daughter Caitlin, who plays for Ballyhegan Davitts GAC, and her team lift the Intermediate Championship at Abbey Park in Armagh.
He is survived by his wife Becky and three daughters; Caitlin, Saorla and Cushla.
This week, one of his closest friends, Johnmichael McCann, who grew up with Aaron, set up a GoFundMe to help the family, which has so far raised over £2,500.
"I am privileged to have been one of Aaron's closest friends," wrote Johnmichael.
"My best friend Aaron O'Neill was cruelly taken from us suddenly on the 12th of October 2022.
"Leaving behind his wife Becky and three daughters; one baby, a toddler and a teen – as well as mother, sisters and wider family circle.
"We can never fill the void Aaron has left behind, or take away the pain and sorrow that is stuck with us all but we can try and help to make this Christmas an extra bit special and easier for Becky and the girls."
Johnmichael said he made the decision to launch the fundraiser after a vote amongst friends – the family were only made aware after the decision was made.
"Aaron would be in his element organising something like this and the first in to help out," Johnmichael added.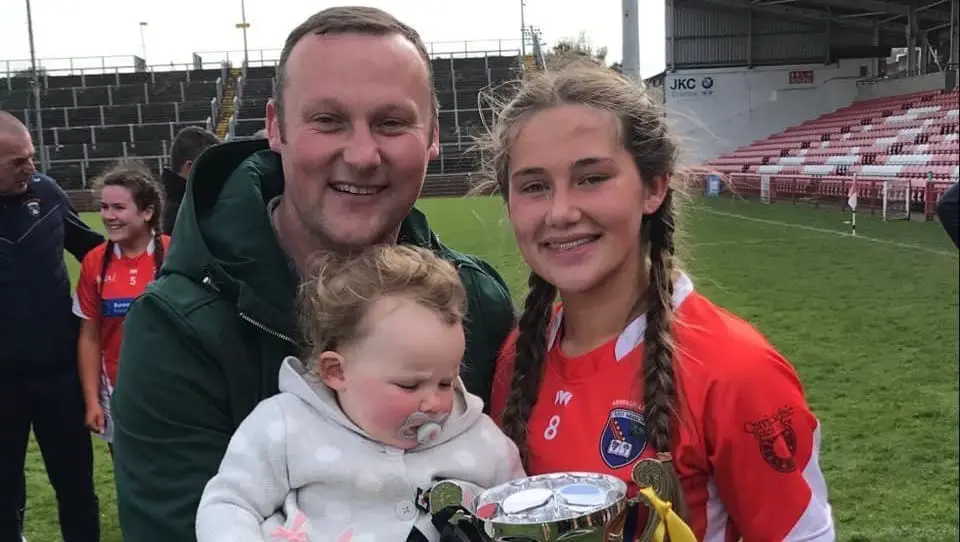 Aaron himself, widely known for his work in the community, was a huge supporter of the Clodagh Daly Trust. On his passing, Clodagh's family said Aaron had given them "something that can't be measured in weight or numbers".
Johnmichael added: "I'm like a fish up a tree here so bare with me on this one. I'm here to carry this out on behalf of the greatest, kindest, most caring person I know. He would do it for anyone never mind a best friend.
"He did things like this his whole life raising thousands of pounds for various charities, one of which being the Clodagh Daly Trust fund. The man's charity work was endless.
"I don't want to upset anyone or embarrass anyone by doing this. Just look at it as – a little help from friends.
"If Aaron could send a message from heaven to me, it would be, 'look after my wife and kids and do all you can to be sure they are safe and ok'.
"On various nights out we made promises to look after each-other and our loved ones. So, I'm carrying out Aaron's wishes."
You can donate to the GoFundMe page here.
Sign Up To Our Newsletter