It has been a difficult 12 months for all of us – a worldwide pandemic has changed lives forever, some more than others.
And while we've face tragedy, we've also had triumph.
A community united, individuals and groups stood up and have been counted, and continue to offer selfless service to everyone around them.
That is exactly why we wanted to celebrate the People of the Year, a small reflection of the efforts going on around us, often unnoticed.
Initially the awards attracted over 300 nominees and it was no mean feat to shortlist these down to the finalists. The voting response was phenomenal – over 10,000 cast for those shortlisted across five award categories.
The specially-commissioned gongs were presented at a special – socially-distanced – ceremony at the Palace Demesne on Friday.
A smaller affair than what had been hoped but no less special for the worthy winners.
Rikki Thompson, Armagh I's Head of Marketing, commented: "These awards were a way of highlighting the impact these heroes are making in the community and beyond.
"We have been absolutely overwhelmed by the response and the warmth of feeling shown towards each and everyone of the nominees.
"While there may have been one winner for each category, it is clear that everyone nominated has made a difference to others' and for that they should be immensely proud."
And the winners are:
INSPIRATIONAL YOUNG TALENT (Sponsored by Armagh Credit Union)
Winner : Jodie O'Connor; Finalist: Andrew McMurdie
Jodie O'Connor from Darkley has spent lockdown raising money for various charities including PIPS by walking over 400 miles, saving 50p per mile.
Jodie, who has autism, saw all her routines and activities completely stopped due to the Covid-19 pandemic and missing out on social interaction, she set about finding ways to cope with daily tasks and frustrations.
In May 2020 Jodie took on the Southern Area Hospice Marathon "Doing it my way" raising almost £1,700. Not shying away from a challenge she also complete 100,000 steps in September 2o20 to raise funds for the Special Olympics.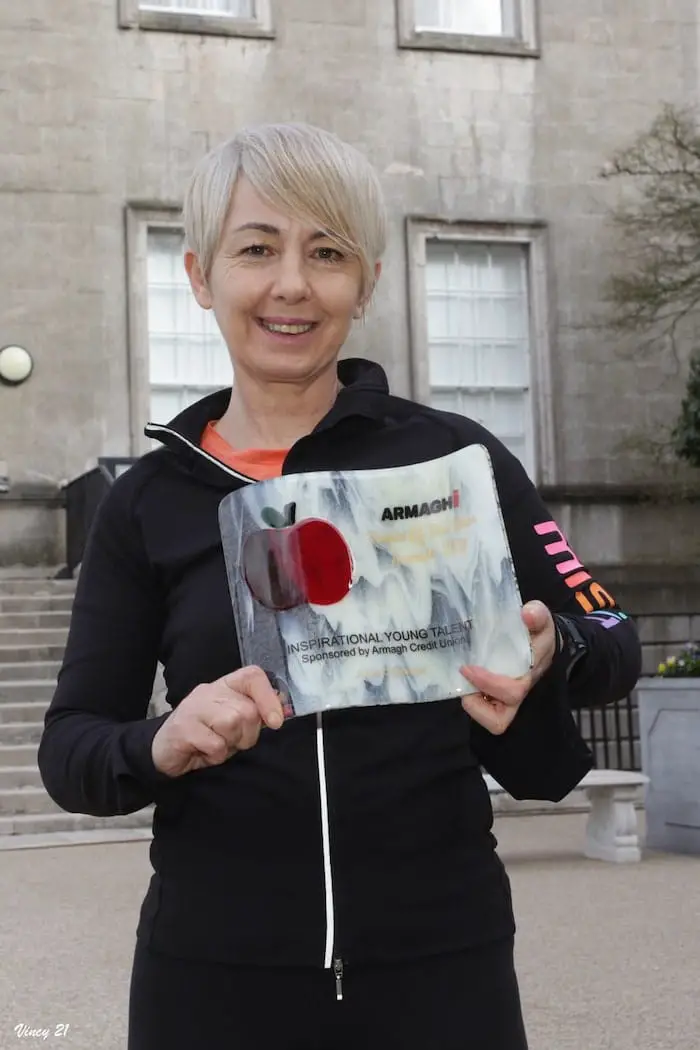 CARER OF THE YEAR (Sponsored by CPS Property, Armagh)
Winner: Philip Johnston; Finalist – Lyn Humphries
Philip Johnston from Milford watched as his father Eric's needs became more complex over the years due to Parkinson's disease and decided his dad needed to remain and home in his familiar surroundings rather than end up in a nursing home.
Therefore, selfless Philip made it his life's work to become his father's full time carer to ensure he was happy and content. As Eric's condition deteriorated and with hospital admission unavoidable, Philip took unpaid leave from work to ensure he could visit him daily.
Following endless days and nights of  sitting with his Father, Eric sadly passed away at home in November 2o2o following his battle with Parkinson's. Philip gained admiration from the nursing and caring staff for the tireless care and attention given.
TOURISM AND HOSPITALITY CHAMPION (Sponsored by McShane Packaging).
Winner: Leeanne Gillespie; Finalist – Ria Mee.
Leeanne Gillespie can usually be found with her sister Hayley behind the counter of their coffee shop, "Perfect Blend" in Portadown.
When the Covid-19 pandemic hit and businesses such as Leeanne's were forced to close, Leeanne knocked the "non" out of non-essential by providing free nutritious meals to vulnerable people within the local community, as well as providing free children's meals to local kids.
Leeanne set about reminding people that while the world was in chaos, people could really pull together and help those most in need.
Following the easing of restrictions, Leeanne sprung into action to host a socially distanced coffee morning to raise funds for a local cancer patient, hosted in Perfect Blend, Portadown. Leeanne set business aside during a period of great uncertainty to help others. At a time when business could have been her priority other peoples needs played more on her mind.
SPORTS PERSON OF THE YEAR (Sponsored by Traynors)
Winner : Gary McCoo; Finalist – Sinead Reel
Gary McCoo is no stranger to Richhill through his association with Richhill AFC. Although, having stepped down from playing football as a goalkeeper four years ago, this Richhill man is now a lead committee member in the club where previously he had been a keen volunteer.
With participation in local sport becoming more challenging due to increasing costs, mounting administration and a lack of volunteers, Gary manages duties such as pitch bookings, buses for away games and also is responsible for sponsorships for the club, which contributes to the clubs overall success.
During the Covid-19 pandemic, Gary utilised contacts both on and off the pitch to help ensure local hospitals, clinics and nursing homes had PPE and RPE while stock was running low.
Gary was also responsible for a delivery of nearly 500 selection boxes (and a Santa Claus) to the children of Hardy Memorial Primary School in December 2020.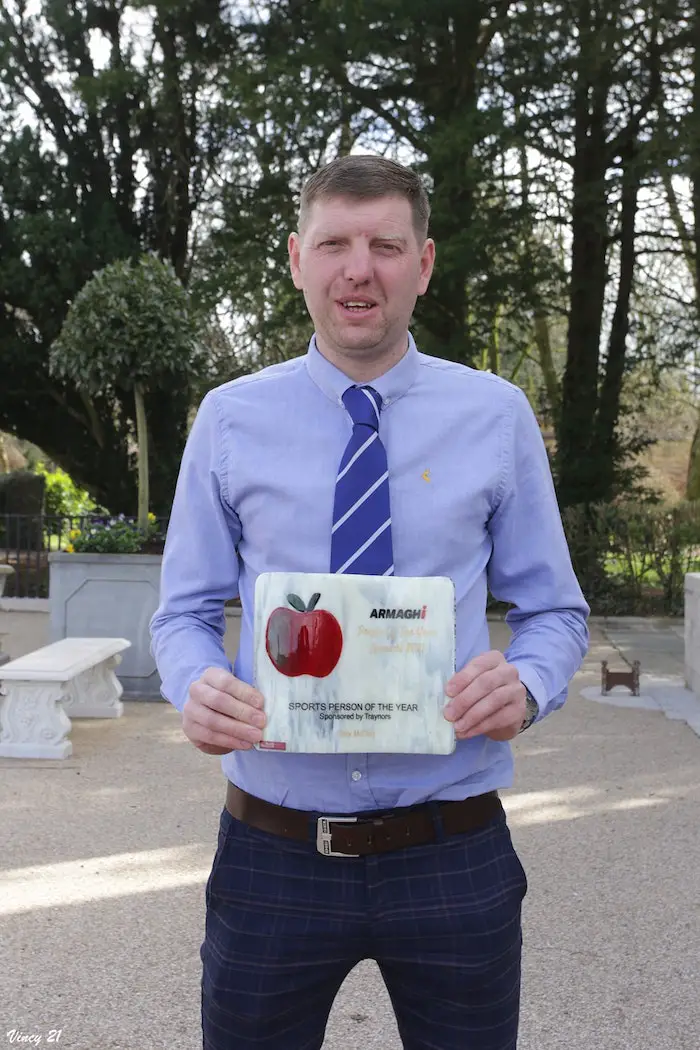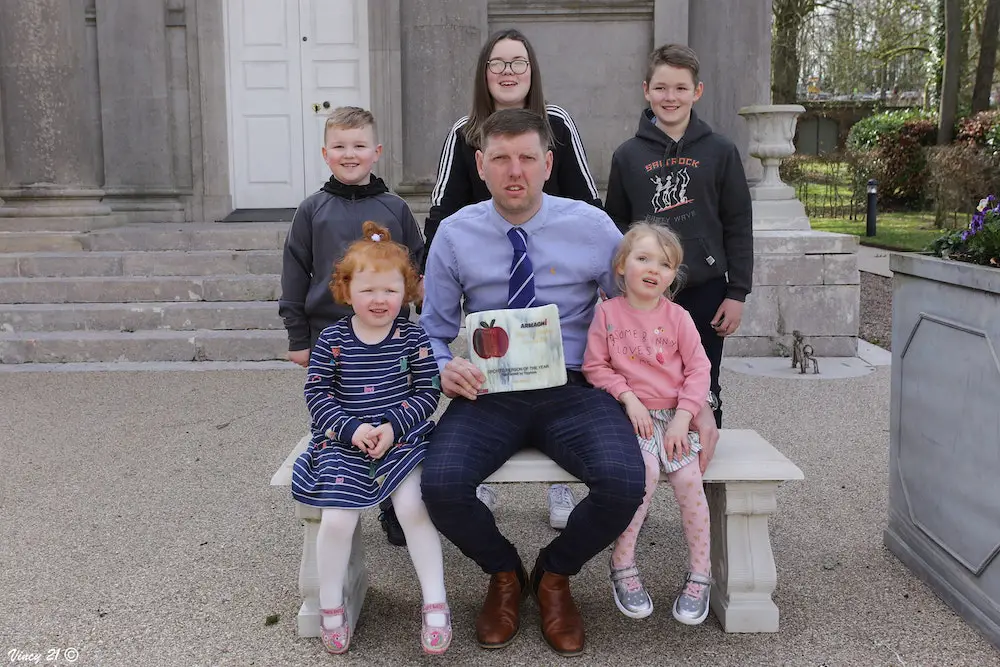 COMMUNITY IMPACT AWARD (Sponsored by Next Move Property)
Winner: Stephen Fields. Finalists – Gordon Speers, Ryan Wilson, Leigh Silcock, Joe Garvey, Chrissie McShane.
Stephen Fields is employed as Community Development Manager by West Armagh Consortium where his job includes organising social, educational and leisure programmes for all ages in the Armagh area.
As Chair of the Covid-19 response group, Stephen helped look after people throughout the whole of Co. Armagh and local hospitals as well as hospitals in Enniskillen, Belfast and Newry. At the height of the pandemic Stephen arranged for vital PPE equipment to be delivered to nursing homes which had be devastated by Covid.
Although it was an amazing team effort by all involved in the Armagh Covid-19 response group to support so many families, hospitals and individuals, it was Stephen who brought together business people, local sports clubs and statutory workers to make it all happen.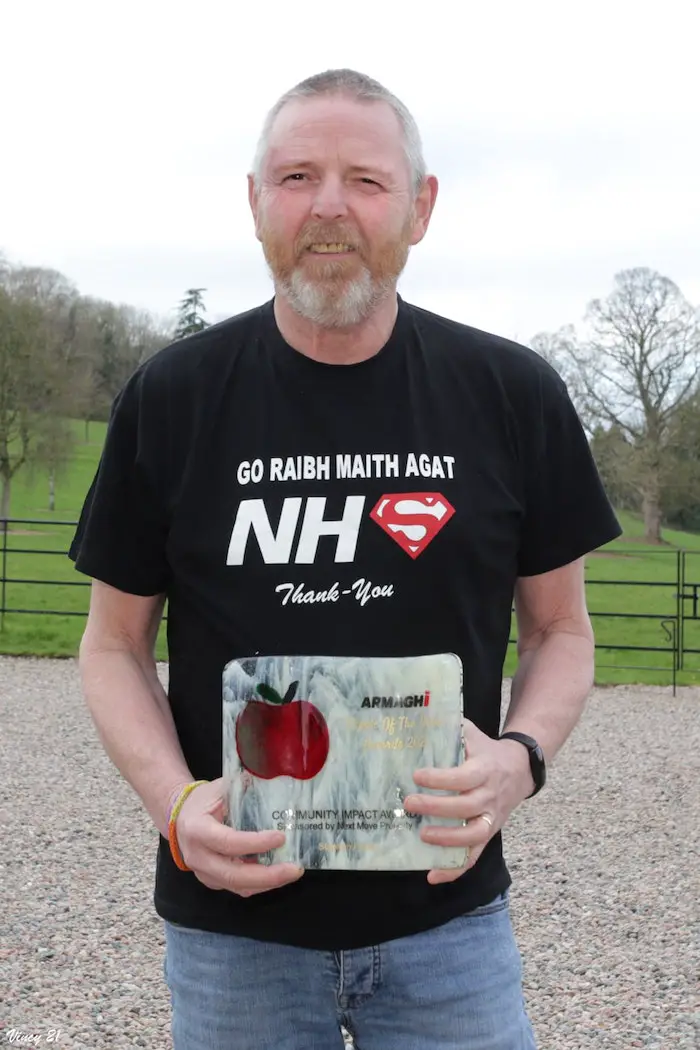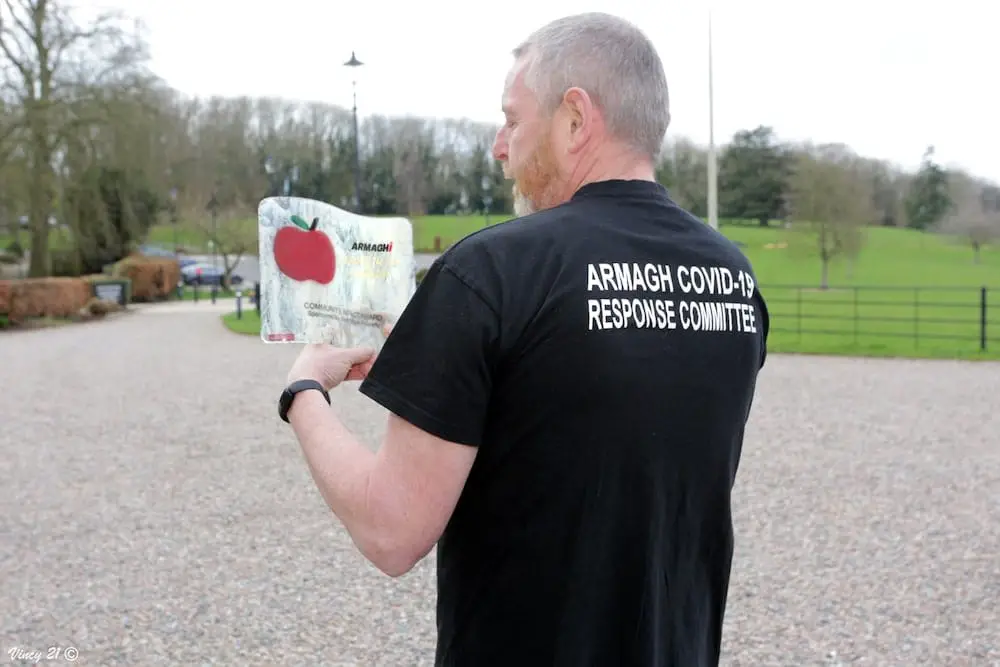 The award which was custom designed and produced by glass artist Keith Sheppard, Portadown encompasses two elements of the County. The free standing plaque has a wave design to represent the River Bann and includes a moulded apple to represent the Orchard.
Sign Up To Our Newsletter