The next two weeks will provide an interesting opportunity to observe the brightest planet, Venus, and the largest planet, Jupiter, as they move towards one another in the evening twilight.
Venus has been a spectacular object in the evening sky after sunset for most of this year, and in February passed very close to both Mars and Uranus.
According to Armagh Observatory, the planet has now been joined in the west by  the largest planet in the solar system – Jupiter – which now lies to the left of Venus at about the same altitude as its much brighter neighbour.
The two planets are easily visible in the west as they sink towards the horizon in the evening twilight.
As viewed from our moving vantage point, the Earth, both planets appear to be moving towards one another at a rate of about half a degree a day.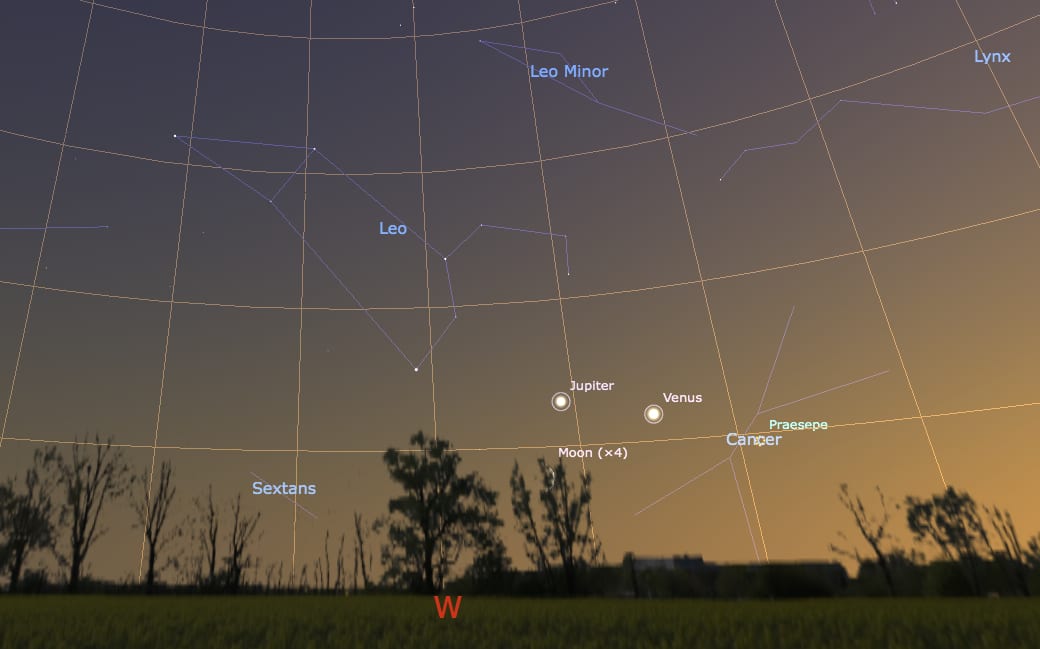 They will meet at the end of the month at a closest approach distance of less than half a degree – which is less than the angular diameter of the Moon.
The average frequency of such close approaches of Venus and Jupiter is about once every several years, the last  occurring on 18 August 2014 and the next – an even closer approach – occurring  on 27 August 2016.
These events always provide an interesting talking point as people notice, perhaps for the first time, the two unusually bright lights in the sky and their daily motion against the background stars.
The image shows the sky view towards the west at around 11pm on Saturday, June 20, 2015.
Read more news:
Police issue social media advice after death of 17-year-old boy tricked online
New Labour MP speaks of pride in his roots in maiden Parliamentary speech
Over 2000 sign petition demanding funding to save Firs Playgroup
Education Minister asked for St Brigid's High buildings update
Stolen vehicle involved in four-day crimewave across three counties
Sign Up To Our Newsletter