A six-year-old Newry schoolgirl is taking the martial arts world by storm!
Alyssa Canavan may be little in stature but fierce in nature as she hones her skills in the combat sport, Brazilian Jiu-jitsu (BJJ).
Alyssa has been training in BJJ, out of the Team Torres Newry and Team Torres Castlewellan gyms, for just under two years.
She trains under head coach Sebastiao Torres and coach Eamon Binks. Sebastiao is a third degree black belt in BJJ and a former member of the Brazilian Judoka Olympic team, whilst Eamon is a high level purple belt under Sebastiao.
While the age limit to begin training is five, Alyssa wasn't hanging around and just one month after hwr fifth birthday she was in to get a feel for the sport.
Dad, Connor, said: "I started out bringing her to just one class per week, on a Saturday morning, so she could get the feel for it, absorb the atmosphere of the gym and get her feet wet.
"However she very quickly gained a love for the game and we pushed the classes forward to twice a week. At this point she began to advance very quickly and her coaches were all amazed with her. They constantly sang her praises, saying it was very very rare to see a child pick the game up so quickly and be so technically minded at such a young age."
At times in the gym it can be hard for Alyssa to get partners given her proficiency in the sport at such a tender age.
Her reputation has earned her the nickname 'The Piranha' from one of the coaches in the gym.
From last July, dad Connor decided to take Alyssa training three times a week in order to get her ready for competitions – twice a week in Newry and once in Castlewellan.
Alyssa was due to take part in the Dublin International Open 2022 last year but unfortunately the organisers were unable to get a placement for her with any girls of a similar age and weight.
This year so far Alyssa has competed in the Empire Grappling: All Ireland Championships – in June – earning a silver medal by beating one boy on points and losing a close decision match to another boy two years older than her.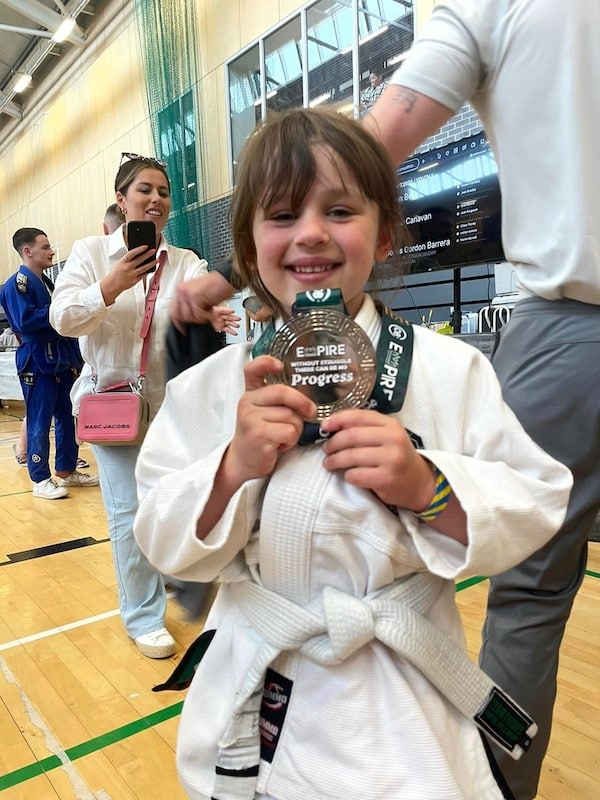 She then competed again at the Solid Ground: All Ireland Youth Championship iearlier this month, this time competing against girls of her own age in which she walked away earning a gold medal with both opponents submitted in under 20 seconds.
Next up for Alyssa is the Irish Open, which will be held in Dublin on the weekend of October 7-8.
This event is the biggest event of the year on the island and hosts thousands of competitors from over 40 countries, with around 100 competitors in total attending from Team Torres alone.
Alyssa will be competing again the following week at Empire Grappling: Belfast Open on October 14, and again at another local event hosted in Newry called Grapplepalooza in November, before finally capping the year off with the IBJJF European Kids Championships held in Dublin on the weekend of December 2-3.
Connor continued: "The IBJJF is considered as the premier organisation globally within sport, and the European Championships is one of their best regarded competitions of the year, again hosting large numbers of competitors from around the globe. This last one is a big one for Alyssa as we're going to be looking for sponsors soon and it would be great to have an official IBJJF gold medal on her record.
"Next year we intend to show her skills to the world and have plans to attend many events around the UK, but also as far as Florida, USA for the Pan Americans (IBJJF) and UAE for the Abu Dhabi World Youth Championships."
You can follow Alyssa's journey on Facebook here and on Instagram here.
Sign Up To Our Newsletter