A midwife at Daisy Hill Hospital in Newry has won a top award for the care, professionalism and compassion shown to a fellow midwife in her time of need.
Donna McLoughlin, has been honoured as the 'Emma's Diary Mums' Midwife of the Year 2016′ for Northern Ireland.
Nominated by Aine Cunningham, the award is one of The Royal College of Midwives (RCM) Annual Midwifery Awards, recognising the incredible work done by exceptional midwives across the country.
Midwives play such a pivotal role in so many mums' lives and the Emma's Diary Mums' Midwife of the Year Award enables them to pay a heartfelt tribute to their own special midwife who truly surpassed what was expected of them before, during and/or after the birth.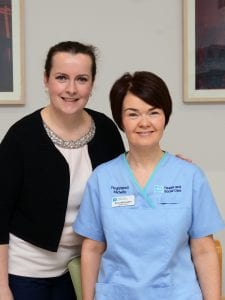 Sadly, at 35 weeks pregnant, Aine was induced and her baby boy, who was named Eoghan, was born sleeping.
Donna was with Aine from the moment she arrived and was there to explain each step of the process and ensure she and her husband were involved in all the decision making.
Aine, who nominated Donna for the award, explains: "All I can say is that Donna was like our guardian angel. The care we received was personal, seamless and the continuity was impeccable. This life changing event was made that bit easier by her understanding, knowledge, kindness, compassion and her true professionalism."
On winning the award, midwife Donna added: "You come in to do your job the best you can, you aren't expecting any awards, but to know someone has taken the time to nominate you is very touching.
"I was Aine's mentor when she was training to be a midwife and delivered her first baby 11 years earlier. So we already had a special relationship and I just tried to help her find the strength to keep going during such a difficult time."
Emma's Diary, one of the UK's favourite parenting clubs for expectant and new mums, received a record 671 nominations from mums across the UK.
All entries were put through a rigorous judging process by a panel of representatives from both the RCM and Emma's Diary, culminating in seven regional winners.
The RCM's Annual Awards, now in its 14th year, will be hosted by news and TV presenter and mother-of-two, Kate Silverton, on March 8.
Donna will join the six other regional winners at a central London awards ceremony, where Donna will collect her trophy and find out who will be crowned the coveted overall national winner.
Nick Watts, head of partnerships, Emma's Diary, comments: "Sponsoring this award has been a genuinely humbling experience and we have been overwhelmed by the extraordinary stories we have read.
"To hear from hundreds of mums nominating their midwife for the incredible part they played in the birth of their child, has been wonderful. Each entry demonstrated the dedication and compassion that represents the best of UK midwifery today, so selecting the seven regional winners was challenging to say the least.
"We are however, delighted for the winners, all of whom are so deserving of this extra recognition."
Commenting, Cathy Warwick, chief executive of RCM, says: "I warmly congratulate all the regional winners in this category. 'Mums' Midwife of the Year' is an RCM award that is close to my heart as it encompasses one of the core values of midwifery – care.
"The care these midwives gave to those who nominated them is a shining example of all that is great in midwifery practice in the UK. The level of compassion, commitment and professionalism shown by these midwives is highly commendable.
"The stories of care shared by the mothers nominating their midwife are inspiring and energising. Every year I am amazed at the quality and breadth of the work being done by midwives, maternity support workers and the wider maternity team to improve the care that women, babies and their families receive across the UK."
Picture: Donna McLoughlin, who has won a top midwifery award, and Aine Cunningham, who nominated her.
Read more news:
Man who suffered paralysis returns to work 20 weeks after being in intensive care
Young woman killed in Richhill RTC named locally
Gaol, Palace and other buildings to be lit up to raise awareness of epilepsy and ME
Incredible response to Niall Quinn online donation campaign
Money pledged to improve roads and prevent future flooding
Tourist trail to link key sites in history of Orangeism – and there's big plans for Scarva too!
Sign Up To Our Newsletter