The nephew of Willie McBride – immortalised in Eric Bogle's song 'No Man's Land' or 'The Green Fields of France' – has made an emotional journey to lay a wreath at his grave.
Joe McBride, who still lives at Keady, where Willie hailed from, travelled with the South Armagh Branch Ancre Somme Association.
They have just returned home from commemorating the 100th anniversary of the beginning of the Battle of the Somme.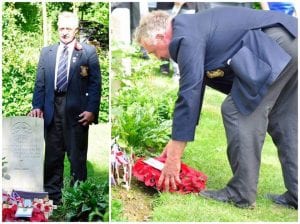 It was a long trip with many highlights, however the most emotional element for members personally was having the opportunity to remember this local soldier, whose name in particular has became iconic when the Great War is discussed across the world.
Willie McBride's nephew Joe is a member of the South Armagh Ancre Somme Association.
For three years this trip had been planned in order to attend with Joe and jointly remember his uncle.
That opportunity came 100 years on from the beginning of the Battle of the Somme.
Nineteen members of the branch gathered at Willie's graveside at Authille Military Cemetary for a short Act of Remembrance, where they were joined by the Pride of the Raven Flute Band from East Belfast participate.
At Joe McBride's request the band began the ceremony with a rendition of his favourite tune, 'Here Lies a Soldier'.
As the Branch stood to attention the Ulster Volunteer Prayer was read, followed by a poignant rendition of the first verse of 'No Mans Land' (The Green Fields of France) by Rhonda Kennedy.
A short address on Willie McBride was delivered, as follows: "William McBride was the son of Joseph and Lena McBride, Lislea, Keady County Armagh. He attended Temple Presbyterian Church and was a pupil at Crosskeys National School. He became an apprentice in the shoe trade, first working in Cootehill County Cavan, then in Irvinestown County Fermanagh.
"When Home Rule looked set to be implemented, William joined the ranks of the Ulster Volunteer Force to fight for the future of Ulster and her people. Like so many others however, he was to set his anger aside for a greater good, and enlisted into the 9th Battalion of the Royal Inniskilling Fusiliers. Just nine months later, on the 22nd of April 1916, William fell on the field of Battle.
"In writing to his mother, 2nd Lieutenant John Kelly of the 9th Inniskilling's wrote "I need not tell you how much we miss your son, and I am pleased to be able to tell you that I had recommended him to my Company Commander for bravery in carrying a message under very heavy shell fire on the night of the 10th March. You may rest assured that he died in a manner which will always to be an example to his comrades, doing their duty.
"In 1976 Eric Bogle penned the words of 'No Man's Land'. That song has been recorded by hundreds, and has sold millions of copies. In its lines Bogle reflects on the short life of William McBride, immortalising his name for all time. A constant reminder for us all of the personal tragedy from the 'War to end all War's'.
In a heart wrenching moment for Association members, nephew Joe laid a wreath for his uncle. The brief inscription read 'Here lies a soldier of the UVF, from your nephew Joseph'. The gathering then observed a two minutes silence.
The Pride of the Raven followed with the highly emotional musical combination of 'Mansions of the Lord, Evening Hymn and Fanfare from Sunset'. Proceedings ended with the first verse of the National Anthem.
A spokesperson for the South Armagh Ancre Somme Association described it as a "very moving ceremony" for members and "one we will never forget".
He added: "On behalf of the South Armagh Ancre Somme we thank everyone who gathered at the graveside on that warm summer evening. A special thanks goes to Pride of the Raven Flute who went over and above the call of duty to not just attend and perform, but to talk to Joe at length about the music in advance, to treat the occasion with such importance, and to go out of their way to let Joe know their feelings regarding it all in the immediate aftermath and on the way home from France."
Read more news:
Teacher hits out at government scheme that could force him to seek work abroad
Will it happen? Lengthy deferral sees £1M Cathedral Road revamp left in limbo
Tributes paid to 'absolute gentleman' who died in Portadown Road collision
Co Armagh to host music festival – 14 acts, two stages and talent galore!
Watch: Mayor 'busts some moves' as he shows how Zumba is really done!
Two arrests in County Armagh fuel raid
A man has died following crash on main Armagh to Portadown Road
40 Years On: Rock Bar survivors toast absent friend with 'Guinness that saved lives'
Sign Up To Our Newsletter