A teenager from Markethill has followed in his father's footsteps by graduating from the Army Foundation College in Harrogate to become a soldier.
Sapper Christopher Johnston, 17, was inspired to join the Army by his father who had been in the Royal Irish.
He enrolled at the prestigious college at Uniacke Barracks, Penny Pot Lane, and went on to the win a prize for best Junior Soldier at Physical Training.
Christopher said: "I've always wanted to join the Army, my dad was in the Army and he used to tell me stories all the time about his mates and the travelling he got to do.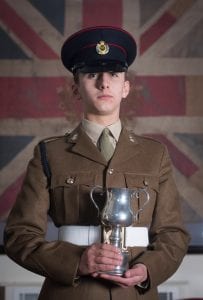 "The Army Foundation College has already given me the chance to spend many nights in the field with my new friends."
Christopher joined the Army Foundation College in September for a unique course combining vocational education and military training.
He enjoyed the sporting side of life at the Army Foundation College playing hockey, football and rugby.
Christopher said: "I wanted to win the Physical Training award when I started so I'm proud that I accomplished that."
He now hopes to join the Royal Engineers and says he is looking forward to learning lots of different trades.
The graduation parade at Uniacke Barracks was the finale of the course and thousands of relatives and friends watched the Junior Soldiers pass off the square.
"The graduation parade is the culmination of months of hard work and dedication both by the junior soldiers and the college staff that train them," said Lieutenant Colonel William Strickland, the College's Commanding Officer.
"The Junior Soldiers can justly be proud of their achievements at the College, and the staff and I wish them well as they go forward to the second phase of their training at different establishments throughout the country."
Lieutenant General James Bashall CBE, Commander of the Army's Personnel and Support Command, inspected the Junior Soldiers, presented prizes and took the salute as the military parade marched past the dais.
Junior Soldiers work on their leadership and team skills as part of the College's personal and team development package.  They have undertaken a number of adventurous training activities, as well as physical and mental challenges, culminating in a 30-hour challenge patrol across the Yorkshire Dales.  The students have also had the opportunity to sample a wide variety of sports promoting fitness and agility.
Many have just returned from their final exercise in Scotland – an arduous exercise and the culmination of their fieldcraft and military skills training.
The college opened in 1998 and accommodates 1344 Junior Soldiers.
Read more news:
Public inquiry into controversial north-south interconnector to reconvene in June
First look inside new trampoline park at the Outlet Business Park
Police in urgent appeal to help find 'high risk' missing person David Duprey
Picture Exclusive: Memorial Battle of the Somme seats for Armagh and borough's towns and villages
Top fire officials state case for cutbacks in Armagh as firefighters attend fatal blaze
Sign Up To Our Newsletter