A long and hard-fought fight for a new-build Markethill High School has been taken all the way to First Minister Arlene Foster.
School principal James Maxwell and board of governors chairman Willie Johnston both impressed the need for action not words as they gave the First Minister a tour of the current facilities.
With pupil numbers expected to exceed 500 come the new school year in September, Mrs Foster was left under no illusions that nothing short of a new-build school in the County Armagh town will suffice.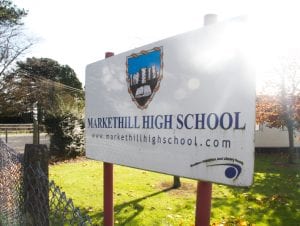 The school has suffered setbacks in the past as the staff, parents and pupils – both past and present – have advocated the need for enhanced facilities to continue to provide the excellence in education for which Markethill High is renowned.
The campaign is also for the provision of Sixth Form for a school which is currently listed in published league tables as one of the top three non-selective controlled schools in Northern Ireland.
Principal James Maxwell has assured the First Minister that the school's current high standards are being achieved despite the school's current infrastructure, which dates back almost six decades.
But he insists that, while the high academic achievements continue, it is "wholly unacceptable" that a third of classes are being taught in fabricated mobile huts outside the main school building.
First Minister Foster was told the school's rising pupil numbers in the past 15 years has meant it is now significantly short of accommodation space, including a 60 per cent shortfall in science accommodation and a 40 per cent shortfall in ICT facilities.
Mr Maxwell told Mrs Foster that the school – which was built in 1959 to accommodate 200 pupils – now has 498 pupils on its roll.
And a significant rise to over 500 pupils is expected in September 2016.
To that end, he impressed the point that families living in Markethill and the surrounding rural areas deserve a new build and sixth form as population numbers continue to grow.
Said Mr Maxwell: "We are aware the Department of Education distributed funds last week for small capital refurbishments in schools.
"We fully anticipate that the Minister of Education will allocate capital funding for a brand new school in Markethill in the next round of new-build announcements shortly after the election.
"It's time for Markethill High School – a school which remains on the Education Authority's list as a priority for a new building.
"Our pupils deserve it. Our teachers deserve it and our community deserves it.
"There is an urgent need for increased admissions because, for many years now, we have had to turn some pupils away due to over-subscription.
"There are huge demographic increases in Markethill, Mountnorris and Richhill and we anticipate Markethill High School will be catering for 600 pupils by 2025. More families are moving to the area in order to get their children into the school.
"We have been very transparent in highlighting the inequalities faced by our pupils and have sent the Department of Education a briefing document which clearly stipulates the need for a new build and sixth form."
As she toured the current facilities, Mrs Foster was also informed that sixth form provision is now essential, as pupils are precluded from accessing rich and comprehensive A Level provision if they do not gain access to selective post-16 education.
Mr Maxwell said: "Markethill High School pupils must achieve 13 or 14 points at GCS,  while pupils in other non-selective controlled schools across Northern Ireland only have to attain approximately half these points to get rich A Level provision.
"Markethill High School, with 498 pupils, is now one of only two remaining non-selective controlled schools in Northern Ireland, with approximately 500 or more pupils, which does not have access to its own sixth form.
"There is a consensus – including from the Education Authority – that the school would meet the Bain threshold of 100 pupils at sixth form."
Mr Maxwell told the First Minister it is imperative post-16 provision for pupils in the controlled sector should remain within the controlled sector.
He also said the leadership and governors of Markethill High School must get the reins of sixth form status in order for the school to be on an equal status with other similar schools, including St Joseph's High in Crossmaglen.
The First Minister was informed St Joseph's has fewer pupils in the 11 to 16 year age bracket, but a new build and sixth form are being provided.
"Nothing else is acceptable other than a new build and sixth form in Markethill," added the principal. "No other solution meets the clear needs of our pupils."
Read more news:
Digger stolen and driven three fields before loaded onto lorry
Armagh company prosecuted after worker falls from height and breaks nine ribs
Vandals damage four vehicles as car dealership is targeted over the weekend
South Armagh primary school gets £1.5m funding boost
Picture shows man caught trying to force open window of Co Armagh home
Vote passes to ban smoking in cars when children on board
Urgent action call at Richhill after another accident at scene of last month's tragedy
Sign Up To Our Newsletter