Secondary school provision in the Armagh area is currently on course to fall far short of demand by the year 2025.
More than 500 extra places at schools in the former Armagh district will have to be approved and made available to cope with the expected enrolment increases.
The figures will add extra weight to the campaign by Markethill High School for a new-build school and Sixth Form provision.
The school has also been arguing for an approved enrolment increase, so far to no avail.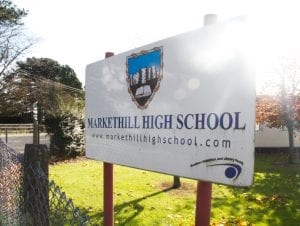 But figures contained in a local development plan presented to council show calls for increased numbers at Markethill and elsewhere is not simply desirable, but rather essential, if local needs are to be comfortably met.
Trends have indicated that an additional 541 secondary level school places will have to be created in the next nine years across the old Armagh City and District Council area.
The highest proportion of additional spaces would be required in the maintained sector where there is already a building programme planned at St Patrick's Grammar following the approved closure of St Brigid's High School.
But it will also require investment and enrolment changes in the controlled sector – albeit to a lesser extent than the maintained sector – and will add further weight to Markethill High's campaign.
According to the regional area plan, by 2025, the number of secondary pupils in all sectors will have risen to around 5,813 and will mean there will need to be an additional 541 places provided and approved for the area up to 2025 and beyond.
There are currently seven secondary level schools in the Armagh district – three maintained and four controlled – and three years ago five of these were already over-subscribed in terms of pupil numbers.
While there may have been some changes to help in this regard, the numbers do indicate more change is required if future needs are to be met.
Within the old Banbridge Council area, figures show an additional enrolment at secondary level of 433 will be required by 2025.
And in the old Craigavon Borough Council, a report to council shows an estimate that pupil numbers will have risen to approximately 8,550 by the year 2025 – way beyond the approved enrolment in 2025 of approximately 8,250.
Once again this increase in figures means that there will be more pupils than approved spaces and this is something which will require change in the coming years to deal with.
Read more news:
Tributes paid to 'golden-hearted' 16-year-old Armagh student
State-of-the-art Markethill multi-use games and play area set for approval
Nine high-profile rural tourism projects across Borough submitted for major grants
Pupils evacuated as fire breaks out at Keady high school
Date set for £2m Armagh city regeneration project to begin
Staff members left shaken as off-licence is robbed by masked men
Teenager accused of killing Lesley-Ann McCarragher claims he sold car 45 minutes before collision
Sign Up To Our Newsletter