A new £200,000 state-of-the-art play park is being planned at a Co Armagh beauty spot.
Armagh City, Banbridge and Craigavon Borough Council has drawn up plans for the development which will be located on Oxford Island.
A planning application has now been submitted and the proposal includes the refurbishment of the existing play park.
This would see the site being extended and all of the existing play equipment being removed.
New play equipment will be provided as well as new surfacing.
There will also be bins, seating and outdoor street furniture installed, with the area to be fenced off.
It will be located 150 metres from the Lough Neagh Discovery Centre.
The play park will more than treble in size.
As it stands, there are eight pieces of play equipment spread over an area of 470 sq metres. A user study estimates up to 25 people could "comfortably make use" of the space within the fenced area simultaneously.
The new exciting play park plans will see the old replaced and extended over green space to reach a size of 1,440 sq metres.
There would be a total of 21 pieces of play equipment and the fenced park would be capable of accommodating just over 200 people at the same time.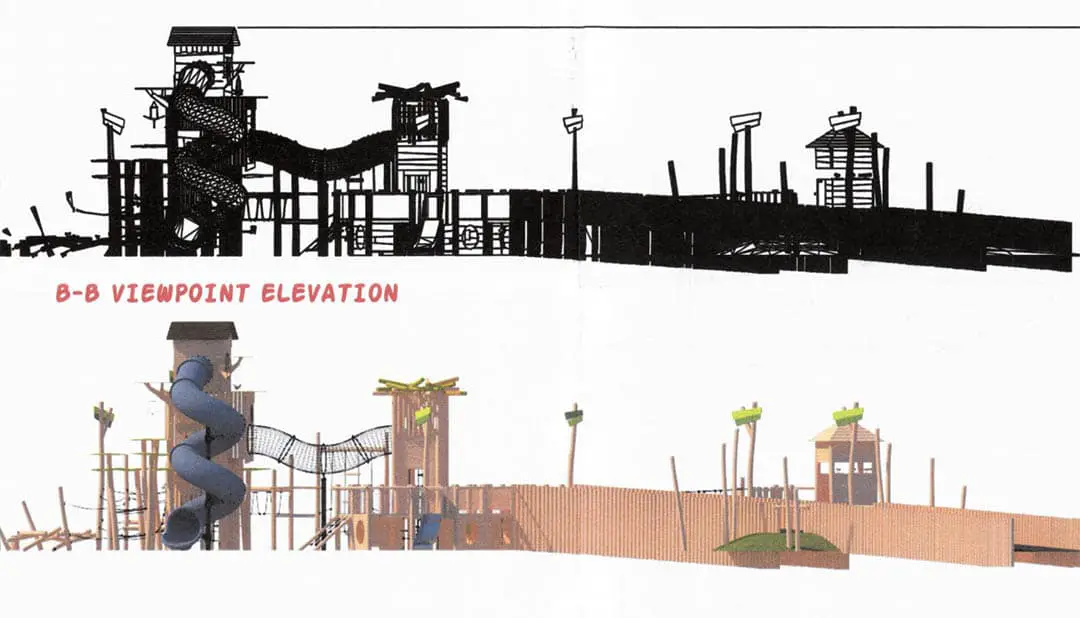 The play features will include all the expected facilities as well as sliding tubes, a ramp structure, challenge path, nest tower, deck structure, treehouse tower, spring rocker, teepee, a trampoline mound, play table, accessible wheelspin and even an electronic game!
According to the user study, visitor numbers to the play park have "diminished somewhat in recent years".
It indicates that parking should not be an issue and has based that on a study of monthly peak visitor numbers and available spaces.
The study report adds: "The education team at Lough Neagh Discovery Centre offers a full range of Northern Ireland Curriculum linked environmental education programmes, talks and guided walks for nursery schools and playgroups, community groups, adult groups, non-formal and uniformed organisations.
"The proposed play park has been designed with education outreach in mind and it is expected that this will be an additional resource facilitating 'learning through play'."
When approval is given, work, expected to cost in the region of £200,000 according to Construction Information Services, is expected to take between 10 and 12 weeks to complete.
But due to the proximity of the play park to the edge of Lough Neagh, it has been recommended all works would take place outside the bird nesting season – from the start of March until the end of August – to minimise the possibility of disturbance.
This is the second major play park investment to be confirmed for the Co Armagh town this year. Over the summer months, work started on the construction of a £250,000 play park at Lurgan Park.
The planning application for Oxford Island – a nature reserve and area of special scientific interest – will be publicly advertised shortly.
Sign Up To Our Newsletter