The PSNI has hit back at those responsible for causing major disruption and attacking officers during a security alert in Lurgan.
The PSNI in Craigavon has taken to Facebook and created their own 'Dissident Dan' meme.
Over 100 petrol bombs were thrown at officers last night during serious disorder.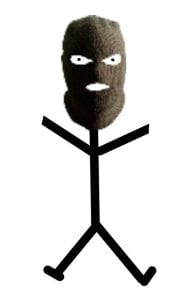 Two objects found in the area of the rail line at Lake Street were later found to be hoaxes.
In a quite brilliant response, the PSNI has invented its own stick-like man, complete with balaclava, whom they have named Dissident Dan.
And the response to their creation has been fantastic.
They posted: "This is dissident Dan.
Dissident Dan has an irrational hatred of trains.
Dissident Dan also hates the people of Lurgan going about their day to day lives in peace.
Dissident Dan lives in the past, and puts things on the train tracks in order to stop the trains, and his own community.
Don't be like Dan.…"
On a more serious note, they go on to thank all for their support.
They continue: "A HUGE thank you to the people of North Lurgan for your patience during the last 36 hours. Thank you for your kind words as we went door to door, and for the 99.9% of you who didn't come out throwing stuff at us or shooting at us as we tried to keep you safe. The alert is now over and the roads are open. Trains will get back to normal over the coming hours.
"If you saw any suspicious activity in the vicinity of the train tracks, or know specifically who is responsible for having your community inconvenienced so much, give us a call on 101, or phone crimestoppers anonymously on 0800 555 111. We will treat any help with sensitivity and discretion.
Thank you Lurgan!"
Newsletter
Sign up for our weekly newsletter here.