Police came under fire from bricks and bottles when they tried to intervene after a fight broke out between a gang of up to 20 youths.
And the incident this afternoon has prompted police to issue a direct appeal to parents in Lurgan to know where their children are.
Taking to Facebook to highlight the situation, the PSNI said the "usual story" had "taken a dangerous turn".
"Not only are some of YOUR kids out drinking, and in a state we would rarely see at 1am on a Saturday night, but they're now fighting between themselves," they posted.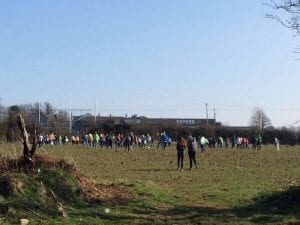 "We've just broken up a large scale fight at the waste ground on Lake Street. Around 20 youths were going at each other, and as we intervened we took a fair number of bricks and bottles.
"This is in every way unacceptable. Anyone we get hold of who is fighting or throwing stuff at us will be going to custody.
"If they are young enough to give us serious concerns about how they were allowed to get in that state, we will inform social services.
"As it is, your child could be out there injured from excessive drink or a fight. Act NOW. Don't wait until 2am tomorrow before you wonder where they are.
"If you aren't sure where they are, get in touch with them and make sure they're ok.
"The photo here is a much smaller number earlier down Tarry Lane.
"We want everyone to enjoy St Paddys, but getting a knock on your door by us telling you your child is in hospital, or worse, will ruin your life, let alone your day. It's time to step up."
Picture: PSNI Craigavon Facebook
Read more news:
Announcement on future of vacant Tesco in Armagh expected imminently
Man arrested for alleged threats to kill and setting a car on fire
Campaign launched following 595 drug seizures in last 12 months
Contractor to be appointed with work to start shortly on £1.2m Irish language centre
Campaign for air ambulance comes full circle as Chancellor pledges £4m
Minister rules out compensation bid by ex-UDR man acquitted of 1983 murder
Minister promises to help Keady firm 'double workforce' after MLA steps in
Sign Up To Our Newsletter