Detectives investigating the attempted murder of DCI John Caldwell have released images of cars used by the gunmen.
And this morning, Friday, the PSNI conducted a search and arrest operation in relation to the attempted murder of the high-ranking detective on Wednesday, February 22.
Detective Superintendent Eamonn Corrigan said: "Eleven people – nine men and two women – aged between 21 and 72 years old were arrested under the Terrorism Act in Omagh and Coalisland. They have been taken to the Serious Crime Suite in Musgrave where they are currently being questioned by detectives.
"The arrests are a significant development in the investigation.
"Today, I am also releasing new CCTV footage and photographs of a number of cars used by the gunmen and those involved on the night of, and prior to, John's attempted murder on Wednesday, February 22.
"As John was packing up after coaching a youth football team, he was shot multiple times and, when he fell to the ground, the gunmen continued to fire at him in front of terrified children and parents, and, disturbingly, in front of John's young son.
"My investigation has progressed and I now believe a black Mercedes Benz C-Class (W204) 4-door saloon (2007/8 – 2014) was used as an operational vehicle by the New IRA both before and immediately after the attack when it was used to transport the gunmen and others away from the site of the burned out Ford Fiesta in Raculpa Road, referred to as Fiesta One.
"I am appealing for information about who was in this black Mercedes vehicle, where it was before the shooting and where it went afterwards. I know it travelled in a convoy on the Drumnakilly Road headed towards Omagh at 5.43pm on the 22nd with the two blue Ford Fiestas before the attack took place.
"I am also releasing new images today of the two Ford Fiestas.
"The new photograph of Fiesta One shows it leaving Barrack Street in Coalisland at 4.55pm on the afternoon of the shooting and travelling to Omagh. It had registration number MGZ 6242, and was fitted with false plates, FRZ 8414, prior to the attack. We know this vehicle left the sports complex and turned left onto the Killyclogher Road immediately after the shooting. It then travelled past Glendale Service Station to the Racolpa Road where it was abandoned and set on fire. We believe it travelled into Coalisland around 10pm on the previous night, the 21st.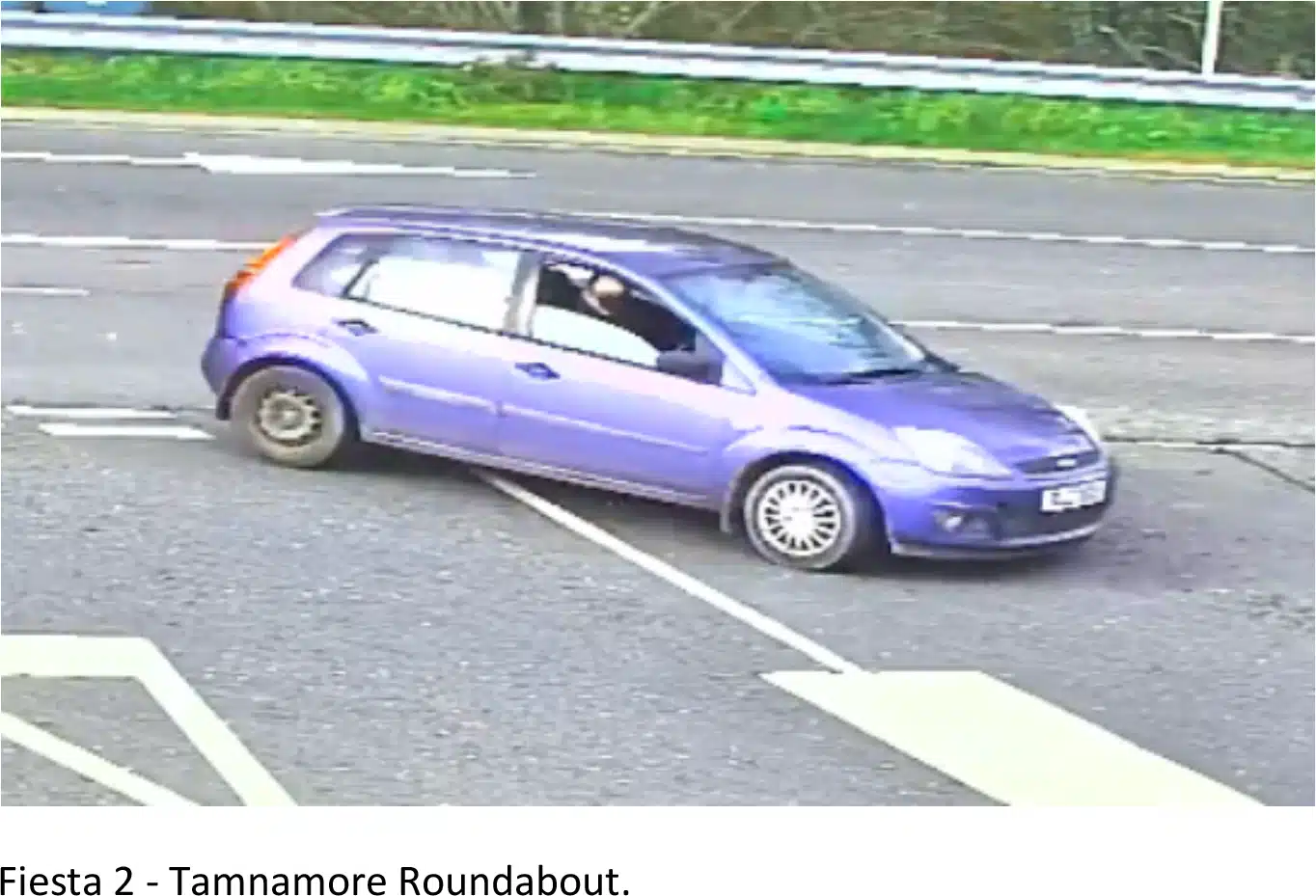 "I am also releasing a new image of Fiesta Two, registration number RLZ 9805, with a missing alloy hubcap seen at 2.00pm at Tamnamore Park and Ride on February 22. I need to know where it travelled to from here before being burned out in Ardboe Industrial Estate the following day, Thursday, February 23.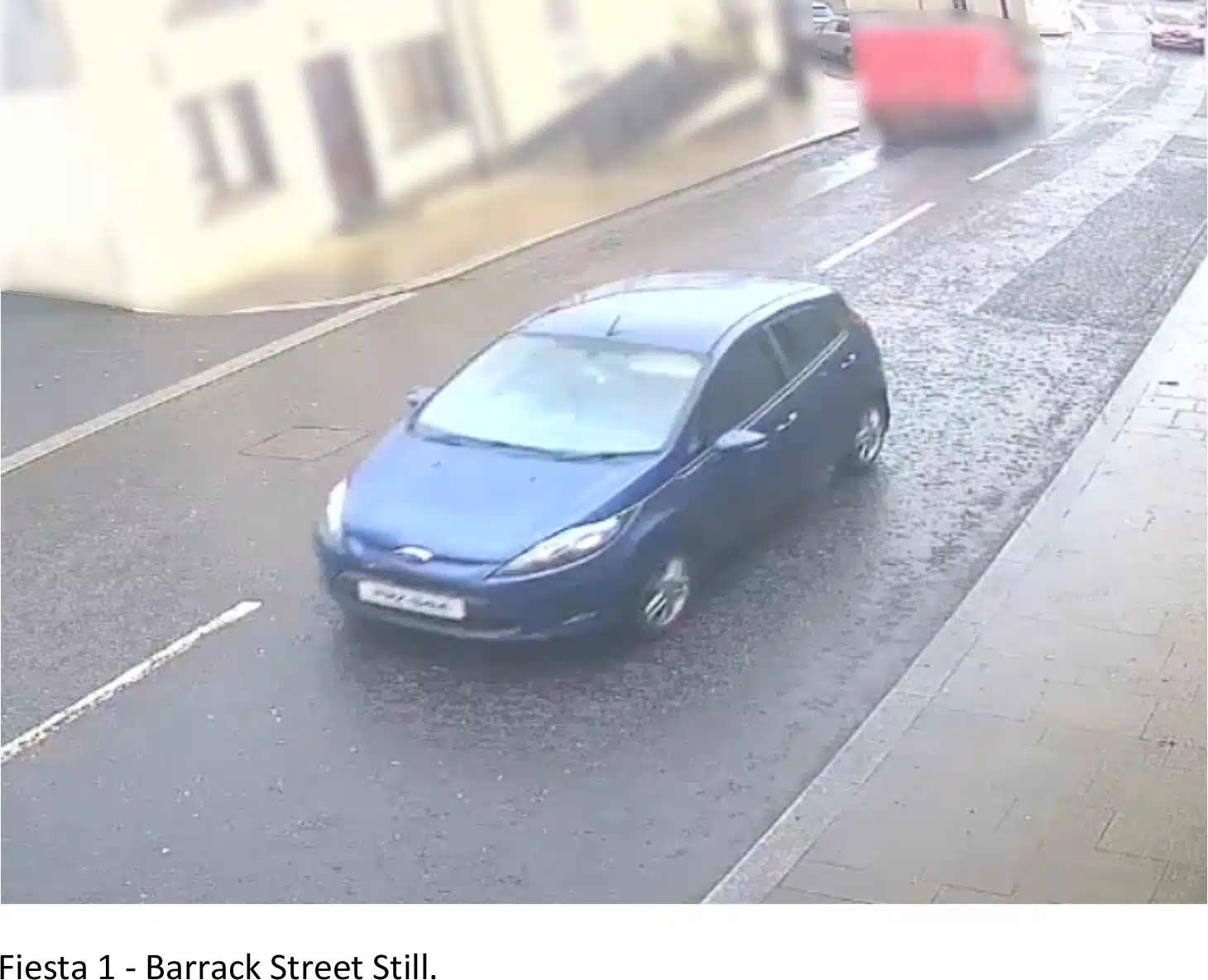 "I am appealing to anyone who has information about the movements of these vehicles, or the people within them, to contact police or Crimestoppers anonymously. No piece of information is too small.
"The Crimestoppers charity is offering one of the largest rewards of £150,000 for information leading to the arrest and conviction of those involved in the attempted murder. It is completely independent from the police and can be contacted anonymously on 0800 555 111, or online at www.crimestoppers-uk.org
"I am delighted that John is on the road to recovery and was able to attend a Garden Party this week hosted by the King and Queen. Now we need to make sure we bring those vile individuals who tried to murder him to justice."
Information, including photos, CCTV and dash-cam footage, can also be provided to police through the Major Incident Public Portal at: https://mipp.police.uk/operation/PSNI23S03-PO1
Sign Up To Our Newsletter