Whilst many would have their hands full after the birth of a child, one Derrytrasna woman took it upon herself to formulate a business plan.
Describing herself as a "workaholic", it was whilst on maternity leave that Sinead McMahon came up with the idea of the non-profit, Danann Crafts.
Originally an online entity only, Sinead would go on to find a home for her store on Lurgan's William Street, turning an old dental surgery into a treasure trove of local artwork.
Speaking to Armagh I, Sinead explained that the idea for her shop came from place almost as far away from north Armagh as one can get.
"It stemmed from Salamanca in Tasmania; it is a large art centre and marketplace based in Hobart," she said, "We have family and friends live there; we went over in 2010 and I just loved it, there are loads of nooks and crannies filled with artists and crafters work."
In 2013, Sinead launched her initial plan of a website, with the help of her husband. She says she had no intentions of opening a retail store but come the end of 2014, she had one.
"It is not a big open plan store, it has a lot little corners completely filled to the brim and every bit of it is made by local artists and crafters from the surrounding areas, you don't know how much talent is on your doorstep until you come in here."
Sinead admits it was hard going from a business, which was a case of do as and when, to one with set hours. It also did not help that three months in she discovered she was pregnant.
"I was always told it takes five years to break a town, they weren't lying. The first six months we had brilliant trade but after that we found it hard to get crafters….we are off the beaten track, most artists are based by coastlines or in Belfast, we are not on a tourist trial and a lot of artists want the work to go places they know it will sell."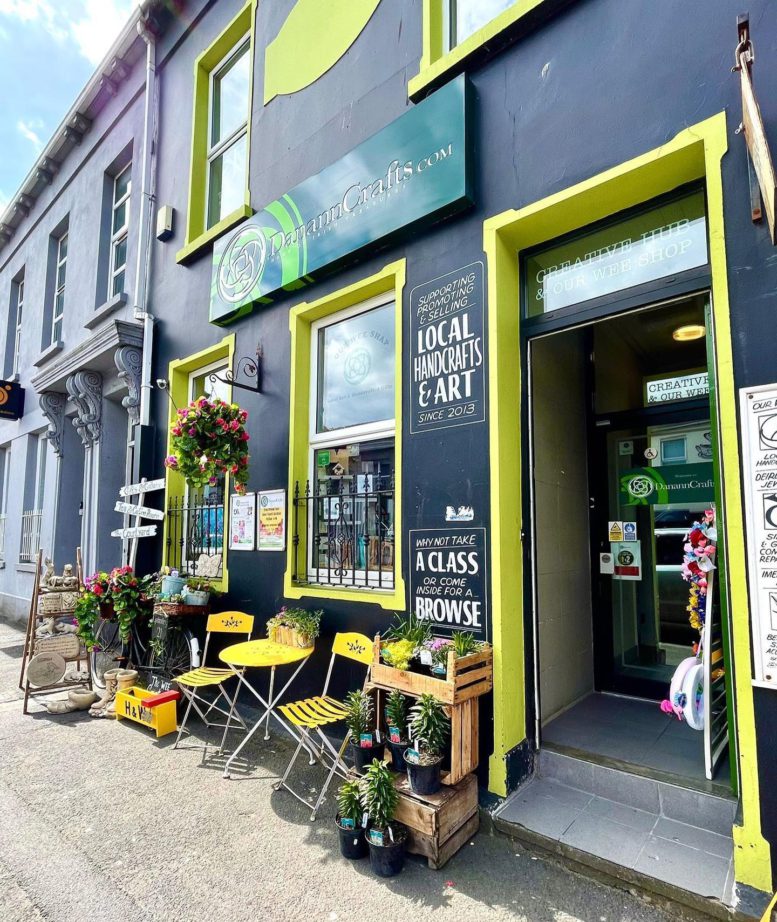 However, with a lot of hard graft, Sinead was able to put Danann Crafts on the map with many travelling to her store, or orders online, coming from as far as America.
That was until Covid hit.
The week before closures were announced, the store collected just £20 and Sinead had serious concerns for the future.
"I sat down with my husband and I talked about 'right, if we get to April, that's it, we're closing our doors,' this was before everything had come out.
"Then we closed our doors, I started messaging the girls……I thanked them for all of their work, because I have the most amazing bunch of girls."
But she was not beaten yet, three days into Danann being closed Sinead tried to think of ideas to keep herself busy and decided on craft packs.
"I started doing craft packs. I started fighting for the business and then I realised I wasn't ready to give up Danann Crafts. So I started fighting hard and we had a load of community projects, loads of birthday parties.
"I mean, literally, we were going to have one of the best years we were ever going to have. We had nearly £3,000 worth of work in the next two and a half months. That was guaranteed money."
But whilst doing a St Patrick's Day project on her child's school, waves of cancellations began and by the end of that day £800 in bookings were gone – by the next all had cancelled!
"Looking back I think for a lot of people that would have killed them and I still don't know understand why but I had already converted a lot of that money into buying equipment.
"So I started doing the craft packs and that was the biggest push that I had. So I was delivering and getting them out to the kids, donating stuff to community groups."
Sinead carried out this work whilst home schooling, but Covid also gave her a chance to put her business under the microscope.
"We realised the website wasn't good. Our communication on Facebook was okay but we weren't great. We were putting out the right information.
"We just took it one step at a time and I took nearly everything off the shelves and just restarted start fresh and approached artists and crafters that I wanted to from the start."
"I had taken the Danann Crafts that was the startup and I can proudly say I've made it into Danann Crafts the business because, even up until Covid, I probably wouldn't have even called myself a business person."
Now, Sinead says that the business is in as good a position as it has ever been and is going from strength to strength.
"Thankfully we are starting to see people coming back in…there are a lot of people didn't discover us until Covid because they were walking the streets and thought 'oh'."
She added: "We are on the beaten track but on the dark side of the street in Lurgan which works against us sometimes..up until then most of our client base was from outside of Lurgan, which still shocks me to this day.
"We had people coming from Derry and Belfast to visit us, but yet I couldn't get people who came from Shankill, behind us, around the corner."
You can check out the Danaan Crafts website here.
Sign Up To Our Newsletter