A police officer almost lost an eye after he was injured during the course of his duties in Co Armagh on Friday night.
The PSNI in Craigavon has not released details of the incident which led to the officer sustaining the facial injuries.
But a person has been arrested as a result.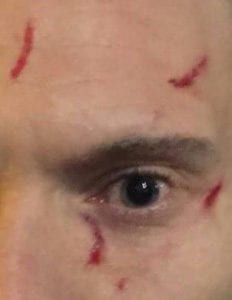 The PSNI released details via Facebook, saying they are things police do day in day out which people take for granted but which they consider to be 'part of the job'.
Craigavon police report: "Sadly though, keeping people safe often means stepping into that gap between law abiding members of the community and people wanting to do them harm.
2″The officer pictured here sustained this injury on Friday night in Lurgan.
We won't be releasing details of the incident, other than to assure you that someone was arrested, but this officer is fortunate to still have his eyesight intact.
"He continued on duty, and was back in yesterday to help keep Lurgan safe.
"This is the reality of policing sometimes, but it will take more than that to put us off!"
Picture: PSNI Craigavon, Facebook
Read more news:
Armagh beat Monaghan by single point for McKenna Cup victory at Clones
New £6.9m paediatric ward and extension approved for Craigavon Area Hospital#
Tributes paid to six-year-old Ella after tragic Newry road collision
PSNI puts parents in spotlight after being called to deal with large crowds of teens
Police continue to investigate circumstances surrounding body found in park
Six-year-old girl dies in Newry collision involving two cars and a tractor
St Patrick's High in Keady awarded 'Best Northern Ireland School' at national exhibition
Newsletter
Sign up for our weekly newsletter here.