Council officials have been asked to invest in CCTV to catch those responsible for ongoing incidents of dumping at local beauty spots.
Some 50 tyres were found discarded near Carrigatuke Viewpoint.
And the find on Thursday was made as officers from Armagh City, Banbridge and Craigavon Borough Council were investigating two other incidents of dumping in the Armaghbreague area.
In these, one consisted of old clothes and shoes, while the other appeared to have been various body parts of an animal.
Local SDLP Councillor Sharon Haughey-Grimley has said enough is enough and slated those responsible for ongoing dumping across the area.
She told Armagh I : "Illegal dumping is destroying our countryside. There seems to be no end to it. Every week I get calls from constituents alerting me to new incidents.
"I had council officers out today in Armaghbreague to assess two incidents of dumping.  One was old clothes and shoes while another was what appears to be various parts of a dead animal.
"I am grateful to the council's environmental health team who continue to work tirelessly to deal with these incidents. They have liaised with Forestry Service and arrangements have been made to clear the two sites.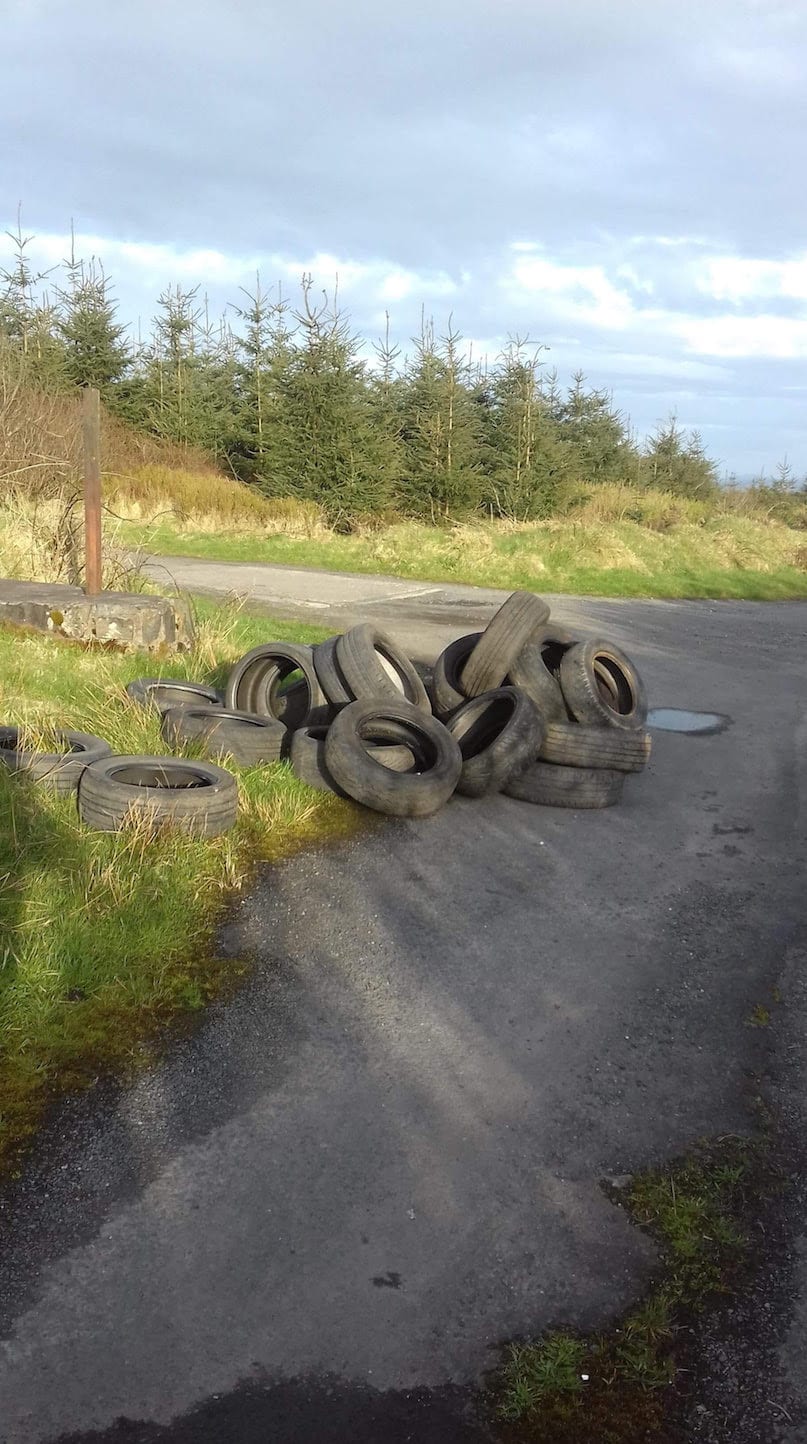 "While out on site, it was shocking to discover the dumping of about 50 tyres, many of which were blocking the road up to Carrigatuke. This is not an isolated incident as this has happened before.
"It is absolutely horrendous that council have to spend so much time and money in dealing with these illegal dumping cases. Those responsible are attacking our beautiful countryside, and are completely disrespecting the people who live in the area. Their actions are shameless."
Councillor Haughey-Grimley said there can be "no excuse or justification" for any dumping.
"Council provides free recycling centres in Keady, Markethill and Armagh which will take most waste," she added.
"There is protocol in place for disposing of tyres and all reputable garages will meet those standards. There is also procedures to follow when disposing of dead animals, which all reputable farmers should meet.
"Those who are blighting our countryside with their waste – whether that's tyres, dead animals or general household waste – are a shame and disgrace.
"I have asked council to invest in a new camera to be erected in the area and I appreciate the work of council workers in attempting to identify any traceability of the waste in each case.
"I also urge the wider community to be vigilant against such dumping and to report any suspicious behaviour so that we can stamp this out once and for all."
Sign Up To Our Newsletter