Another Bank Holiday May weekend is upon and that must mean another huge fun-filled Skip Car Tour big weekend in Tassagh.
The festivities kick-off with the annual Orchard Truck Run on Saturday, May 26, with the Tractor Run and Duck Race taking place on the Sunday – all in aid of Marie Curie and Southern Area Hospice Services.
There'll be music and entertainment for all ages – and it's going to be a scorchio!
The Orchard Truck Run sets off from Basil Sheils' in Tassagh, with lorry registration and entrance for convoy from 9am via Tassagh Viaduct only.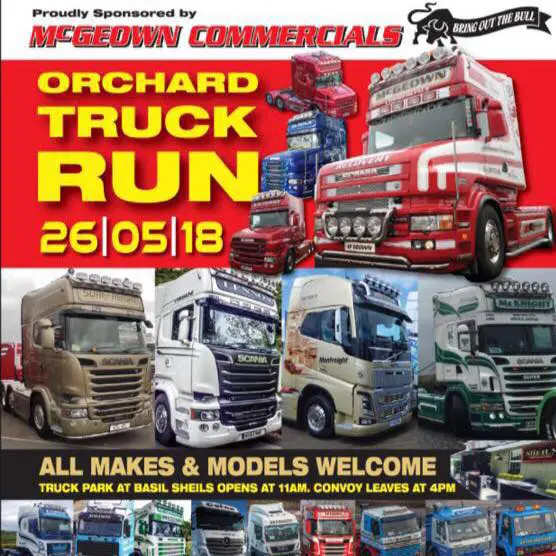 Bull Nose lorries to be registered before 1.30pm to lead the convoy; after this time bull noses will join the rest of the convoy.
Truck Run Route (times are all approx)
▪Convoy to leave Sheils at 4.15pm
▪Keady at 4.30pm
▪Newtownhamilton at 5pm. Convoy turns left when in to Newtown on to Markethill Road (will NOT be going through Newtown main street)
▪Clady crossroads at 5.15pm
▪Markethill via Main Street at 5.30pm. Up through the centre of Markethill and turn left on to main Newry Road.
▪Armagh at 6pm. Past the police station, Armagh City Hotel, down slip road to the left, passed McAnerneys and on out turn left on to Newtownhamilton Road.
▪Ferla Crossroads at 6.30
▪Turn right at Ferla and back to Sheils for the party ????
All drivers taking part in our convoy must have a valid driving licence and insurance to take part!
Then on Sunday is the Hit the Diff Tractor Run, again from Basil Sheils'.
Tractor registration and park from 1.30pm in Tassagh Creamery. Registration in the shop at the Creamery.
Tractor Run Route (times are all approx):
▪Vintage tractors leave Sheils at 3.30pm. Other tractors led by self propelled harvesters leave at 4pm.
▪Leaving Sheils' carpark, turn left and go to Ferla Crossroads. Vintage tractors approx 4pm.
▪The vintage tractors will turn left on to Farm McCaffrey road and left on to the main Keady/Armagh Road heading to Keady.
▪Modern tractors and harvesters will turn right before Gerard's Tyres at 4.45pm on to the Drumgaw Road, turn left through Woodford and on to the main Newry Road and turn left.
▪Down the Newry Road, past the police station, Armagh City Hotel, down slip road to the left, passed McAnerneys and on out the Keady Road at 5pm
▪All tractors will join together at McGleenans Centra in Keady at 5.15pm.
▪Vintage tractors have the option to turn left in Keady at Fire Station and back to Sheils. 5.30pm
▪All other tractors can go through Keady town.
▪turn down left at monument and up over hill. At the bottom of the hill go left at Carmoyle crossroads out to Annvale.
▪Turn right and back to Sheils for the party
For more details on events and everything else that's going on, visit the Skip Car Tour's Facebook page here.
Sign Up To Our Newsletter