The fight back against smuggling operations in south Armagh continues – with a major success today (Tuesday).
Tactical Support Group officers stopped a vehicle in the Crossmaglen area.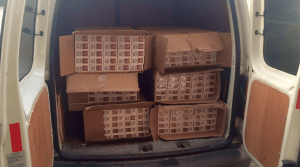 Inside, they found 60,000 cigarettes.
Police have put on show a photograph of the contraband tobacco.
It is the latest in a number of seizures in recent times as the PSNI work to combat ongoing smuggling activities in border areas.
One male was arrested following today's seizure.
Picture: PSNI
Read more news:
Four-time child killer and rapist Robert Black confirmed dead at Maghaberry Prison
Woman due in court tomorrow charged with attempted murder
Young family left 'frightened and traumatised' by overnight attack on home
Man in serious condition following stabbing at a house
Vandals target city centre businesses in overnight graffiti spree
Armagh beat Monaghan by single point for McKenna Cup victory at Clones
New £6.9m paediatric ward and extension approved for Craigavon Area Hospital
Support your local news...
We have always been free to our readers and will continue to remain so but your contribution, however big or small, will help us remain independent while allowing us to bring you more of the news you want to read right across our two boroughs.
Your support is invaluable – thank you.