A marker aimed at combatting fuel laundering appears to have the criminal gangs stumped.
Attempts to try and remove it have so far failed.
And, according to the Justice Minister David Ford, there is "some evidence" to suggest a reduction in the levels of fuel laundering in south Armagh and border areas.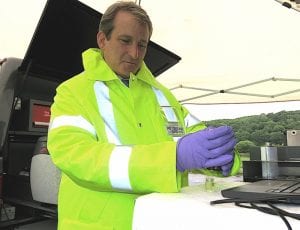 It was in February 2014 that the UK and Irish governments announced they were to bring in a new product to mark rebated fuels, including the off-road diesel commonly known as 'red diesel', in a move that would boost the fight against illegal fuel laundering.
The marker was brought in to help HM Revenue & Customs and the Irish Revenue Commissioners tackle the criminal market in off-road diesel – marked with a red dye in the UK and green in Ireland – and also kerosene primarily used for heating oil.
It was introduced here in the spring of last year.
A recent fire has provided evidence that the criminals have not yet been successful in removing it.
The Minister provided the information in the Assembly in response to a series of questions posted by Newry and Armagh Ulster Unionist MLA Danny Kennedy.
He had asked Mr Ford what "further practical measures he is considering to tackle the long-standing scourge of fuel laundering in the border area, particularly in my constituency of Newry and Armagh?".
Mr Kennedy also asked at what level in the PSNI would the new cross-jurisdictional joint agency task force be chaired, and what level of administration and budget provided for the work of the new three-person panel bringing forward recommendations on the disbanding of paramilitary groups?
Mr Ford said HMRC leads on specific issues to deal with fuel fraud and it was not possible for himself to say anything in particular about that, other than "police will continue to provide the support that HMRC requires".
But the Minister said they had seen "good results" from the fuel marker that was introduced last spring.
Mr Ford said a recent fire in the Newry and Armagh constituency – when the NI Fire and Rescue Service discovered a fuel-laundering plant – had made it clear that the old marker had been successfully laundered out of that fuel, but the new marker had not.
Describing this revelation as "very encouraging", the Minister continued: "There is some evidence — it is at a relatively early stage — to suggest that fuel laundering is happening less frequently than previously, although it is inevitable that criminals will turn to other activity given the opportunity."
In relation to the cross-border task force, Mr Ford said the strategic group would be chaired by an assistant chief constable, and the operational group by either a PSNI superintendent or chief superintendent.
And on the issues of paramilaries, the Minister continued: "As far as the three-person panel making recommendations on fighting paramilitarism is concerned, the specific arrangements for admin are that full support is being supplied by staff from the Department of Justice, who were introduced to the panel at the meeting on 23 December, have already engaged and are setting up arrangements for email systems and so on. That is already under way.
"The budget is the amount agreed by the Executive that would be paid to the individuals for their work for that period. Other costs are being borne by the DOJ.
"I believe that what we saw at that meeting was the three members getting down to identifying how the work would be done, and I think they are satisfied with the support that is currently being provided by some of my officials to them."
Read more news:
Police respond to reports of shots fired in county Armagh
Young couple caught up in floods hell after moving home from Australia
Police restrain man in hospital after he causes thousands worth of damage
CCTV appeals: Police investigating thefts across county Armagh
Newsletter
Sign up for our weekly newsletter here.