A temporary fix to the issue of parking outside Gosford Park appears to have been just that – temporary.
It was in June that the PSNI kickstarted a new get tough approach to drivers parking along the hard shoulder.
They did so after ongoing complaints that motorists were causing a hazard to other drivers by parking there in a bid to avoid the admission fee to the forest park.
Visibility for drivers exiting Gosford is obscured by cars parking here.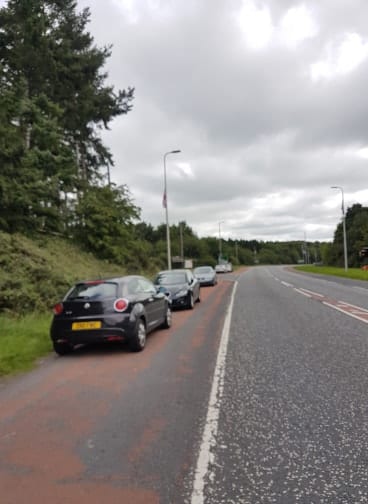 And there is also the danger of people exiting vehicles next to the busy road.
But police issue promises to crack down on problematic parking outside Gosford Forest Park in recent months.
And they appeared to have been paying dividends.
The PSNI in Armagh pledged to take action on the day of Armagh Show in June and the weeks after.
Scores of cones were put in place with the promise of parking tickets being issued to those who flouted the rules.
Both sides of the road were coned off.
It appeared to be a great success with very few cars and vehicles parking here.
Yet that has now changed.
The cones have now gone and the hard shoulder is a free for all once again.
As work continues inside to transform Gosford Forest Park into a five-star tourist destination, local residents are again up in arms that the situation has raised its head again.
One resident contacted Armagh I and urged police to continue to target rogue drivers.
He said: "The cones are away just one week and it's right back to square one again – the number of people parking is up from last week.
"There's been at least three or four cars parking each day this week and from what I can see there's been no action from the police."
Sign Up To Our Newsletter