The William McFadzean VC Sportsman's Dinner has been held at Craigavon Civic Centre, hosted by Lord Mayor Gareth Wilson and sponsored by David Jameson Roofing.
The night got underway with Ancre Somme Association Honorary President, David Martin, welcoming all to the event.
A rapturous round of applause circulated around the room as he welcomed special guests Mark Hateley, Liam Beckett MBE and Roy Carroll.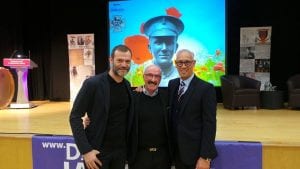 A further welcome was extended to Lord Mayor Gareth Wilson, ASA Patron Ant Maher and various politicians, including DUP and UUP party leaders, Rt Hon Arlene Foster MLA and Robin Swann MLA, respectively, plus representatives from various councils, including Armagh City, Banbridge & Craigavon, Newry, Mourne & Down, Mid & East Antrim and Lisburn & Castlereagh City Council.
A special mention was also given to the ASA Scotland members who were in attendance.
Mr Martin concluded by reading a letter from ASA Scotland Ambassador, Alexander Stewart MBE MSP, which again received a rapturous round of applause from all in attendance.
Before the room fell silent everyone again put their hands together for the introduction of Ancre Somme Association Patron, Lt Col Ant Maher.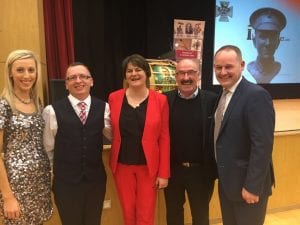 As the William McFadzean VC Commemoration Society is a working group of the ASA, he give an insight into the work being done by the Association across the United Kingdom.
He then paid tribute to William McFadzean and the sacrifice made by him on the 1st July 1916.
After the meal it was then time for the first guest, Liam Beckett MBE, to take to the stage. As he conducted the grand auction Liam brought the house down with laughter as he interacted with various characters in the room.
Between the auction and the raffle Liam helped the Society raise over £2000.
He then welcomed Northern Ireland and England internationals, Roy Carroll and Mark Hateley, to the stage. Both guests gave a fascinating insight into their respective footballing careers and also expressed their personal views on where football was, is and needs to be. Liam then opened questions to the floor.
Just before proceedings came to an end, David Martin presented the three guests with gifts that will hopefully become personal reminders of the historic night and in particular the name William F McFadzean VC.
The climax of the event saw Mark Hateley drawing the winning ticket of the raffle with the prize being a William McFadzean VC Limited Edition cold cast bust, with John Blemings fortunate to have his ticket drawn. For those who have enquired about the busts more information can obtain by visiting www.williammcfadzeanvc.org.uk
As the night closed the special guests, like the true professionalst they are, made the time to chat, take photographs and sign autographs, right up until the very last minute. This was very much appreciated by all who attended the event.
The William McFadzean VC Commemoration Society would like to take this opportunity to thank everyone that sponsored, supported and attended this event.
Sign Up To Our Newsletter