Twenty new jobs are to be created in Craigavon, Armagh I can reveal.
The new positions will be made available following the construction of a new light industrial unit and warehouse storage facility at the Carn Industrial Estate.
A planning application for the new development will be given approval when Armagh City, Banbridge and Craigavon Borough Council's planning and regulatory services committee meets in Banbridge this Wednesday, October 14.
The proposal is for Industrial Paint Solutions Ltd and the building will be for the industrial storage, repair and paint work of NACCO Materials handing Group.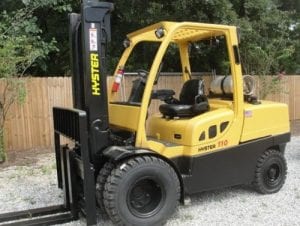 The business takes delivery of all the forklift counter weights which are manufactured overseas. The shipments come in large quantities, which are then finished to a high standard and stored on site than delivered as and when required.
NACCO Materials Handling Group design, engineer, manufacture and sell lift trucks and provide aftermarket parts and support.
Forklift trucks and component parts are manufactured in the United States, Northern Ireland, Mexico, The Phillipines, The Netherlands, Italy, Japan, Vietnam, Brazil and China.
It is a global leader in the materials handling industry, selling trucks under the Hyster and Yale brands.
The new building will cover in excess of 2000 sq metres of floorspace.
There had been no objections to the application and it lies within the development limits of Craigavon Urban Area on land zoned for industrial use.
There are a number of industrial units already located in the area, including to Carpet Tile Solutions and AJ Power Supplies to the south west of the site.
A number of conditions have been laid down in recommending approval, and one gives the hours of operation as 8am to 6pm, Monday to Friday, and 8am to 1pm on Saturdays.
The proposal development initially will create employment for 20 people. Seventeen of these will be on the factory floor and three in a management or office setting.
The number of jobs is expected to increase as the business with NACCO increases and more of their parts are processed through Industrial Paint Solutions.
Read more news:
Dog attacks leaves county Armagh estate without postal service
Police release CCTV images in relation to shop thefts
Minister confirms Armagh I exclusive as design plan signed for three new campuses
Scout hall where boys were sexually abused is demolished
Portadown mum Charlene Campbell to be laid to rest beside baby daughter Myla
Sign Up To Our Newsletter