Celebrating and championing the achievements of Armagh City, Banbridge and Craigavon Borough's diverse, innovative and energetic business community took centre stage at the 2022 ABC Business Awards on Thursday evening.
Held in association with Northern Ireland's leading energy company and associate sponsor, Power NI and hosted by presenter Sarah Travers, the gala black tie event took place on Thursday 24 February in the Seagoe Hotel, Portadown.
The ABC Business Awards were the first in-person awards in three years and the first major awards to recognise business achievements in 2022. Attracting 285 business, industry and council representatives, the awards night saw over 50 local businesses vie for the top spot of 14 hotly-contested award categories, designed to recognise business success, growth and innovation across a range of sectors.
Celebrating success across a wide range of corporate and consumer-focused categories, honours included Best Hospitality Business, Innovation, Social Enterprise Business, Business Growth, and Excellence in Manufacturing and Customer Service, as well the prestigious Sir Allen McClay Young Business Person accolade.
The awards night also included accolades for Best New Business, Best Family Business, Best Apprentice Employer, Best Place to Work, Best Agri-Food Business, Best Transport and Logistics, and the Commitment to Sustainability and Responsible Business Award
Covering all corners of the borough, winners on the night included: ConstructTuition; Irwin M&E; Sinton's at the Bridge; Alternative Heat (two awards); Maxx Life Gym; ubloquity; incredABLE (incorporating incredABLE Enterprises); Donaghy Shoes; Almac Group; Home Instead; Armagh Cider Company; Long Meadow Cider; and Manfreight Limited.
Bill McAtavey from Azil Racking and Shelving scooped the prestigious Sir Allen McClay Young Business Person Award, while Mairead Mackle MBE, founder and CEO of Tarasis Enterprises, was bestowed the Business Ambassador Award on the night.
Lord Mayor of Armagh City, Banbridge and Craigavon, Alderman Glenn Barr commented,
"On behalf of the council, I would like to extend my heartfelt congratulations to all our winners and commend all the finalists for getting behind these awards. These awards not only bring our business expertise, entrepreneurial spirit and our commitment to succeed to the forefront of the corporate community but to far beyond the borough.
"It has been reassuring and encouraging to have these awards so well supported, both in the number of entries for each category and in the companies that came on board as category sponsors, without whom this event could not have taken place."
The awards saw support from corporations and organisations including, Power NI, Almac Group, Armagh Business Centre, Banbridge District Enterprise, CIDO, GMcG Portadown, Ulster Tatler, Southern Regional College and council itself.
Amy Bennington, Commercial Marketing Manager at Power NI and associate sponsor of the 2022 ABC Business Awards commented,
"At Power NI, we're committed to supporting our local communities and we're proud to support the thriving and innovative businesses based in the Armagh City, Banbridge and Craigavon Borough by sponsoring the 2022 ABC Business Awards.
"It has been a privilege to be involved in these awards and to have so many local businesses of all sizes and sectors come together in a celebration of the accomplishments that are so evident across the region."
With unprecedented entries, the ABC Business Awards is growing in numbers and strength as it continues to recognise, champion and reward the diverse local and regional businesses firmly located in the borough.
For more information on the winners, awards and sponsors visit www.abcbusinessawards.com.
In Pictures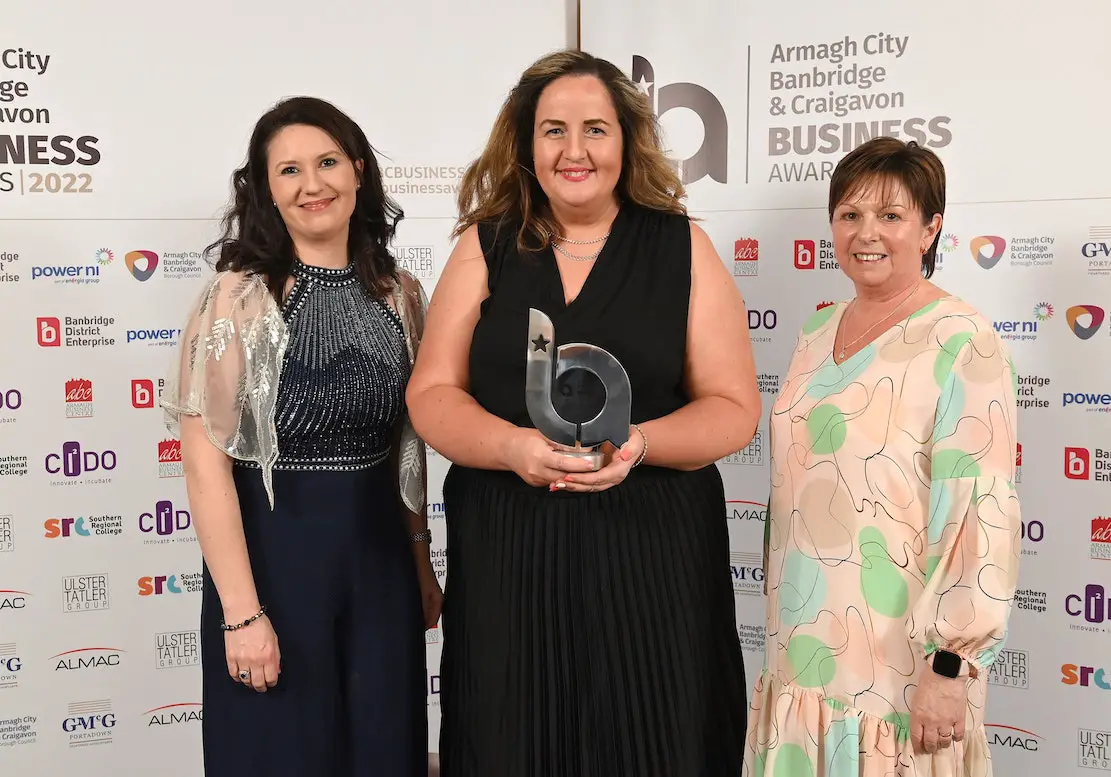 Lorna Hegan from ConstructTuition receives the award for Best New Business from Cara Dallat (CIDO) and Eileen Stewart (Armagh Business Centre). ConstructTuition identified an ongoing problem within an industry and developed a unique solution to address this, and managed to set up the company in the middle of a global pandemic.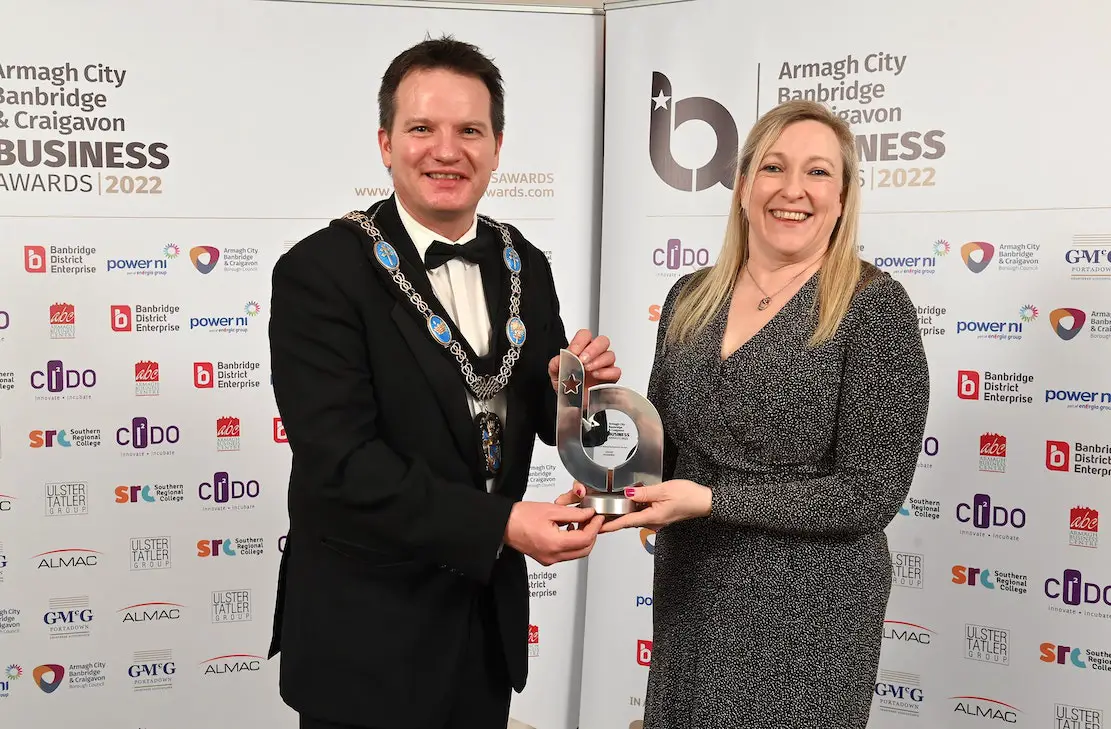 Lord Mayor Alderman Glenn Barr presents the Best Social Enterprise Award to Samantha McCartney from incredABLE, an exciting social enterprise with so many opportunities which are growing and giving back for the greater good. This business is balancing their social provision against their commercial needs on a daily basis to enable them to continue to thrive.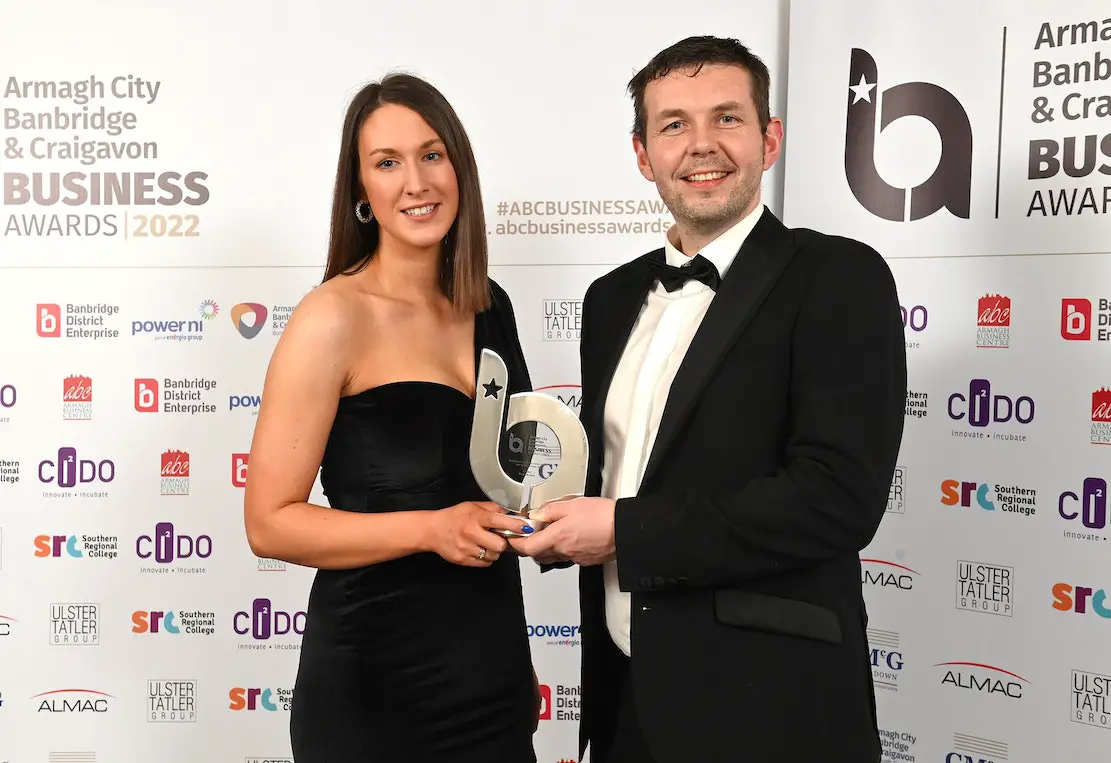 The Excellence in Customer Service Award is presented to Anthony McElmeel (better known as Anto Maxx) from Maxx Life Gym in Armagh by Emily Fair, Power NI. During lockdown Maxx Life Gym paused their membership fees and rather than wait until the sector reopened, they developed a busy online training programme free of charge. This proved really popular with customers and gave many a support network during tough times.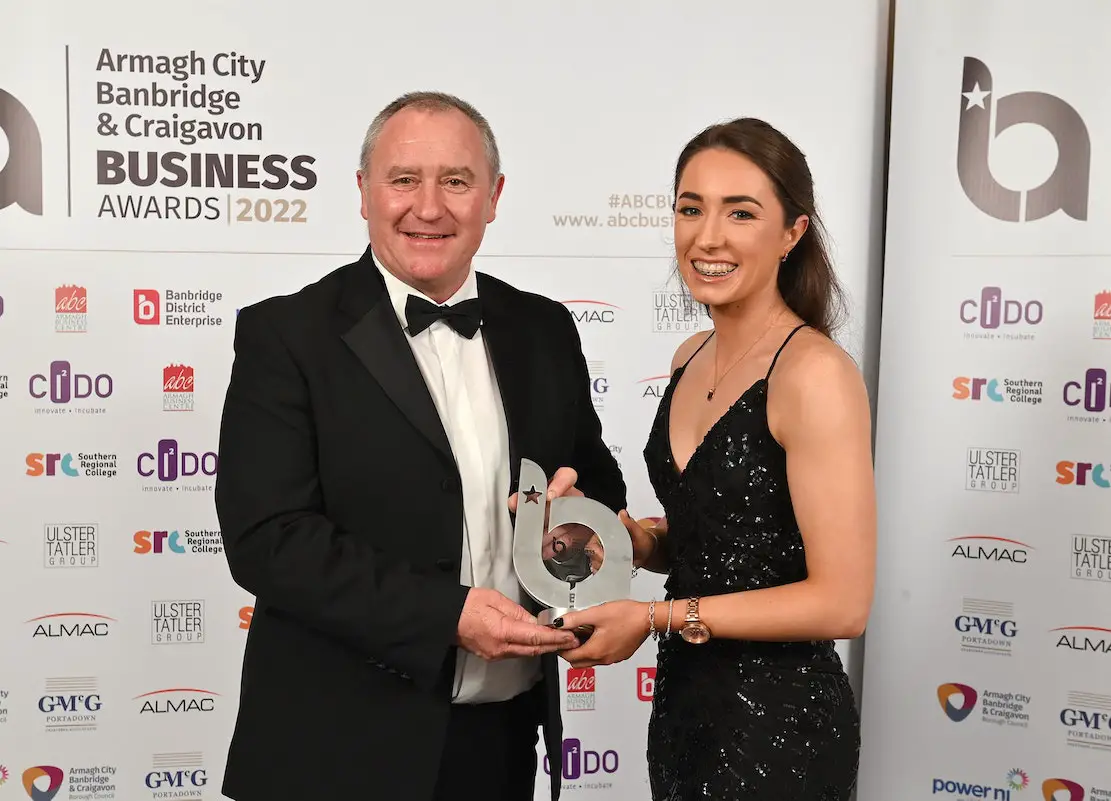 Ellen Marks from Ubloquity receives the Best Innovation Award from Chair of Economic Development and Regeneration Committee Councillor Declan McAlinden. This exciting Scarva-based company specialises in harnessing blockchain technology to create foundational platforms to underpin digital trust networks.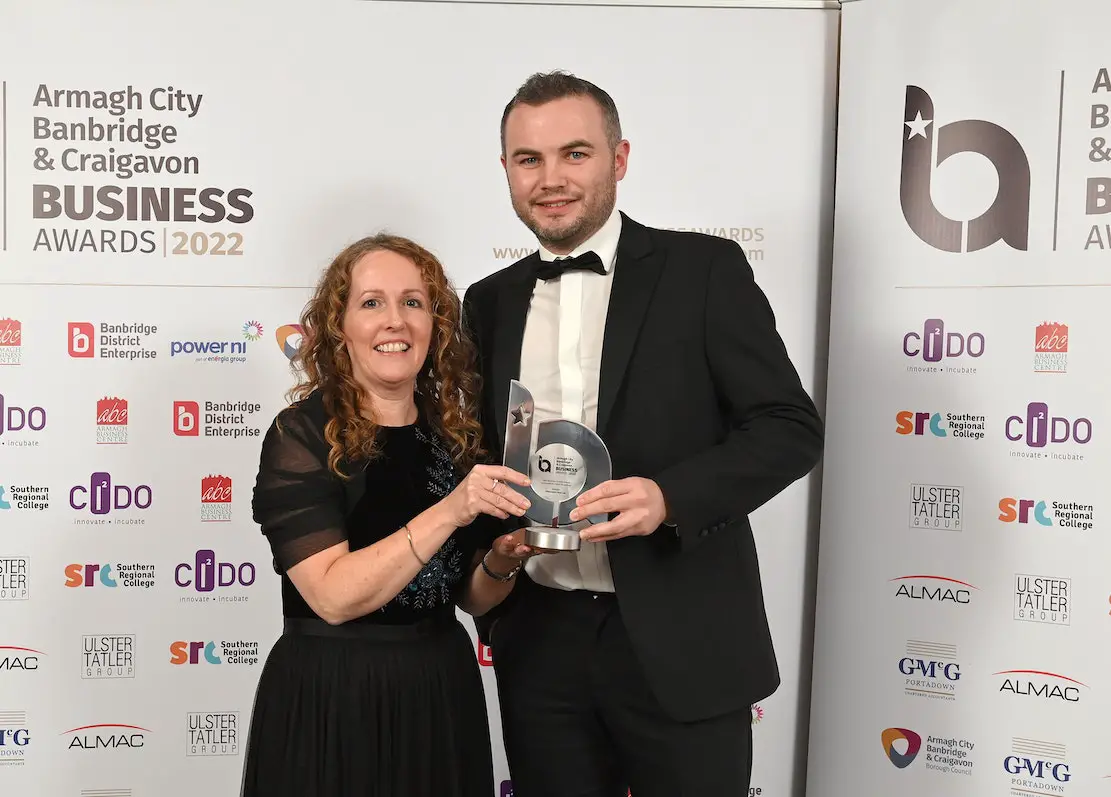 Alternative Heat's Fergal Hegarty receives the Best Business Growth Award from Gill Johnston from award sponsor GMcG Chartered Accountants. This company was able to show tremendous growth in their business which has come about through innovations and making calculated decisions in a sustainable way. The growth has enabled them to attract and retain local talent which often lost to other parts of the country.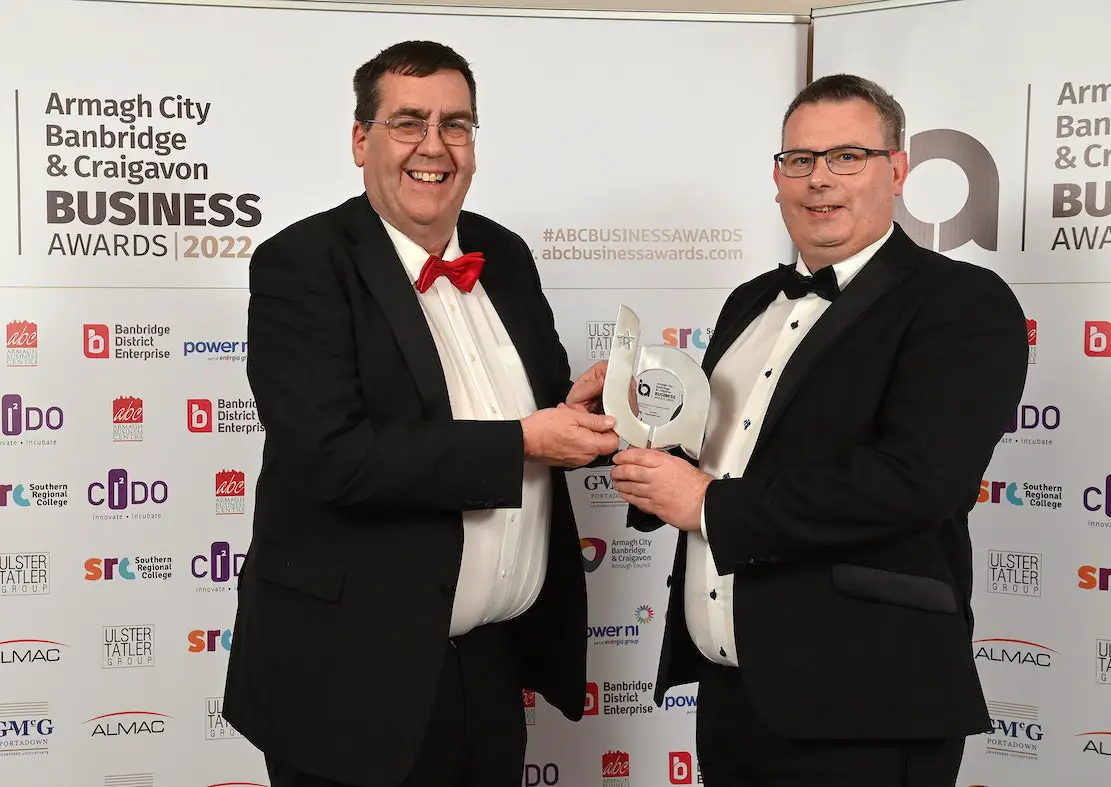 Alderman Stephen Moutray presents the Best Transport and Logistics Award to Chris Slowey from Manfreight. Over the last two years this company has invested heavily in the long term growth of the business with no element of the business being overlooked in the development plan.  The judges were really impressed with the company's commitment its employees and the level of thought and support that has been given to staff welfare.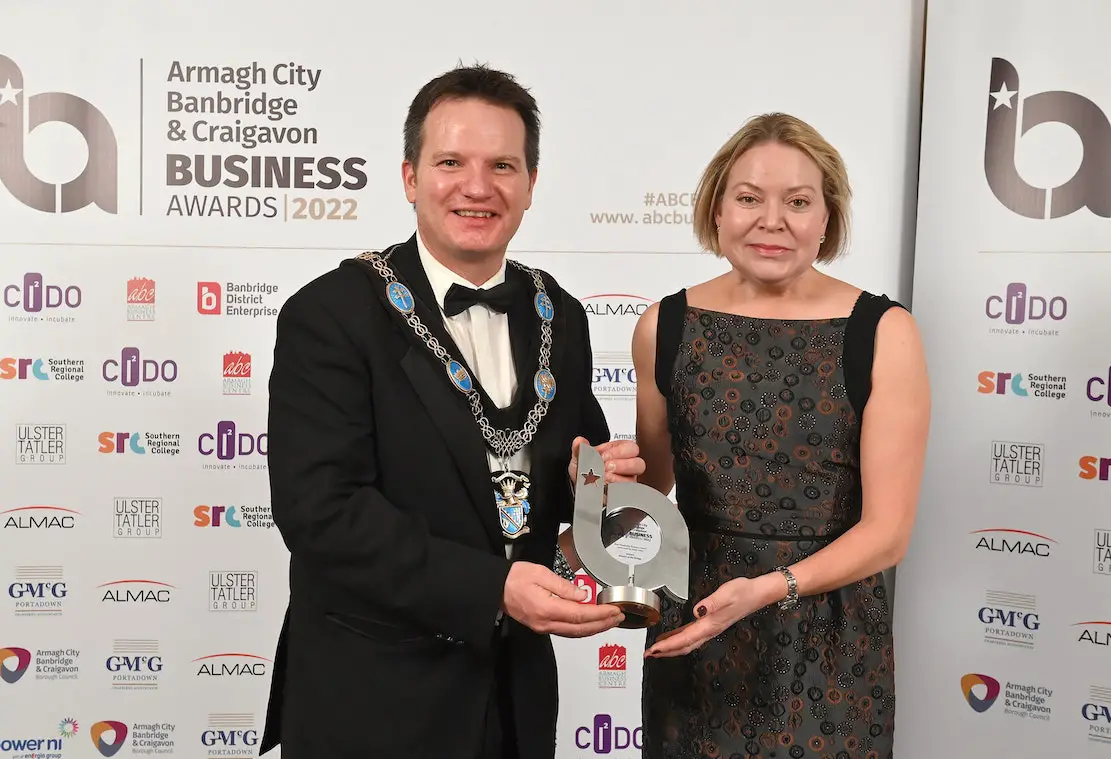 Owner of Sinton's at the Bridge restaurant in Scarva, Julianne Morton, receives the award for Best Hospitality Business from the Lord Mayor on behalf of sponsor Ulster Tatler. Sinton's at the Bridge showed how passionate they are about their business and how they have grown over the years by keeping their focus on good food and service. It is great to see a business in hospitality coming out of the pandemic with growth plans and ambitions.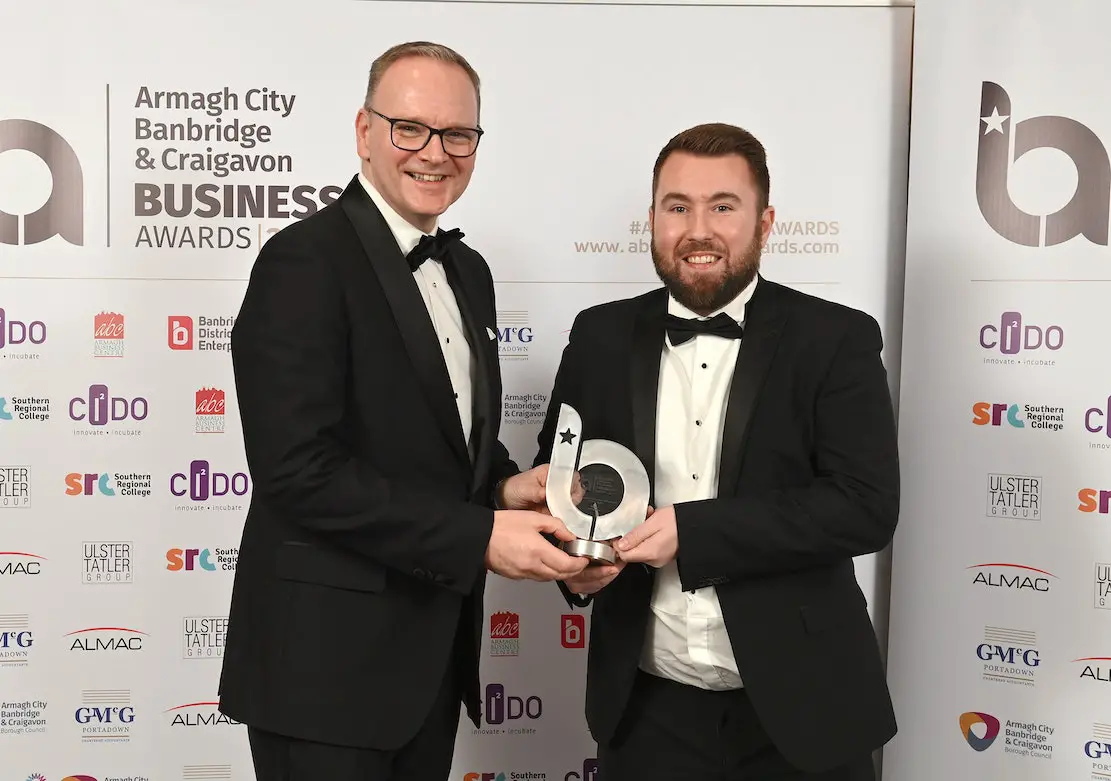 Commitment to Sustainable and Responsible Business Award is presented to Adam Robinson from Irwin M&E by Council Chief Executive Roger Wilson. The judges said that this category was very encouraging with all finalists showing a real commitment to staff, environment and their local community. Irwin M&E demonstrated a fantastic commitment to all three elements and are a great example of a company going the extra mile to ensure they have a really positive impact in all aspects of their business.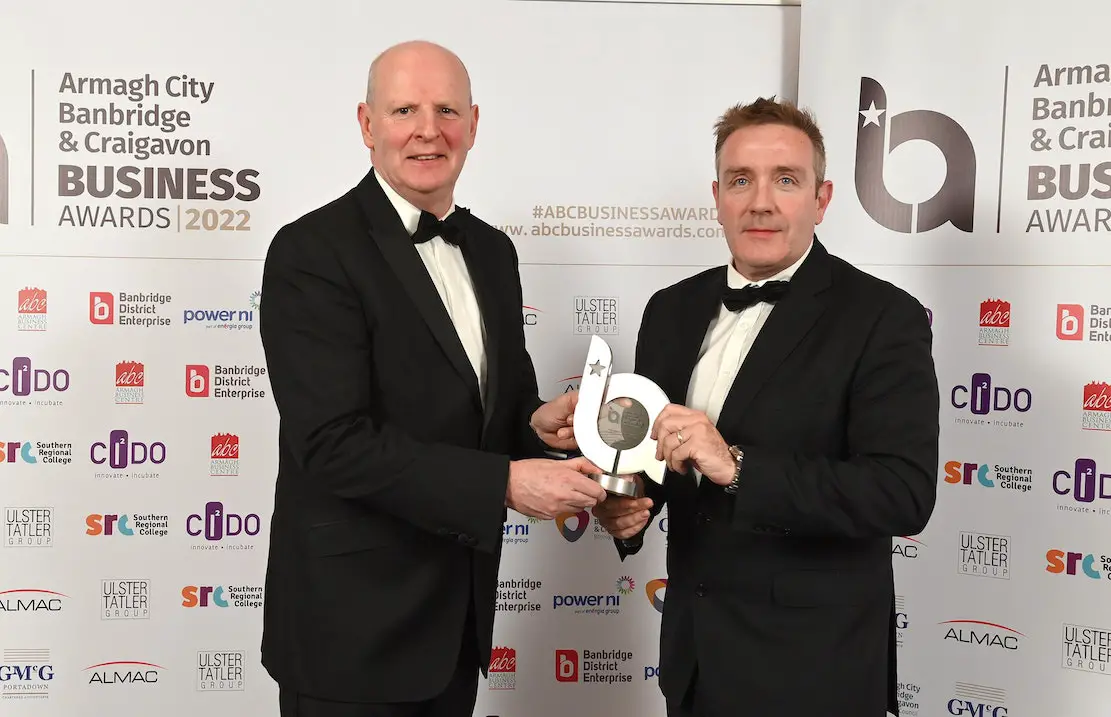 Brian Doran, Chief Executive of SRC presents the Best Apprentice Employer Award to Kevin Reid from Almac Group. Almac clearly demonstrated that the apprenticeship programme is central to the future growth and development on the overall company. They invest significant time and effort to ensure that not only do the apprentices develop their skills, but equally important is the apprentice's personal development within the company. Almac really invests in the person and it's a long term investment in each individual.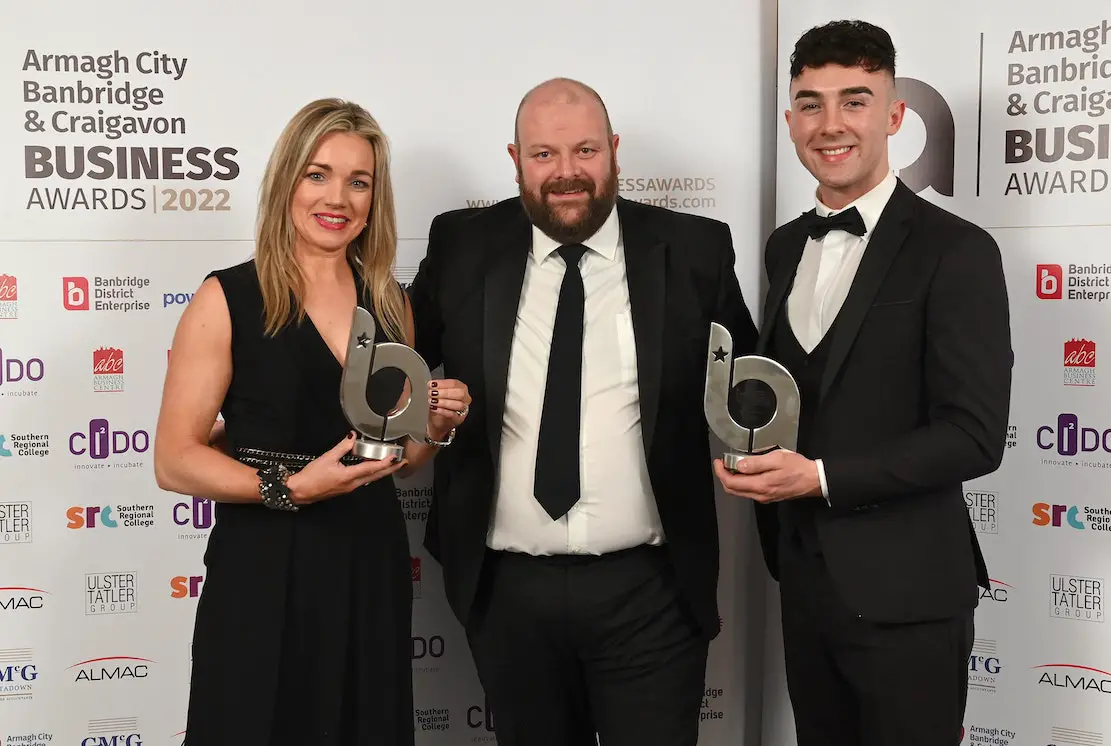 Councillor Mark Baxter presents the Best Agri-Food Business Award to joint winners Armagh Cider Company (Peter McKeever) and Long Meadow Cider (Esther Paul). They are two companies that are renowned for their role in the Borough's rich agri-food sector, both produce world-class drinks and play an important role in the local economy.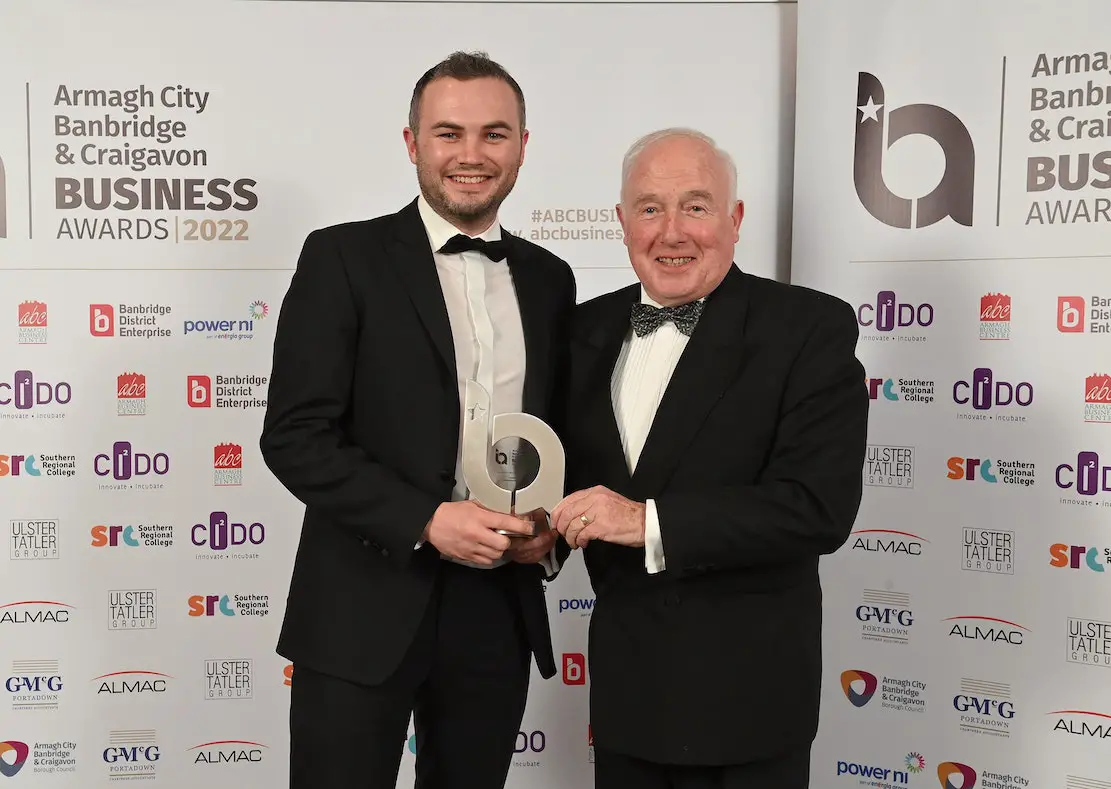 In their second win of the evening, Alternative Heat's Fergal Hegarty picks up the Excellence in Manufacturing Award from Alderman Jim Speers. The judges were blown away by the quality of entrants and the presentations by the shortlisted companies. This category proves that the ABC Borough is a world class manufacturing centre of excellence. Alternative Heat demonstrated a significant growth in turnover and staff, and the judges were so impressed that not only do they have their order book full for 2022 but they also have it 50% full for 2023.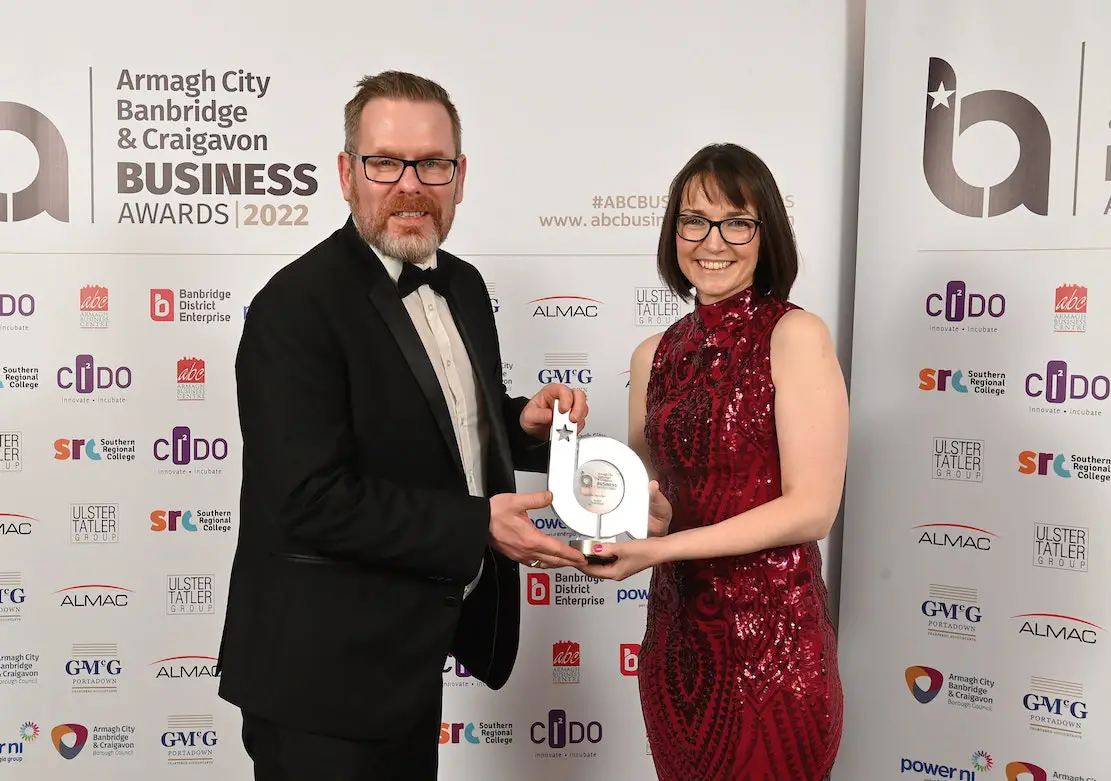 Una O'Duil from Home Instead receives the Best Place to Work Award from Councillor Kevin Savage. This company demonstrated that they care about their employees and that each person is seen as an individual with different needs, motivations and aspirations. The result is a growing business with a happy team in a sector that has had a really challenging 22 months.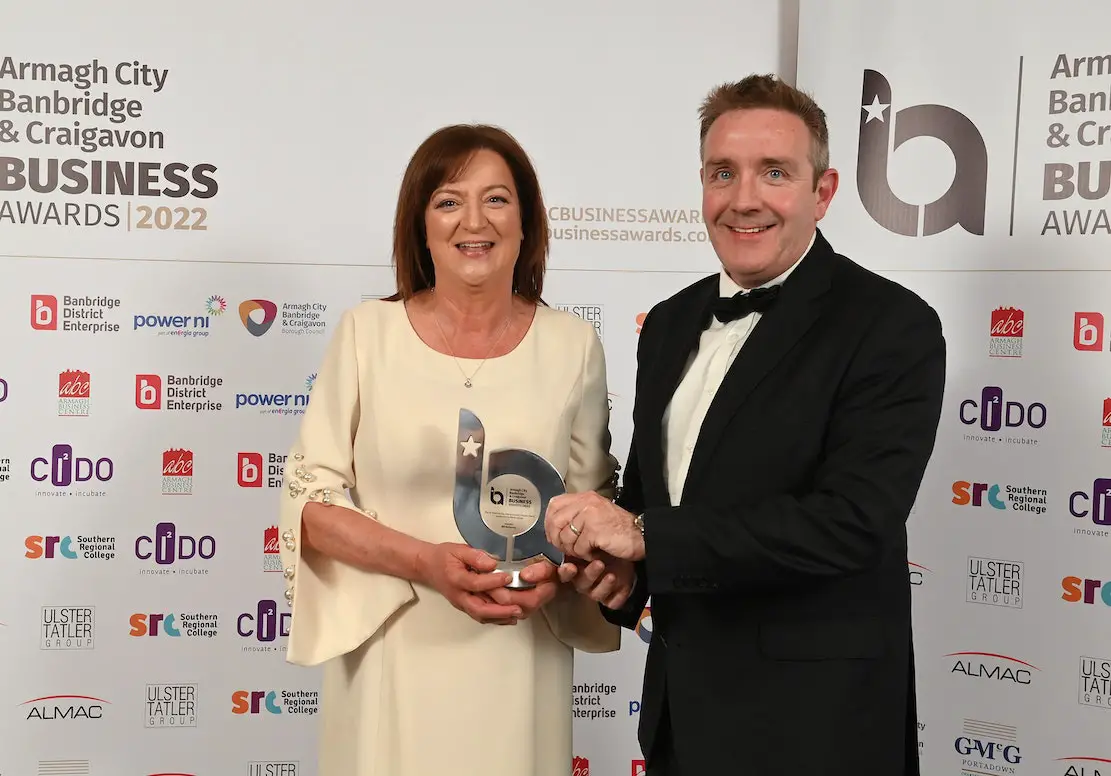 The Sir Allen McClay Young Business Person Award is received, on behalf of Bill McAtavey of Azil Racking and Shelving, by Bill's aunt Julie McGee and presented by Almac's Kevin Reid. Bill demonstrated that hard work and determination pays off. He showed confidence in knowing the importance in having a strong team around him and getting good staff is just the start of the process – keeping talent is the most important part.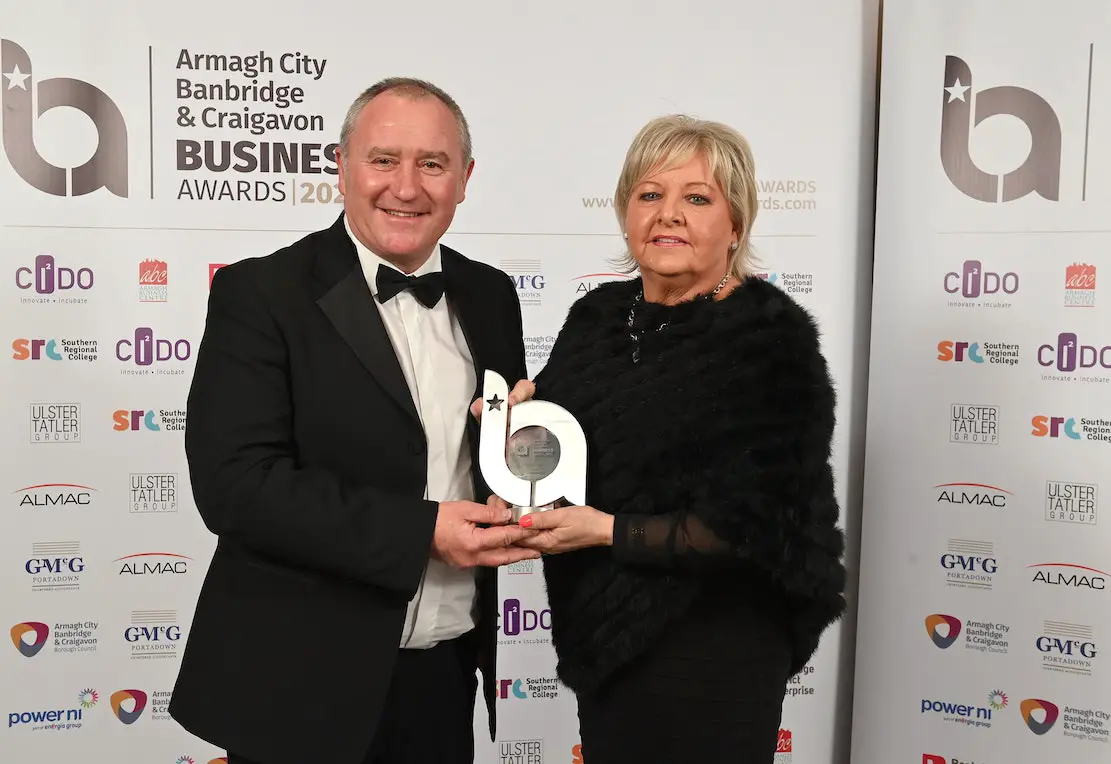 The Best Family Business Award is presented to Donaghy's Shoes' General Manager Sheila Barry by Councillor Declan McAlinden, Chair of the Economic Development and Regeneration Committee. Donaghy's was established in the 1960s by a husband-and-wife team. Since then, the business has grown from strength to strength from its humble beginnings with six family members involved in the business. With a strong family ethos, it has become one of the largest independent footwear retailers in the UK and Ireland.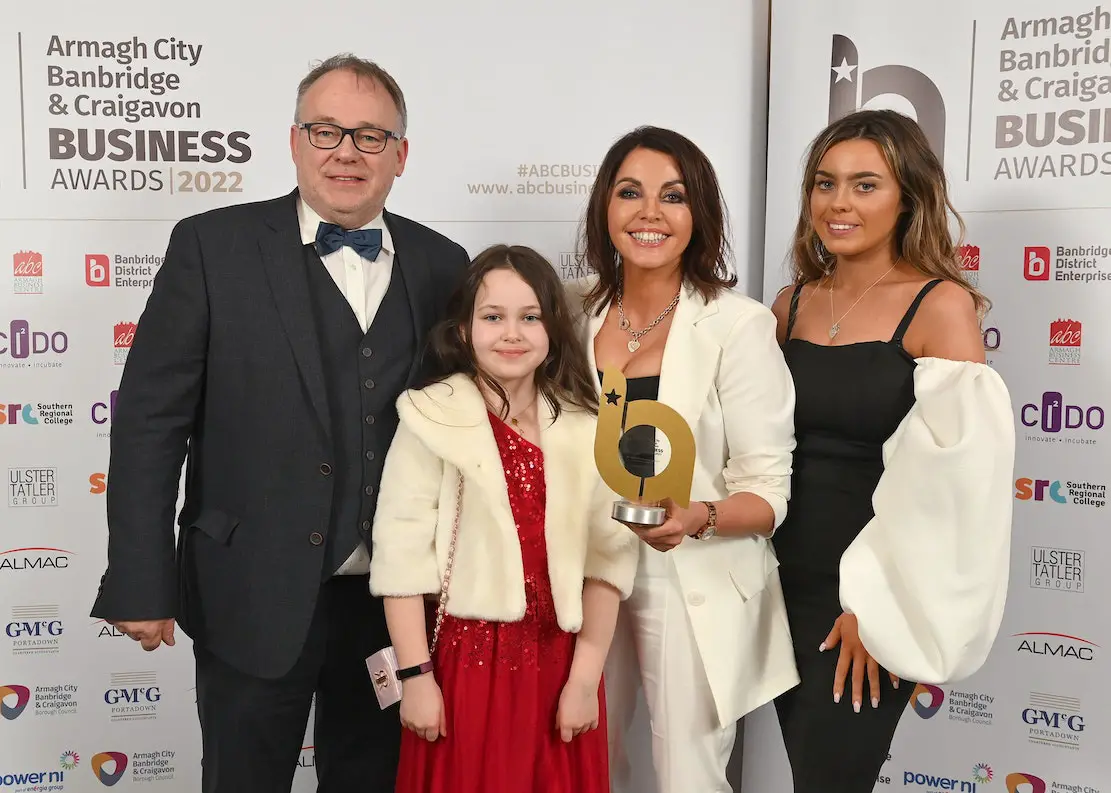 The final award of the evening, the Business Ambassador Award, was presented to Mairead Mackle MBE. Mairead is pictured with her husband Gerald and two of her seven children, Caisi and Cara. An investor, philanthropist and TEDx speaker, Mairead was awarded the Irish Tatler Entrepreneur of the Year 2019 and Woman of the Year at the Natwest Everywoman Awards, and she sits on the boards of several business and lobby groups, as well as owning and operating Tarasis Enterprises which employs over 1,200 people. Most recently, Mairead was awarded an MBE in the 2021 New Year's Honours List in recognition of her contribution to economic development.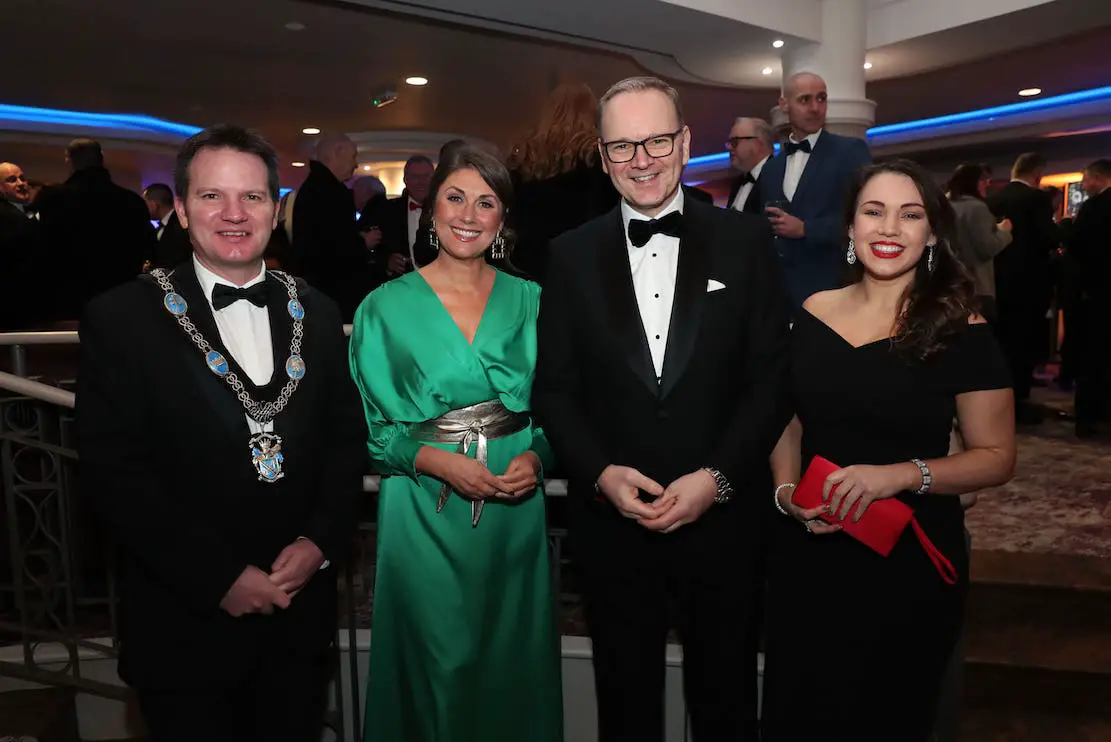 Lord Mayor Alderman Glenn Barr, host Sarah Travers, Council Chief Executive Roger Wilson and Amy Bennington, Power NI Commercial Marketing Manager pictured at the Armagh City Banbridge & Craigavon Business Awards 2022 in Association with Power NI at the Seagoe Hotel.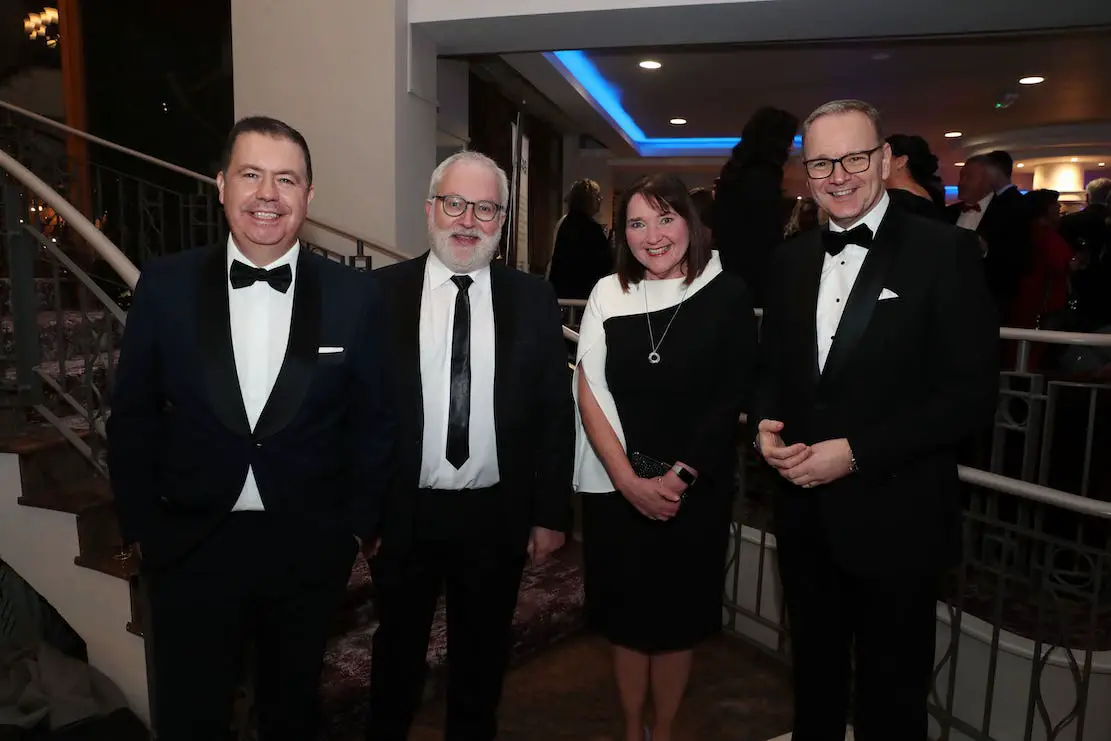 Glyn Roberts, Retail NI, Adrian Farrell, ABC Business Partnership Alliance, Ethna McNamee, Invest NI and Roger Wilson pictured at the Armagh City Banbridge & Craigavon Business Awards 2022 in Association with Power NI at the Seagoe Hotel.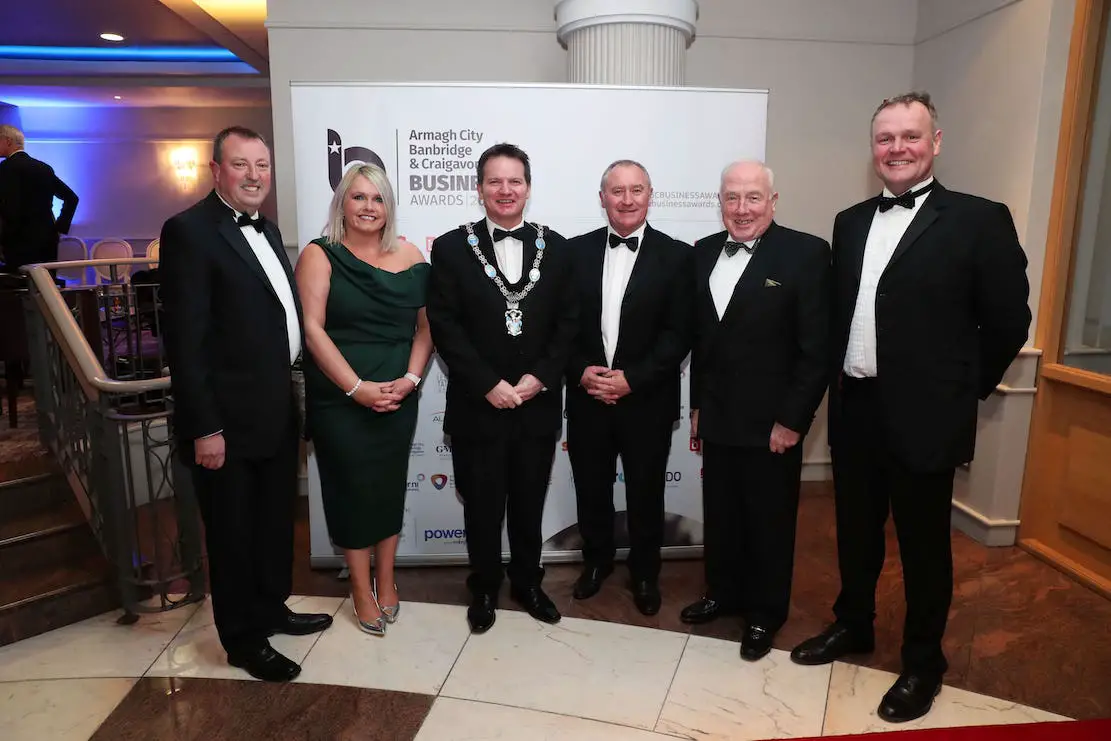 Lord Mayor Alderman Glenn Barr with party colleagues and Councillor Declan McAlinden Chair of Economic Development and Regeneration Committee pictured at the Armagh City Banbridge & Craigavon Business Awards 2022 in Association with Power NI at the Seagoe Hotel.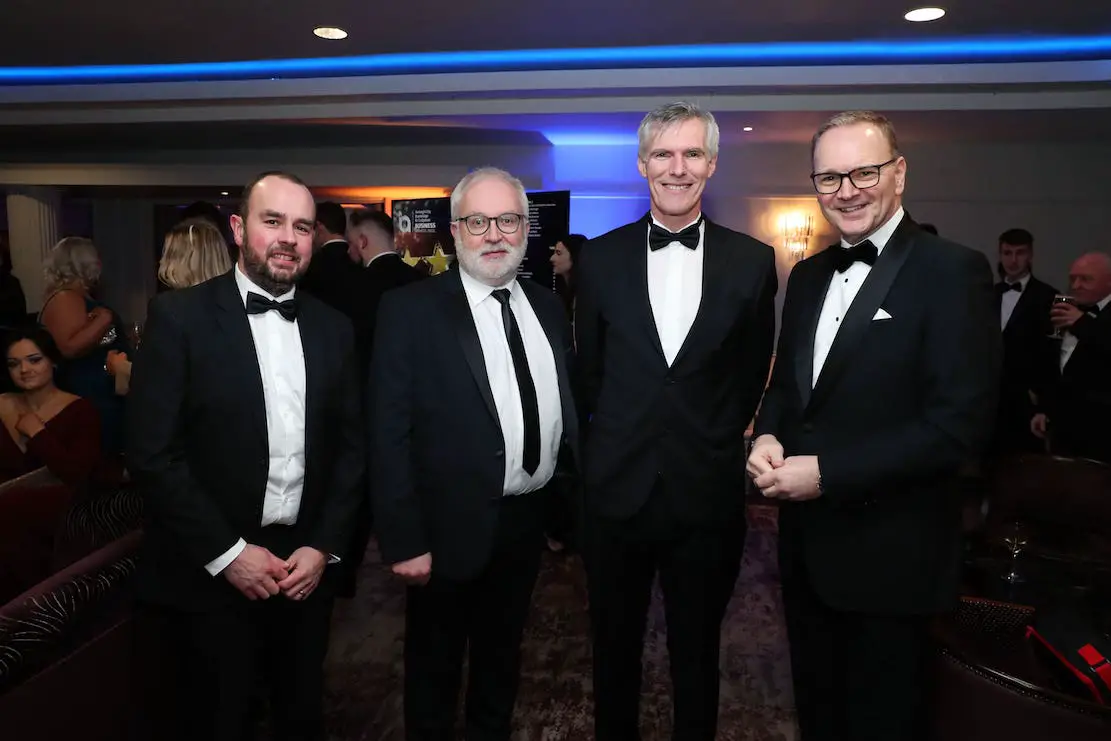 Nigel Hampton, Adrian Farrell (ABC Business Partnership Alliance), Derek Browne (Social Enterprise) and Roger Wilson pictured at the Armagh City Banbridge & Craigavon Business Awards 2022 in Association with Power NI at the Seagoe Hotel.
Sign Up To Our Newsletter