A Co Armagh grandmother-of-two has been making a clean sweep as a community champion – collecting 100 bags of rubbish in her area since the start of the current pandemic!
Signing up to ABC Council's Adopt-A-Street Scheme at the start of this year, Heather was committed to playing her part in keeping the borough's beautiful green spaces clean and tidy.
Through the scheme she was equipped with protective gloves, a litter picker, high-vis vest, collection bags and a hints and tips booklet on how to run successful clean ups.
Now retired, Heather routinely collects litter when out walking along the black paths which run from Portadown to Craigavon – picking up around 14 stone of unsightly waste to date!
What's more, as a community champion, Heather also works closely with a wide range of council officers, helping report overflowing bins, fly-tipping, vandalised trolleys, broken glass and dog fouling mess.
"I hate litter!," the Portadown gran-of-two declared.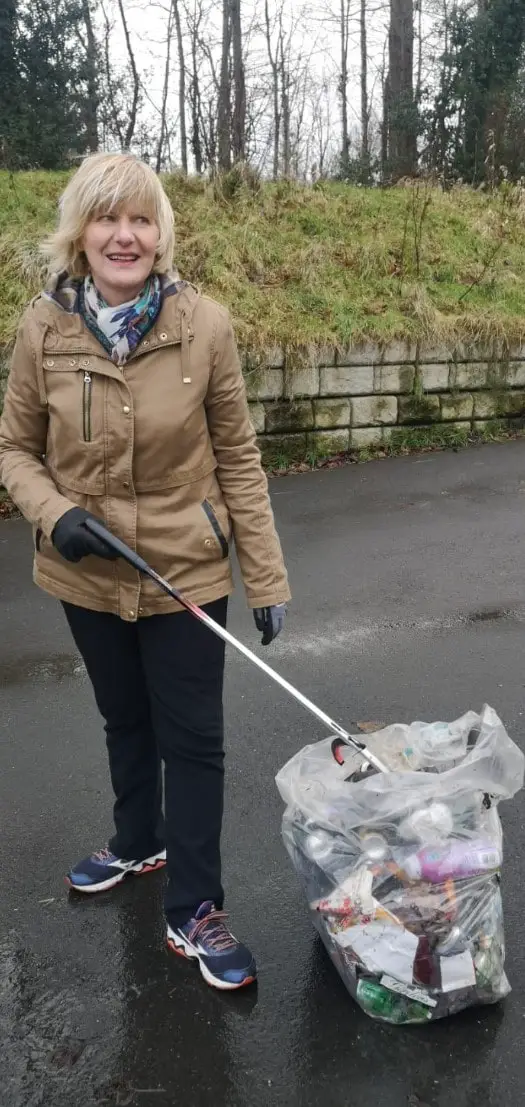 Believing this preventable eyesore has a negative impact on the local community, Heather added: "Gaining inspiration from other local litter champions, I felt I could also do something when I'm out and about in my area.
"Signing up to council's Adopt-A-Street Scheme enabled me to get access to the necessary equipment and support, helping me make a real difference very quickly. Litter picking is not only an easy way to repay the natural world for all the good things we enjoy, it's also a productive way to keep fit outside and enjoy social interaction with other walkers.
"As a community we need to do better, this isn't someone else's problem, we all have to do our bit. So give litter picking a go, become a community champion, contact the council who will give you all the support you need and together we can keep our environment safe and clean for everyone to enjoy!"
Commending her for all her hard work, Lord Mayor Kevin Savage said: "Heather is an excellent example of how the actions of one person can help make a positive impact upon our environment and help keep our borough beautiful.
"A blight on our environment, littering not only causes harm to wildlife but also costs millions of pounds a year to clear up. Through council's programmes such as Adopt-A-Street and Green Dog Walkers, we are delighted to help local residents – like Heather – preserve a clean and safe environment for the benefit of everyone.
"As a community champion, Heather has helped us identify and action areas for improvement such as installing new dog fouling signage, relocating bins, removing graffiti, highlighting more effective allocation of resources as well as raising awareness of council programmes among local residents.
"Heather has been a real asset to council and I would encourage other residents to follow in the footsteps of this very inspirational woman!"
To find out how you can play your part in keeping our borough beautiful just like Heather, contact ABC Council's Environmental Health department on 0300 0300 900 or email ehealth@armaghbanbridgecraigavon.gov.uk.
Sign Up To Our Newsletter