A Co Armagh midwife has won a national award for displaying care and compassion above and beyond the call of duty.
Joan Boyce, who is based at Craigavon Area Hospital, was nominated for the Cavell Star Award by her colleagues, who hailed her an "absolute credit to her profession".
The awards were launched in April with recipients from all parts of the UK.
Nominations are sought from nurses for their peers who have shown exceptional care for their colleagues or patients and their families.
For Joan, she was simply blown away by the award and praised all those she works with, describing her nursing colleagues as Craigavon as "fantastic".
Joan's first experience of nursing care came as a 15-year-old after she was admitted to hospital with a broken nose and she remembers the nurses on her ward.
"They were such wonderful people and I thought what a lovely job to be a nurse!," she explained.
Indeed, this experience stayed with Joan and a few years later – in 1974 – she started her nurse training.
Six years later she became a midwife and she has been delivering babies in County Armagh ever since!
Joan's current role is as a sister in the delivery suite at Craigavon Area Hospital.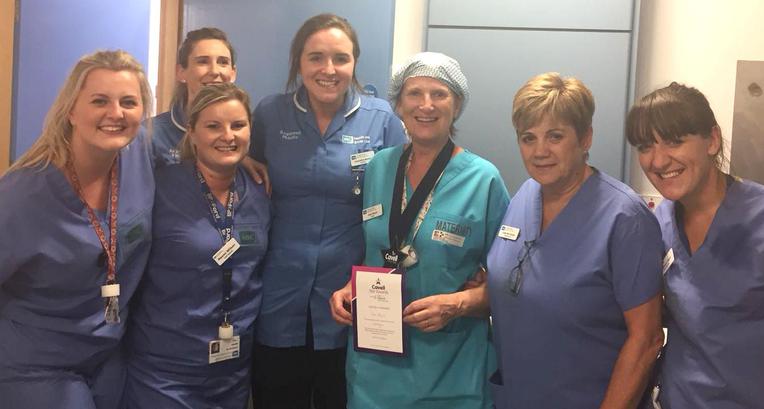 "I love my job making sure the women in labour are well cared for and safe and that they get the best birth outcome for them and their baby," says Joan, who was nominated by her midwife team for going above and beyond for her colleagues.
Midwife and team-mate Jackie Burton explained: "Joan is an absolute pleasure to work with. She has the most amazing way of leading staff members whilst in charge, ensuring the safety of women, babies and her staff.
"No matter how busy the shift becomes, it's always fine when Joan's in charge!
"I have learnt so much from her and she is an absolute credit to the profession."
Joan reacted to winning her Cavell Star Award, describing it as "just amazing".
She added: "It wasn't until I was driving home after I had received the award that it sunk in and I thought, isn't that lovely! I was so touched that my team thought that highly of me.
"If I could give the Cavell Star Award to all my colleagues I would, because you're only as strong as your team and my team members are fantastic, they all work amazingly hard.
"The girls in my nursing team mean everything to me. If you haven't got your girls on board, you may as well go home with your coat on!"
Sign Up To Our Newsletter