A programme developed by the Southern Trust to help stroke survivors rebuild their lives is to be made available to people throughout Northern Ireland.
PREP – the Post Rehab Exercise Programme – was developed by the Northern Ireland Chest Heart and Stroke (NICHS) in partnership with the Trust, a physiotherapy led, community based course which helps rebuild people's lives and confidence following a stroke through exercise and education.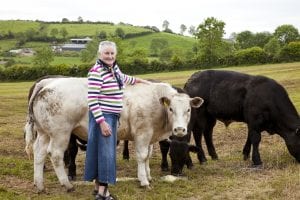 Last year, 171 patients in the Southern Trust area were referred to the PREP programme.
Angela McVeigh, Director of Older People and Primary Care for the Southern Health and Social Care Trust explains:  "Stroke can have a devastating impact on people's lives affecting their ability to move, eat, speak or carry out simple tasks.
"We want to help people to regain their independence as much as possible and as quickly as possible following a stroke, so after their discharge from hospital, our community team of specialist nurses, social workers, occupational therapists, physiotherapists, speech and language therapists and rehabilitation assistants, provide intensive support to clients in their own homes for 12 weeks.
"We also work closely with the community and voluntary sector, with organisations like NI Chest Heart and Stroke to offer continuous ongoing support once this rehabilitation period ends.
"PREP was developed to help people who have had a stroke to restore their self- confidence and ensure that they can continue their ongoing rehabilitation following their stroke.  We are delighted that NI Chest Heart and Stroke's programme,  which we worked in partnership with to develop, has been adopted as a model of best practice and will help to ensure that stroke survivors across Northern Ireland have the best quality of life that they possibly can."
Clients can be referred to PREP for up to one year post stroke.
Noelene Hughes, Area Services Manager from NI Chest Heart and Stroke adds: "As well as the very physical affects it can have, stroke can completely turn people's lives around, having an impact on self-confidence, relationships and employment status. In addition to a stroke specific exercise programme, PREP gives a wide range of very practical and emotional support, for example advice on living with a stroke, vocational rehabilitation and health promotion tips, helping people to adjust to life again and preparing for their future post stroke."
Farm owner, Mary Lockhart was referred to PREP after being left with weakness on one side following three strokes.
Mary, from Cullyhanna, says she was greatly motivated by the programme which has taught her to listen to her body and would encourage anyone to take part as it has given her great confidence both physically and mentally.
She has continued to do the exercises she learnt on the programme albeit in an unusual location – beside a farm gate in the summer and in a barn in the winter!
She uses the 15 minutes it takes her beloved cows to eat their feed in order to do the exercises she learnt in PREP.
For more information on PREP contact Noelene Hughes, Area Services Manager, 07764211536 or nhughes@nichs.org.uk
Read more news:
Trial starts of young south Armagh couple accused of terrorised related offences
Police issue warning over counterfeit bank notes in Armagh
Hooded males attempt to break into house by booting front and back doors
Motion to urge council to fund 'urgent' wall and path repairs in Armagh
Armagh I Sneak Preview: Best ever St Patrick's Festival to stretch over 10 days!
Pictures: County Armagh hit with snow as more is expected
Kingsmills Massacre inquest should take place during "first half of 2016"
Sign Up To Our Newsletter