A traffic cone placed on a road in south Armagh shows the extent of the state of some of our rural roads.
The picture was sent to use by a follower who said the road, at Cladymore, had been like this since January, with no moves taken to repair it.
The hubcap placed beside the cone will give some indication as to the size of the crater.
"The road use to be fit for traffic, now it's hardly fit for a donkey and cart," said the contributor. "It's just getting bigger and bigger."
It is not unique; rather it is a pattern which exists across the Newry and Armagh constituency and, indeed, right around the Province.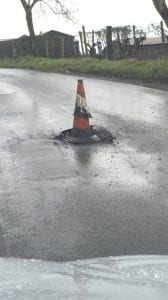 It was, therefore, timely that local MLA Cathal Boylan once again raised the issue in the Assembly on Monday directly with Roads Minister Michelle McIlveen.
He asked the Minister – "on behalf of the good people of rural Newry and Armagh" – to outline what action she is taking to ensure roads in this area are "maintained in a safe and roadworthy condition.
The Minister said she had met the Sinn Fein MLA recently to discuss a range of issues, particularly in the Newry and Armagh area, and she was also aware Mr Boylan had met local Transport NI officials to address his concerns.
Minister McIlveen reiterated that, for herself, "road maintenance is a priority".
She told the Assembly: "Since coming into office, I have ensured that money has been directed to that, along with other maintenance issues. I would like to think that, before the end of the term, he will see the benefits of that additional money.
"I admit that it is not enough, but it will go some way to address the areas of concern."
Mr Boylan then asked the Minister if she would provide "a commitment and assurance" that the money for the 2016-17 budget year will be prioritised for the maintenance of rural roads?
He continued: "In a previous answer, she talked about doing the roads that carry the greatest volume of traffic. She will understand that rural roads have been neglected for many a long day.
"Will she commit to prioritising that money for rural roads maintenance."
Minister McIlveen responded: "As somebody who also represents a rural constituency, I am aware of rural roads requirements, and many in the Chamber would reiterate that.
"While I can give a commitment that I will seek to get as much money as possible into the roads budget, it very much depends on how local divisions allocate their money and the areas that have the highest priorities.
"It is about making a case for those areas."
Read more news:
Officers set Deano the dog on runners from uninsured car
South Armagh primary school gets £1.5m funding boost
Vote passes to ban smoking in cars when children on board
Urgent action call at Richhill after another accident at scene of last month's tragedy
Large parts of Armagh without water after contractor hits mains on Mall
Nathan Carter fans play waiting game over 'booking error' claims over Armagh gig
Sign Up To Our Newsletter