What a year it has been for Yellow Door proprietor Simon Dougan.
In May, the renowned chef welcomed their Royal Highnesses, Prince Charles and the Duchess of Cornwall, to his award-winning Portadown deli.
And this week he has been appointed the new Deputy Lieutenant of County Armagh.
The Royal appointment was made by the Earl of Caledon, the Lord Lietenant of County Armagh.
Lord Caledon acts as the Queen's representative on official occasions; he has now commissioned Simon Thomas Alexander Dougan who will hold the honour of deputising.
Simon said: "I am very honoured by my new appointment, so thank-you to all my wonderful staff and friends who have wished me well and especially to our friends, our Yellow Door customers who we look forward to seeing every day. I hope to see you all again tomorrow!"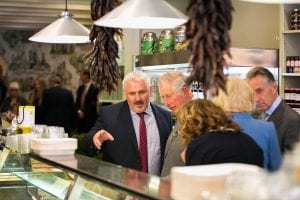 Lord Caledon welcomed Prince Charles and Camilla on their arrival to County Armagh on May.
He escorted the Royals as they were given a tour of the Yellow Door in Portadown by Simon and his wife, Jilly.
It was a fantastic day for all associated with the family-run Yellow Door, which began life as a fine dining restaurant in Gilford back in 1992 but, due to demand for a more informal food offering, opened as a deli in Portadown five years later.
The restaurant was later sold on but the deli and bakery business were expanded, a move which paved the way for other delis and a thriving outside catering business.
Simon runs the deli in Portadown, the outside catering business, and the newest addition to the family, Native by Yellow Door at the MAC. Wife Jilly manages the Yellow Door kitchen garden and other growing projects at the family-run business's various outlets.
A champion of Northern Ireland's rich food heritage and an ambassador for local artisan producers, Simon hosted the Prince of Wales and the Duchess of Cornwall on the second of their three-day visit to Northern Ireland and the Republic in May.
The couple were offered some of Yellow Door's famous artisan bread, accompanied by the Prince's favourite Earl Grey tea.
As Northern Ireland's premier outside caterer, Simon has often prepared meals for Prince Charles and other members of the Royal family during their visits to the Province, and so knew exactly how to prepare his 'cuppa' – sweetened with a spoonful of honey, locally produced of course!
"I have spoken to the Prince on previous Royal visits, but I never thought that he would drop round for tea with me some day!" said Simon at the time.
Along with wife Jilly, they organised an informal showcase at the Portadown deli featuring some world-class, locally produced food and drinks from County Armagh and across the Province for Charles and Camilla to sample.
It was a truly memorable day for the husband and wife team.
Their success goes from strength to strength and we are delighted at Simon's newest appointment – he never would have thought this would happen either.
But no better ambassador, we say – congratulations and well done indeed!
Picture main: Simon Dougan and his wife, Jilly, welcome Prince Charles to the Yellow Door in Portadown during their visit in May. The Earl of Caledon, also pictured, has this week commissioned Simon Dougan as Deputy Lieutenant. Picture by Geoff Telford Photography.
Picture inset: Simon Dougan shows Prince Charles around the Yellow Door in Portadown during their visit in May, while Camilla, Duchess of Cornwall, chats to Lord Caledon, the Lord Lieutenant for County Armagh. The Earl of Caledon has this week commissioned Simon Dougan as Deputy Lieutenant for County Armagh. Picture by Geoff Telford Photography.
Read more news:
Courts
A Portadown man who stole meat from a store just three days after being...

An Armagh man who used a bank card which was left in an ATM...

A Lurgan man who damaged a G4S tag whilst on bail has been handed...
Entertainment News
Armagh travel agents – Professional Travel – have been inundated with queries ever since...

Community organisers behind this year's St Patrick's Day parade in Armagh say it will...