The new MP for Newry and Armagh is Sinn Fein's Mickey Brady.
The result was announced shortly after 5.30am this morning (Friday).
Counting began for Newry and Armagh shortly before 3am at Banbridge Leisure Centre.
Mr Brady, who saw a slight party dip of 0.9%, had replaced his party colleague Con0r Murphy at the hustings and fought a hard campaign which saw him poll 20,488 votes.
He was cheered as the result was read by the deputy returning officer, his band of supporters staying through the night to see the party retain the seat it has held for the past decade.
He thanked all of those who had come out and voted to ensure Sinn Fein's success in the constituency.
Mr Brady, (pictured right) who has represented Newry and Armagh as an MLA, a role for which Conor Murphy will now run next year, said his party's victory represented a "resounding win for equality over austerity".
Former All Ireland GAA winner Justin McNulty had been the SDLP's popular choice at the polls but he failed to make the real in-roads required.
Mr McNulty, given support throughout the count by his brothers, other family members and party colleagues, fell more than 8,000 short of his rival.
Mr McNulty took 12,028 votes, a 32.7% share of the overall vote and an increase of 0.7% on 2010.
He thanked his election team for their "heroic effort" in helping him on a "very positive and honourable campaign".
Meanwhile, the unionists showed a good performance in the constituency after agreeing to field veteran Ulster Unionist Danny Kennedy, the current Minister for Regional Development, who polled 16,312.
That was up 13.66% on five years ago but 4,176 votes short of Sinn Fein, who had enjoyed an 8.4% majority.
Mr Kennedy thanked his election agent and Newry councillor David Taylor, as well as family and supporters.
He congratulated "the winner" but expressed his regret that "the voice of Newry and Armagh will not be heard where it should be heard".
Mr Kennedy also said it was a good night for the Ulster Unionists who were "back in business in the House of Commons", alluding to the former UUP leader Tom Elliott's victory over Sinn Fein's Michele Gildernew in the shock result in Fermanagh and South Tyrone.
The Alliance Party's Kate Nicholl took 841 votes, while the Conservative Party's Robert Rigby polled 210.
There was a healthy turnout in Newry and Armagh, obviously a single unionist candidate and the presence of the high-profile McNulty, and Sinn Fein's need to hold the seat, drawing previously apathetic voters to the polls. The percentage turnout was given as 64.3%.
Meanwhile, David Simpson (pictured inset) won the battle of the Upper Bann unionists to hold on to his seat.
And he did so with only a slight drop in his vote.
His closest rival, Ulster Unionist Jo-Anne Dobson, had been hopeful of causing an upset in a constituency where neither party was prepared to agree on a single candidate as part of the unionist pact which had been accepted for four 0f the 18 constituencies.
The result was declared shortly after 2am today (Friday), Mr Simpson took 15,430 votes, a 32.7% share of the total votes and down 1.2% on his 201o result.
That's 2,264 votes ahead of Ms Dobson.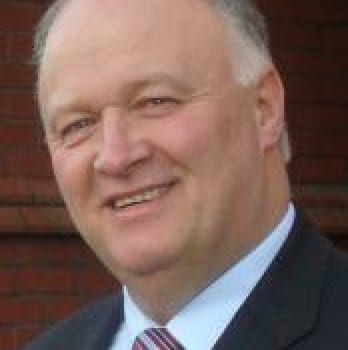 As he took to the podium, the veteran DUP representative was heckled.
He spoke loudly above his detractors to thank his election manager and MLA Stephen Moutray and former Craigavon Mayor Carla Lockhart, his campaign manager.
Mr Simpson said that a lot of work now needed to be done in the constituency.
He took a real swipe at the election direction which had always remained in the public eye during the 2015 Parliamentary campaign.
Mr Simpson said one of the saddest things was that "this campaign had to stoop to the gutter", but he told his opponents: "Nothing can declare from the victory that we have won in Upper Bann and we are there for the next five years.
Jo-Anne Dobson also increased the Ulster Unionist vote in Upper Bann and came in with a 27.9 % share, but fell over 2,000 short, polling 13,166. That's still up 2.2% for the party.
Sinn Fein's Catherine Seeley, Deputy Mayor of the new Armagh City, Banbridge and Craigavon Borough Council, was not able to capitalise on the failure of unionists to agree a pact.
She polled 11,593 – down 0.2% on 2010.
But it was a very bad day at the office for Dolores' Kelly's SDLP.
The former Craigavon Mayor's SDLP share dropped by 3.8% and she was to admit that the party had been effectively squeezed out in Upper Bann.
She lamented it as one of the "dirtiest elections" she had contested and "some parties" had turned it into a "fight between orange and green" which was contrary to the ethos and principles of the Good Friday Agreement.
First time candidate Martin Kelly, representing CISTA (Cannnabis is Safer Than Alcohol) polled 460 – or 1%.
Peter Lavery, of the Alliance Party, took a credible 1,780, while Damien Harte, Workers' Party, polled 351, and Amandeep Bhogal scored 201, nine less than his Conservative Party colleague in Newry and Armagh.
The total turnout in Upper Bann was 59%.
Read more news:
Dog owners warning after sheep savaged in south Armagh
Armagh's drive-in cinema's back and it's even better than before!
Newtown's axed Ulster Bank premises up for sale
Brady 'not deterred' after third death threat in 24 hours
Police investigation after fire at High School in Keady
Sign Up To Our Newsletter