The Southern Trust has organised a Slipper Exchange and Information Event to Promote Falls Prevention messages at the Ryandale Inn.
The event was funded by the Public Health Agency and supported by the Integrated Care Partnerships (ICPs) in the southern area. It attracted around 100 older people – many of whom had first-hand experience of a fall or who were concerned about falling.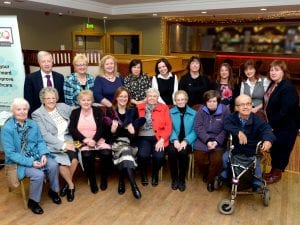 The Ten Year Home Accident Prevention Strategy for Northern Ireland has shown that falls account for 71% of all fatal accidents to those aged 65 and over, and the risk of falling increases with age.
The event was opened by Nina Daly, Accident Prevention Officer with the Southern Trust, who emphasised the importance of seeking help as soon as possible.
She said: "The impact of a fall on an older person tends to be significant, it'll take longer for them to recover and heal, and the injuries they sustain impact upon their bodies severely – this is why it's so important to take preventative measures at home to reduce your risk of falling."
Speakers discussed the impact medication can have on falls and the importance of having a medication use review via their GP or community pharmacist. They also discussed the importance of looking after your eye health and vision, and the impact that alcohol can have.
A number of agencies also provided information stands offering additional information..
Gerard Rocks, Acting Assistant Director for Promoting Wellbeing, Southern Trust, said: "More people are living longer today, a fact about which there is much to be celebrated. However, there are also greater risks to health and wellbeing in our older population.
"We feel it is important to support people to be able to address these risks to improve their quality of life and to enable them to maintain their independence at home for longer.
Gerard added: "Through events such as these we are highlighting the importance of preventing falls so that older people can thrive in their later years and support others to do the same."
Everyone who attended received a free pair of slippers in exchange for their old slippers and a range of information leaflets and contact details for local service providers.
Picture: Main, Nina Daly, Accident Prevention Officer for the Southern Health and Social Care Trust with Lily and Brian Mc Guinness from Keady
Inset, Speakers and participants in the Slipper Exchange event organised by the Southern Health and Social Care Trust to raise awareness of Falls Prevention. Including residents from Strong Court Housing Portadown, Jean B Clarke, Margaret Daly,  Colleen Vennard,  Marjorie Campbell,  Ruth Fairgrieve, Amy, Norman Hazley and Marion Begley Scheme Co coordinator Clanmill Housing.
Read more news:
Man convicted of historical sex abuse against a 14-year-old child
Life sentences for pair who murdered Co Armagh man Owen Creaney
Three men charged with arson attack in Tandragee on Wednesday night
Wonderful improvisation at Newry Market with 'white-knuckle' lawnmower ride
Co Armagh man arrested after Border Force seize drugs from Portugal
Armagh set for brand new police station on Gough Barracks site
Three men arrested after petrol bomb attack on Tandragee home
Misery for Armagh businesses as phone line damage wreaks havoc
Tributes paid to former Ulster GAA secretary Danny Murphy
Phone lines down across Armagh following late night fire in city
Sign Up To Our Newsletter