Former English international and Blackburn and Spurs winger David Bentley scored three points in his GAA debut last night.
The 30-year-old, who quit football as he had "fallen out of love" with the game, turned out for Crossmaglen GFC in their match against Silverbridge.
Meanwhile, Crossmaglen and former Armagh GAA star Aaron Kernan is looking equally comfortable in a Sunderland shirt.
The two have been the centre of media attention this week as they film for a ground-breaking hour-long documentary to be screened next month.
AIB, sponsor to the GAA Club Championships, revealed details of the film which has been commissioned as part of its #TheToughest campaign. Having long believed that the Club Championships are "the toughest of them all", AIB wanted to explore how it compared to other club games across the world.
With only one way to find out, AIB drafted in English footballer David Bentley and All Star baseball player Brian Schneider to put the theory to the test.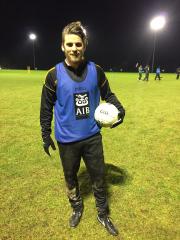 The pair of professional sportsmen are tracing places with Crossmaglen's Kernan and James Stephens' hurler Jackie Tyrell, who are in turn temporarily transferring to Sunderland FC and a Floridian major league baseball team respectively.
All four players will be swapping professional and sporting lives, so while the GAA players will be experiencing all the demands that come with professional sports, Bentley and Schneider will have to quickly come to terms with a challenging training schedule coupled with a full-time job.
"With its predominantly winter schedule, the constant pressure of knockout matches, having to balance the demands of family, work or college with training and playing matches, and of course, the fact that some of the biggest names in GAA haven't won a club medal, we believe that the AIB GAA Club Championships really is the toughest of them all," commented Brian Keating, AIB Brand Director.
"With this film, what we wanted to investigate was, could the GAA club game actually be the toughest in the world?"
In one of the more unusual club transfer requests in GAA history, former major league Baseball star Brian Schneider will be joining The Village on a short term transfer this month.
Schneider, who played with the Montreal Expos, the New York Mets and the Philadelphia Phillies until his retirement in 2012, will temporarily swap his baseball bat for a hurley.
The 6'3″ former catcher will be based in Kilkenny and will train and play with James Stephens while Jackie Tyrell is off to Florida to take part in spring training with a top major league baseball team. He'll soon find out if his skill with the ash is transferable to life as a professional baseball player.
In the second player swap, former Spurs winger Bentley is finding out just what it takes to epitomise #TheToughest as he lines out with six times AIB GAA Club Championship winners Crossmaglen Rangers.
Going in the other direction, Crossmaglen's Aaron Kernan is discovering just how tough it is to be a professional athlete after signing for Sunderland FC.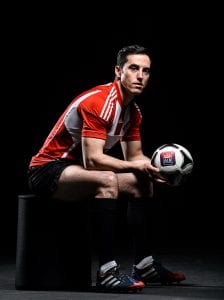 "David and Brian will be part of the parish; they will train with the club and play in a challenge match with a  rival club, as well as work day jobs.
"They'll find out just how tough it is to live and train as a GAA club player," said Mr Keating.
"And, given we often have a lot of preconceptions about the lives of professional athletes, it's going to be very interesting to see how both Jackie and Aaron get on with their new clubs."
"The Toughest Trade" is an AIB initiative, and the latest film from the #TheToughest campaign in support of the AIB GAA Club Championships.
The hour long documentary is being produced by the IFTA award winning Motive Television and will air on TV3 at 10pm on Monday, March 9.
Updates and short videos will air in advance of the show on both www.facebook.com/AIBGAA and @AIB_GAA
Read more news:
Thousand bottles of illicit booze seized during Co Armagh raids
Bin protest cancelled 'due to complete lack of interest'
'Autumn start' for new £1.1 million Armagh Harps sports complex
'Temporary' library opening cuts to become permanent – and reduced further
PSNI warns against 'legal highs' after 12-year-old girls taken to A&E
Image gives first glimpse of Armagh's £20,000 Brian Boru sculpture
Tandragee police station faces threat of closure
Teenager taken to hospital following county Armagh crash
Sign Up To Our Newsletter